You may be wondering why on earth someone would want to read through sheep puns. One thing you will have to acknowledge is that sheep have an entirely innocent fascination about them that can't be hidden under cover any more. It is time to exhibit their unique attributes and what a better way than through puns.
Best Sheep Puns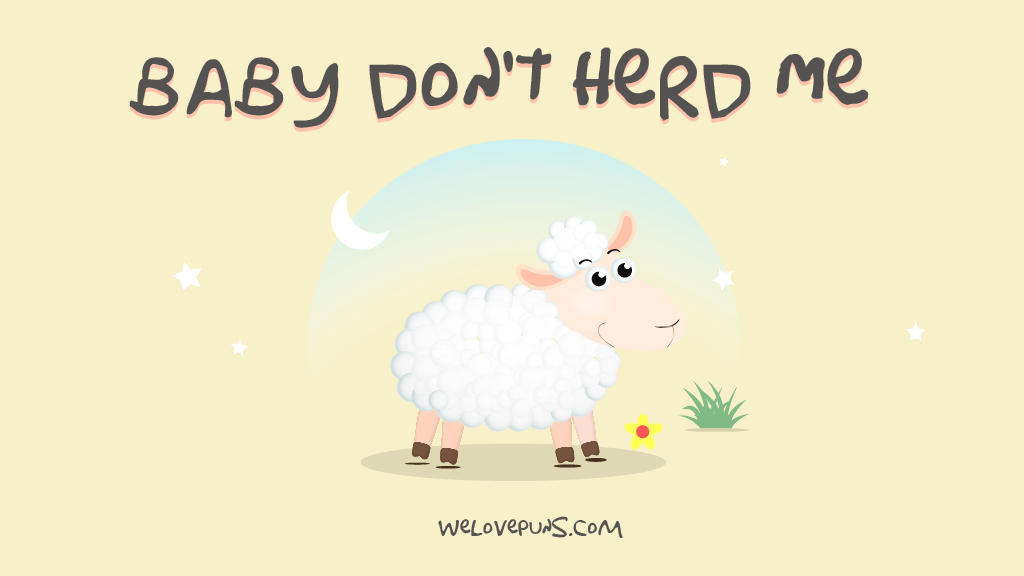 ---
1. During Christmas, we love enjoying cakes of all sheeps and sizes.
---
2. They didn't have much going on between them ever since they started their relation-sheep.
---
3. At times when arguing with idiots, it can be difficult to ram home the point.
---
4. With the weather getting intense and roads becoming slippery, everyone knew that it was a matter of time and accidents wool start happening.
---
5. Even after spending 7 days in bush with no food or water, we still found him alive and wool.
---
6. When I went to visit my in-laws, her dad was so inquisitive and went like "are you a merin-or a pilot?"
---
7. When the storm started sweeping over the island, all of us knew that this was going to be a calambity.
---
8. When I took her on a date, I started by ordering my favorite wine and I asked her, "what are ewe going to take for a starter?"
---
9. The postmortem report came out and it said, he died out of acc-ewe-mulation of blood in the brain tissue.
---
10. We all knew it was a gloomy day, but had to find something to shear us up!
---
11. The city thug was finally apprehended and put behind baas.
---
12. I tiptoed closer to where they were and overherd them discussing how they were going to share the loot.
---
13. "Hay there my friend!" he exclaimed. "Are we still going to the party?"
---
14. She looked familiar and was wondering whether I had met herbivore.
---
15. Picking up little things and allowing them to linger in my head is something I wish I cud stop.
---
16. She kept on ordering everyone around and we wondered who she was. Not long, we discovered that she was a pruminant member of the society.
---
17. By the time we arrived at the train station, we knew without a single doubt that it had already left. The only option was to hoof it home.
---
18. It was late and we could no longer hold any meaningful discussions. We decided to hit the hay and catch up the following day.
---
19. When you cross a kangaroo and a sheep, you end up with one hell of a wooly jumper.
---
20. The favorite joint for all the lambs in town is Lambrusco.
---
21. When he got his pension, Mr. and Mrs. Sheep decided to go for their favorite car that had to be the Lamborghini.
---
22. If there has to be a computer component that sheep can charge for, is the RAM.
---
23. He was such a baabarian, wild and wooly in character.
---
24. I never believed a single word the sheep told me because they were all lying on the road.
---
25. The sheep told the goat, "Over time, I have made some really baaad decisions on investments. I don't want you to go that way."
---
26. When I called him, he wasn't even responding because he was busy wolfing down mutton in the kitchen.
---
27. A sheep covered in chocolate is known as a candy baa.
---
28. The best greetings for ships over Christmas is merry Christmas to ewe!
---
29. In Mexico, sheep have an interesting way of saying merry Christmas to their owners. They say fleece navidad.
---
30. All the sheep had left the pen because they were attending a baa-lerina.
---
31. The baa-baa shop down the lane is the favorite place for sheep wanting a wool cut.
---
32. Sheep are such bad drivers on eth highway. They always make illegal ewe turns.
---
33. The sheep put on the record of their favorite singer; Britney Shears.
---
34. The sheep can't stop hurting themselves because they keep on ramming into things.
---
35. The ultimate goal of every sheep on earth is to wool the world.
---
36. Whenever the sheep gets angry, it always swears: "Holy Sheep!"
---
37. The sheep family loves spending the weekend night enjoying movies. Their favorite title is "Lord of the Rings: Fellowsheep of the Rings."
---
38. The policeman gives the sheep a ticket because it is a baaaad driver.
---
39. What do we call a sheep without any legs? – It must be a cloud!
---
If you loved these sheep puns and would like to sample puns relating to other things, there are many more on this site such as basketball puns, wedding puns, and pizza puns, just to name a few.