Almost everyone agrees that pizza is the one food that is irresistible. Think about the hot extra cheese loaded with toppings and sliced into sizeable portion just for you. This food has a way of lighting up moments and making everyone happy. Fast-forward to pizza puns, they are here to secure in a funny way your commitment to pizza. If you really claim to be a pizza fan then the list of pizza puns below will make you cheesy.
Best Pizza Puns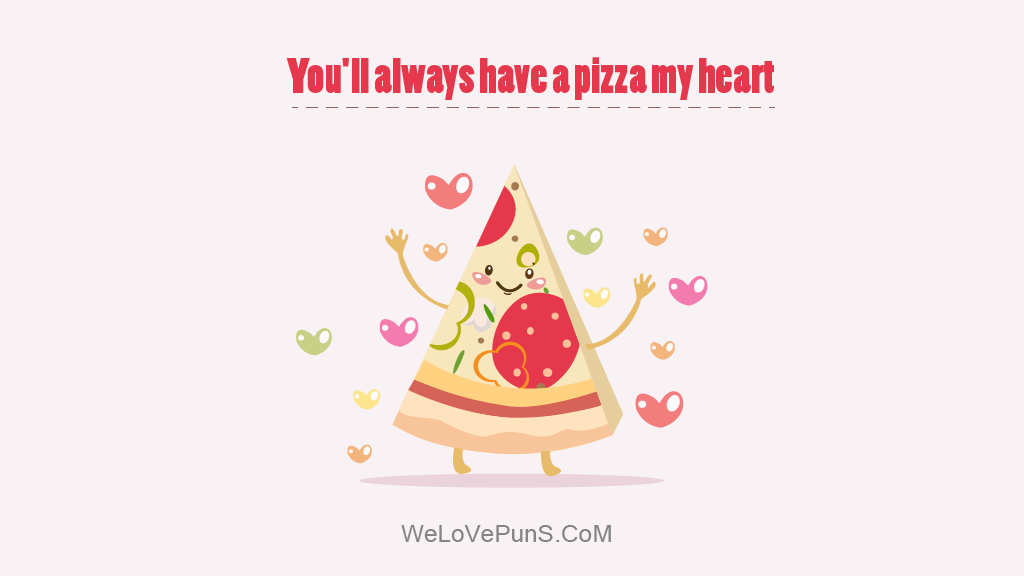 ---
1. In the frozen food aisle in a supermarket downtown, I overheard the following conversation. "Do you want to pizza me tough guy?" Mr. Pizza confronted Mr. Pan to which he responded, "At yeast allow me to explain."
---
2. The only person in the family who didn't like pizza was miss Weirdough!
---
3. Have you ever imagined what advertisement would be on a church-owned pizza restaurant? It has to be cheesus crust.
---
4. The only way to fix a broken pizza is by applying tomato paste.
---
5. There is one thing about pizza puns, they can't be topped.
---
6. In case you are wondering why the mushroom gets invitations to all pizza parties is because he is from the fungi family.
---
7. Since his dog loved digging pizza, he named the puppy PUPeroni.
---
8. Love is complex, but one of the ways you can tell that someone is truly in love with you is if they steal a pizza your heart.
---
9. The pizza wants to cuddle, it says fold me close.
---
10. The boss was really angry as he stepped into the room. I remember very well how he ended his speech. There is mushroom for improvement.
---
11. All guests were seated and the pizza took the stage to introduce himself to us. He said, slice to meet you all today.
---
12. The anteater is such a waste. The only thing he likes on pizza is the ant-chovies.
---
13. When out on a date, the pizza told the topping, I never sausage a beautiful face.
---
14. The bestselling movie on the pizza list is Pie Hard, starring Sausage and caramelized onions
---
15. During the cocktail, the head of the mushroom business empire disclosed that the initial reason he went into pizza business was to make some dough.
---
16. After waiting for over half an hour, a customer beckoned the waiter and asked, "excuse me sir, will my pizza be long?'' the waiter responded, 'no it will be round sir"
---
17. As the delivery guy was packing the pizza for the next customer, the pizza exclaimed, "please don't pepper-own-me".
---
18. Everyone loves to smell good. Even pizzas wear Calzogne to appeal to the masses.
---
19. The reason the Parmesan broke up with the Mozzarella is because he claimed to be too mature for her.
---
20. I am trying to come up with a new pizza joke, but I simply can't work out the delivery.
---
21. If you have ever wanted to stop a pizza curling, hide its brush.
---
22. The sign at the entrance of the restaurant read, 7 days without pizza makes one weak.
---
23. Had I cooked my Hawaiian pizza at Aloha temperature, it wouldn't have gotten burnt.
---
24. This sounds like one desperate advisement, 'buy our pizza because we knead the dough'.
---
25. All the pizza toppings were so sad at the passing on of the restaurant owner. They decided to come up with an epitaph writer rest in pizza.
---
26. I quickly figured out that he couldn't live on pizza alone, so I gave him some dough.
---
27. In pizza paradise, everyone owns a slice of heaven.
---
28. The pie that wins is the one that knows how to layer the Pepperoni.
---
29. The reason why I love this music is because the pizza so good!
---
30. Have you ever come across people who pizza-round the bush with nothing specific to deliver in the end?
---
31. This summer, everyone is heading yeast for holidays.
---
32. At the end of the day, it remains true that a friend in knead is a friend indeed.
---
33. There is nothing as noble as giving kneady children some pizza love.
---
34. What do we call a pizza who sleeps all day long? – A pizzzzza!
---
35. Whenever the pizza meets new people, he always starts introducing himself first with "Slice to meet you."
---
No one can top these pizza puns and if you need more puns of a different kind, check out for electricity puns, basketball puns, wedding puns, and much more.