Onions are a staple of pretty much every dish I ever make, so it's easy to forget how truly amusing they can also be! If you're looking for some onions that DON'T make you cry, have a look through our list of onion puns to cheer up this lovely vegetable.
Best Onion Puns And Jokes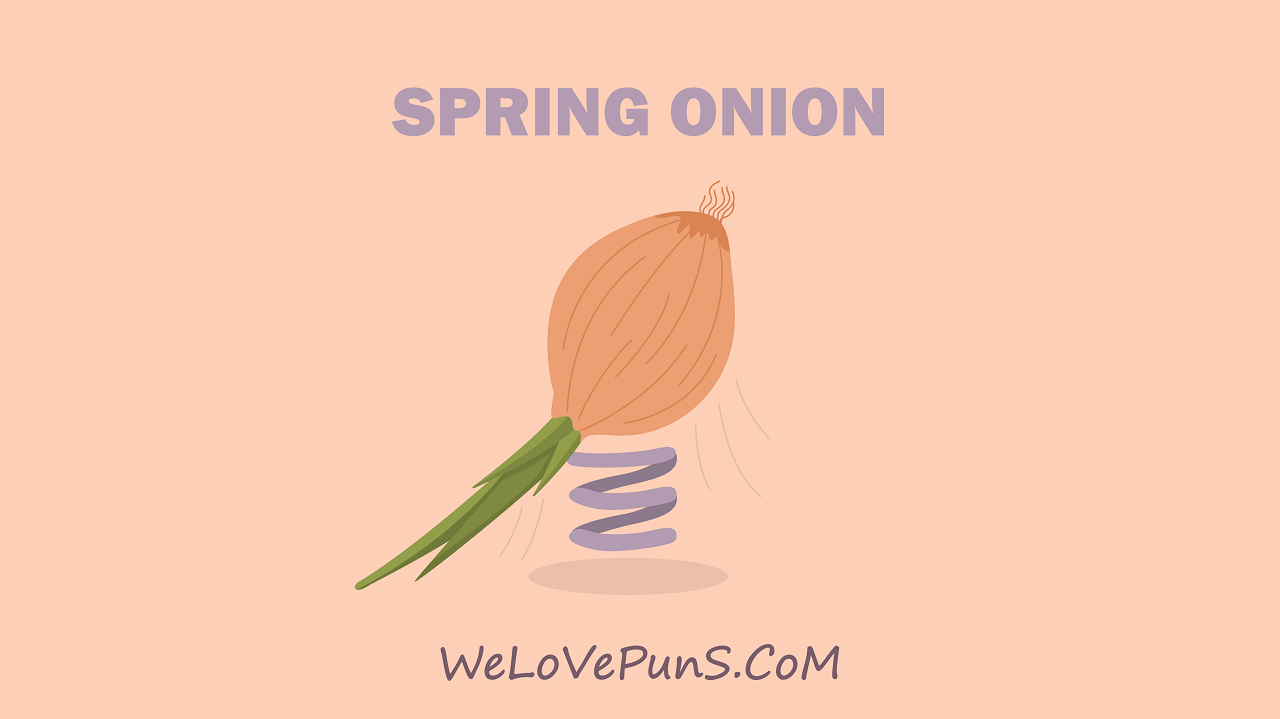 ---
1 Allium disagrees with my stomach, but I still love it… It's very onioying.
---
2 My friend takes ages to choose what to have at the hot dog stand – she spends ages onion and aahing about whether to have friend onions on her food.
---
3 I was surprised to see my friend cutting onions into squares. When I asked him why he said it was because the recipe asked for "diced onions".
---
4 I work as a hairdresser, and you can always tell when an onion walks in the salon. They always ask for layers.
---
5 When buying onions, it's best to avoid the Bermuda onions. By tomorrow morning, they will all be gone.
---
6 Onions make great teachers. In the class today, the students were learning about onionomatopoeia.
---
7 Have you ever wondered why many vegetables grow above ground while onions grow under the soil? It's because they have so many lairs.
---
8 I proposed to my fiancée, and she burst into tears. I thought she was overcome with emotion, but it turns out I gave her an onion ring.
---
9 These are some really great onions! They make everything look fresh and new. I guess they must be spring onions.
---
10 I once heard an onion breaking out some amazing rapping skills. I asked around; turns out it was a rapscallion.
---
11 I feed my chickens onions at least three times a week – it makes good layers.
---
12 One year, I grew some onions that I just couldn't use. Try as I might, I couldn't get them out of their lairs.
---
13 Onions do suffer from allergies, poor things. They often eat something that makes them break out in chives.
---
14 I saw an onion ring in my friend's house, so I picked it up and answered it.
---
15 You may be surprised by how many onions are included in this recipe – it calls for a shallot of them.
---
16 You can now get a great pogo stick for vegetable loving children – it's made entirely from spring onions.
---
17 I was driving a long one day when I saw a couple of cheese an onion crisps on the road. I offered them a lift but they said no, because they were Walkers.
---
18 My friend told me that the best way to not cry while chopping onions is to not form emotional bonds with them.
---
19 I see a lot of similarities between my purse and an onion – whenever I open either of them, I start to cry.
---
20 A bunch of vegetables set up a Fight Club near my house. Rumor has it that they fight in an onion ring.
---
21 Have you heard of the most expensive onion in the world, the one that jewelers love? It's the pearl onion.
---
22 An onion family was going to get together en masse after years of not seeing each other. It's going to be a great family re-onion.
---
23 There's a lesser known character in the Tolkein books – it has very bad breath and is known as the Lord Of The Onion Rings.
---
24 Small onions are incredibly helpful, so make sure you always say "Thanks shallot" to them.
---
25 I have a friend who claims that onions are the only vegetable that makes her cry. To test this theory, I threw a pumpkin at her.
---
26 Onions are no good at carrying loads of water; they are too good at springing leeks.
---
27 I was very surprised to see that Mr Potato Head had a mobile phone. When I asked him why he said it's in case Mr Onion rings.
---
28 There's a really great new kid's film coming out, about an onion that turns into a spider. It's called Shallot's Web.
---
29 Sometimes I think I'm a terrible cook. I tried mixing onions, potatoes and corned beef, but I made a right hash of it.
---
30 My onion friends wanted to take me out for a drink one night, so I asked where we were going. They told me the salad bar.
---
31 My friend is very clever. He's always going around saying, "Pickled! Fried! Shallot! Spring!" You can tell that he really knows his onions.
---
32 While making a salad the other day, I heard whispering coming from a small red vegetable. I thought it was an onion at first, but it turned out to be a hoarse radish.
---
33 If you ever hear giggling coming from your pickle shelf, you know that you have messed up and tickled the onions instead of pickled them.
---
34 An onion and a garlic were getting divorced, and it was quite messy. They couldn't stop fighting over the allium-ony.
---
35 Did you ever hear about the guy who was chopping onions with the Grim Reaper? They say he was dicing with death.
---
36 My friend says that onions are like people – most of them make her cry, but they smell good when they're cooking.
---
37 I used to have a great job on the vegetable stall, selling onions loose. Then I got the sack.
---
38 I am in hospital, having poisoned myself with a daffodil bulb, thinking it was an onion. The doctors say I should be out sometime in the spring.
---
39 Sometimes you may think that you can hear an onion singing a bee Gees song, but it's probably just the chive talking.
---
40 They made an alternative Lord Of The Rings with onions. The best scene is Gandalf standing on the bridge shouting "You shallot pass!"
---
41 Onions can be knights just as well as people can. Instead of a stallion, they ride scallions.
---
42 Sean Connery loves onions, so the rumor goes. Apparently, he likesh them shallot.
---
43 An opinion without 3.14 is just an onion.
---
Onions are a great staple for adding flavor and nutrients to just about any dish (though we wouldn't recommend including them in your dessert menu!) We hope you love this list of puns about what turns out to be the world's funniest vegetable (or second to carrots).