Kids are hilarious, aren't they? Well, they think they are anyway! If you're bored with hearing the same "knock knock" jokes over and over again, why not get them interested in puns for kids? It should give them some new material, and definitely will make your car journeys more fun!
Best Puns For Kids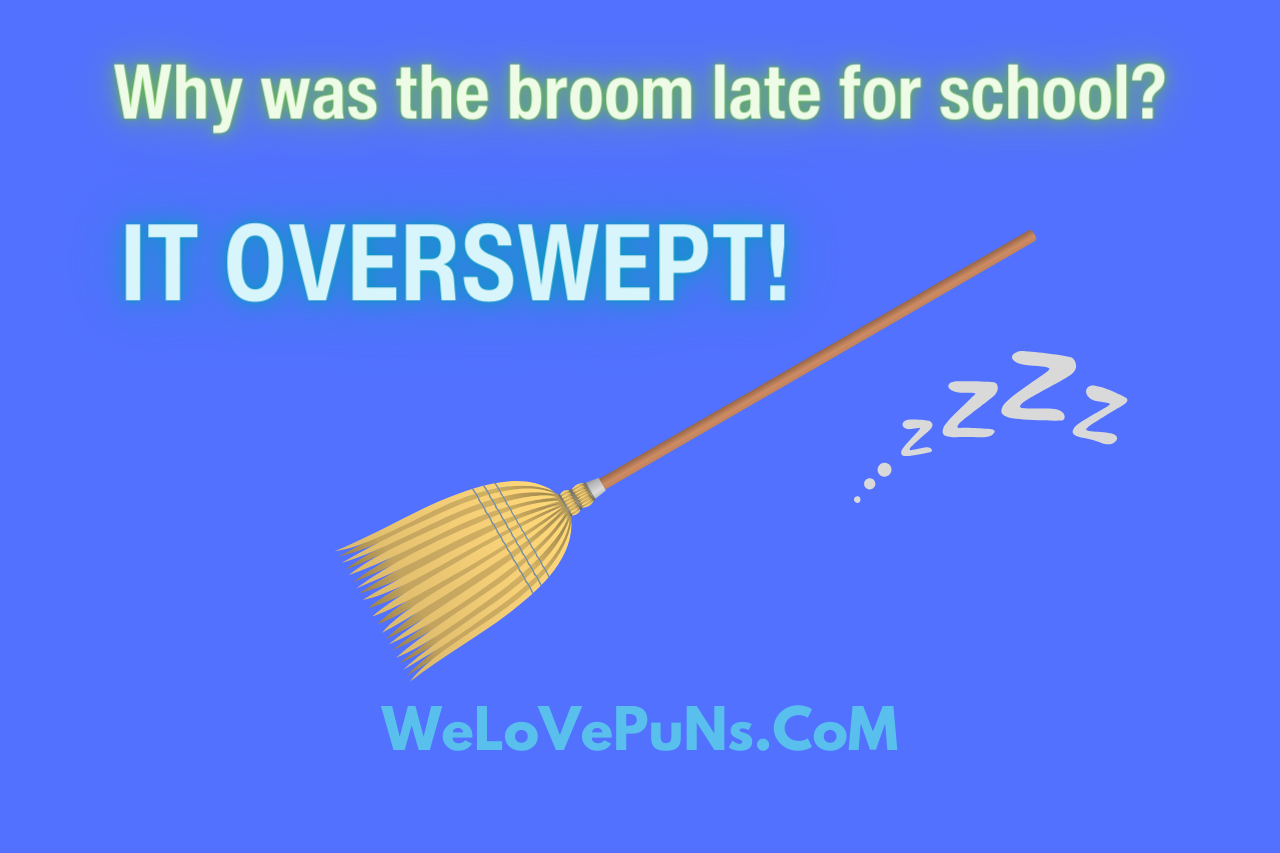 ---
1 I'm great friends with 25 letters of the alphabet, but I don't know Y.
---
2 How does the moon cut his hair? Eclipse it, of course.
---
3 My friend wanted to build an ark, but he didn't have any experience. I told him I Noah guy.
---
4 My cat absolutely loves Mexican food. Her favorite is purritos.
---
5 I was watching a movie with the dog when he had to go outside, so he put the movie on paws.
---
6 What did the mummy cow say to her calf? "It's pasture bedtime!"
---
7 My friend, a broom, was late to class today. I asked him what happened and he told me he overswept.
---
8 At my school, they have some pencils with erasers at both ends. I just don't see the point.
---
9 I met a knight who was running away from a dragon. He told me that he really hates to fight, and that his name is Sir Render.
---
10 When I was little, I wanted to be a doctor. As I got older, I realized that I just don't have the patients.
---
11 I always wanted to be an archaeologist when I was growing up. My career is in ruins.
---
12 We once had a baby duck that loved to make jokes. It was a real wise quacker.
---
13 Can you guess which superhero is best at baseball? It's Batman, of course.
---
14 Spiderman is a big fan of the internet; he uses it to look at all his web sites.
---
15 I once knew a baby kangaroo that was so lazy, its mother called it a pouch potato.
---
16 My friend at school once picked up a book then literally couldn't put it down. It was a book on anti-gravity.
---
17 What has thousands of ears, but can't hear a word you say? A field of corn.
---
18 Have you ever wondered what a storm wears under its clothes? Thunderwear, of course.
---
19 I play video games against my cat sometimes. He's way better than me; he has 9 lives.
---
20 You should never tell any of these hilarious jokes near a glass. It could make it crack up.
---
21 Have you ever wondered why fish are found in salt water? It's because pepper makes them sneeze.
---
22 Hide and seek with a leopard is great – you'll always win, because they're so easily spotted.
---
23 I went to school with a snake, and do you know what his favorite subject was? Hiss-story.
---
24 My kids went trick or treating dressed as an almond, a pistachio and a peanut. Everyone said they were nuts.
---
25 When I was at school, I once ate my homework because my teacher told me it would be a piece of cake.
---
26 My brother thinks the sea is his special friend, because it always waves at him.
---
27 Why did Ana, Olaf and Kristoff have a balloon, but Elsa didn't? Because she Let It Go.
---
28 I shared my lunchtime sandwich with a Dalmation once. He told me that it really hit the spot.
---
29 Have you ever wondered why, at a circus, the lions don't eat the clowns? It's because they taste funny.
---
30 I went to a pirate's birthday party once. He looked pretty old so I asked him how old; he replied, "Aye matey."
---
31 Did you hear about the scarecrow who won a Nobel prize? They say he was outstanding in his field.
---
32 A duck went to a restaurant and ordered several drinks with dinner. She said, "Just put them on my bill."
---
33 It's really easy to tell the difference between a cow and a bull – it's either one or the udder.
---
34 I went to school with a skeleton, but he left after just a couple of terms. His heart just wasn't in it.
---
35 Have you heard about the tongue-twisting champion who just got arrested? I heard they gave him a really tough sentence.
---
36 Why do hummingbirds hum? Because they don't know the words to any songs.
---
37 Every magician has the same type of dog. They always go for Labracadabradors.
---
38 Why did the dinosaur cross the road? Because chickens hadn't evolved yet.
---
39 My pony friend tried to sing happy birthday to me once, but she couldn't manage it. She was just a little horse.
---
40 What do you get if you cross a porcupine with a snail? A slowpoke.
---
41 It's really easy to get a squirrel to like you – just act really nutty.
---
42 What type of socks do grizzlies like to get in their Christmas stocking? They don't – they have bear feet.
---
43 Did you hear about the cucumber that became a pickle? It told me it was a very jarring experience.
---
44 What do you call a sad strawberry? A blueberry.
---
45 A cheese shop exploded in my street earlier. It was such a mess; de brie was everywhere.
---
46 I saw a whole bag of fruit and berries get run over in the street once. It caused a hug traffic jam.
---
47 If you've ever tried brushing a bee's hair, you'll know how hard it is. They use honeycombs, so their hair is very sticky.
---
48 There's a really simple way of making an apple turnover: you push it down a hill.
---
49 You should never trust a taco with your biggest secret – they're always spilling the beans.
---
50 I knew a rancher once, who had 197 cows in his field. When he rounded them up, he had 200.
---
51 What happens if you divide a Jack O' Lantern by its diameter? You get pumpkin Pi.
---
52 The fraction was very nervous about marrying the decimal, because it knew it would have to convert.
---
53 Teenagers only ever hang around in groups of odd numbers, because they just can't even.
---
As you can see, puns for kids are clean and fun – and there are a great many of them, so these should keep you and your kids chuckling for a good while to come!