Monkeys and primates are our closest relatives, and they are definitely wild animals who have never picked up a joke book. We, on the other hand, love monkey puns! If you or a loved one are a fan of all things monkey, have a look through this list and see if one or two of them don't send you bananas with the giggles!
Best Monkey Puns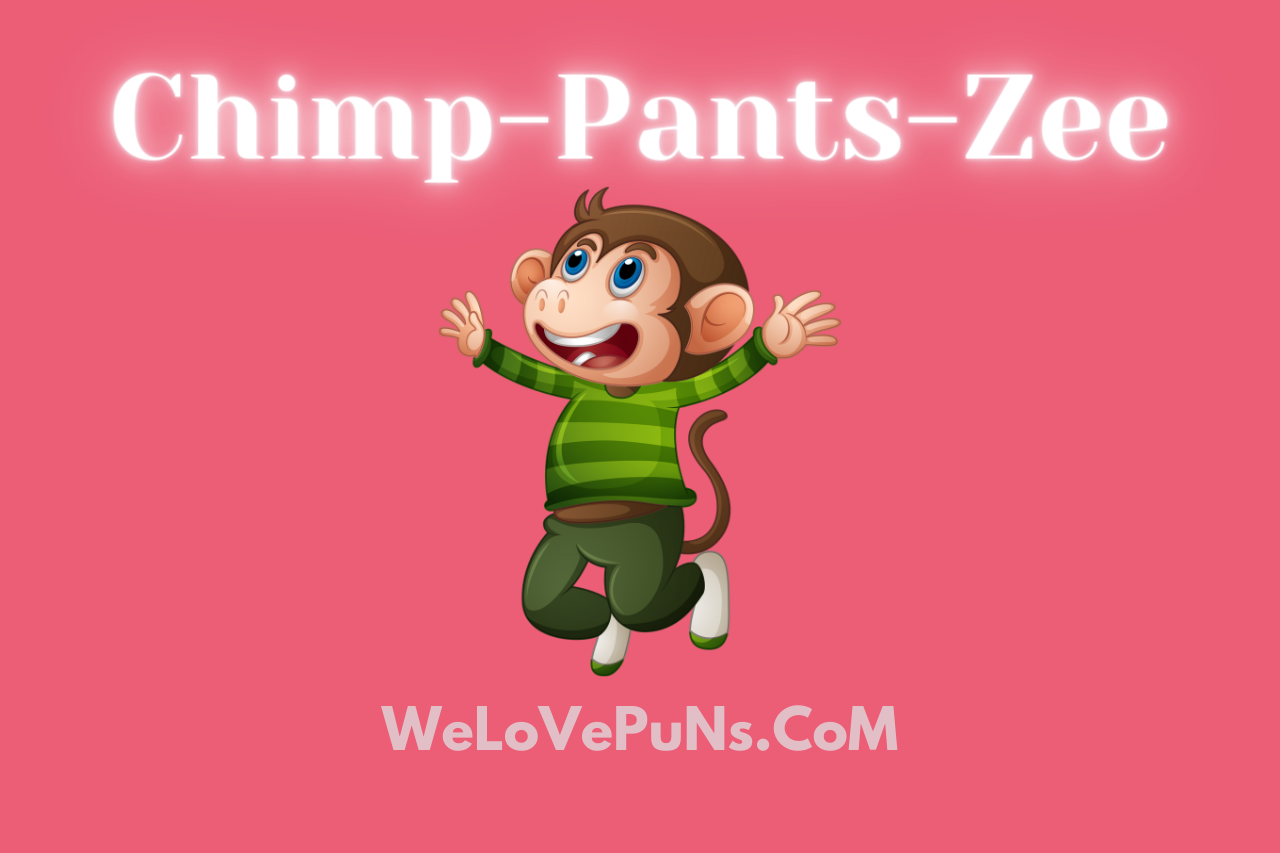 ---
1 Primates need to relax and unwind after a long day too. They tend to go to the monkey bars for a drink and a chat to friends.
---
2 Monkeys never play cards in the jungle – there are always too many cheetahs around.
---
3 It's never a good idea to get into battle with a monkey. They will almost certainly win; they use gorilla warfare.
---
4 Contrary to popular belief, monkeys do wear underwear. They call them chimpantsies.
---
5 My monkey friend is absolutely useless at keeping secrets. You can't tell him anything – he's a real blab-boon.
---
6 Did you most humans actually eat more bananas than monkeys? This is because most people don't really like the taste of monkey.
---
7 I have a lot of monkey friends who share my Amazon account. I call them my Prime mates.
---
8 Did you know that there is a species of monkey which can fly? It's called a hot air baboon.
---
9 My monkey friend recently had a baby; eve though he's still very young you can tell he's a real chimp off the old block.
---
10 It's really easy to get a one-armed monkey out of a tree – you just wave to it.
---
11 What do monkeys wear while they are cooking? An ape-ron.
---
12 What do you call a monkey with bananas in both ears? You can call him anything you want, he can't hear you.
---
13 Monkeys are terrible for gossiping, and I've often wondered where they get their information. Turns out they hear all the best secrets on the ape vine.
---
14 It's really easy for monkeys to get down the stairs. They don't walk, they just slide down the banana-ster.
---
15 I had a monkey friend whose tail got chopped off. He just sighed and said, "It won't be long now…"
---
16 What do you call a monkey at the North Pole? Very, very lost.
---
17 Where does a gorilla that weighs a ton sit down? Literally anywhere he wants to.
---
18 What did the banana say to the monkey? Nothing, silly, bananas can't talk.
---
19 Chimpanzees are so cheeky. They're always up to some sort of monkey business.
---
20 Bananas have a lot of appeal to monkeys.
---
21 What do you do if a gorilla charges you in the jungle? Pay him whatever he's asking for.
---
22 There's only one difference between a well-dressed monkey on a tricycle and a poorly-dressed monkey on a bike. Attire.
---
23 What do you call a big orange monkey that's got its arms in a knot? An orangu-tangle.
---
24 There was some really strange weather last spring; monkeys were falling from the sky. People said it was the ape-ril showers.
---
25 I've never been any good at the monkey bars, so I decided to practise a lot more. Now I'm starting to getting the hang of it.
---
26 My monkey friends have just broken up. They still loved each other, but she didn't like that he was always hanging around with other girls.
---
27 Why did the monkey cross the road? He had to prove he wasn't a chicken.
---
28 Baby monkeys have to go to school so they can learn their Ape-B-Cs.
---
29 It can be quite tiring, being friends with a monkey. They're always trying to chimp-pose their will on you.
---
30 I once dated a monkey. It took me ages to break off the relationship; I was worried that he'd go bananas.
---
31 Have you heard about the monkey that won everything? He was quite the chimp-ion.
---
32 I always have my monkey friends over for Christmas, but I get annoyed when they change the lyrics to "Jungle bells, jungle bells…"
---
33 It's great to have them around though. We always toast the new year in with chimp-agne.
---
34 At the monkey Oscars, everyone was very supportive, and each winner was celebrated with a round of ape-lause.
---
35 Did you know, monkeys have a Father Christmas too? He always goe in through the chimp-ney.
---
36 I have a group of monkey friends who are very worried about the end of the world. They call it the ape-pocalypse.
---
37 I once heard a mother monkey telling her baby off at the zoo. She was screaming, "You're a bad-boon!"
---
38 Two monkeys were sharing a bath. One screeched, "Ooh ooh, aah aah!" The other one said, "Well, put some cold water in then!"
---
39 Monkeys are the best, they really are. I mean, they're ape-solutely my favorite animal.
---
40 I've been wondering why monkeys are always so fit, so I asked one what the secret was. They replied, "Ape-robics!"
---
41 Monkeys are pretty amazing, really. They put on tail-ent shows to show off their skills.
---
42 My monkey boyfriend told me he loved me the other day. I asked if he was serious; he replied, "Fur real!"
---
43 If you ever see a monkey without a tail, chances are he's heading straight to the retail park.
---
44 What's white and swings through the trees? A merang-utan.
---
45 It's a shame, but monkeys are not actually very good at school work. They just don't have the ape-titude.
---
46 There's only one type of monkey that really likes seafood – the shrimpanzee.
---
47 Have you heard about a monkey's favorite fruit? It's not actually a banana – they like ape-ricots.
---
48 What does a banana do if it spots a monkey? The banana split.
---
49 Why did the giant monkey climb up the side of the skyscraper? Because the lift was broken.
---
50 My gorilla friend wasn't feeling well the other day. I asked her what was wrong, and she said she had a tummy ape.
---
51 Have you heard about the monkey that has eight legs? It's also called the spider monkey.
---
Monkey puns are a great way to lighten the mood, whether you're at a zoo or just sitting around at home. Get down to (monkey) business!