Fish themselves are not the best at telling puns. However, some very funny puns can be told about them! Salmon, in particular, lend their fins to a good pun. Don't believe us? Have a browse through our list of salmon puns and you'll soon get what we mean!
Best Salmon Puns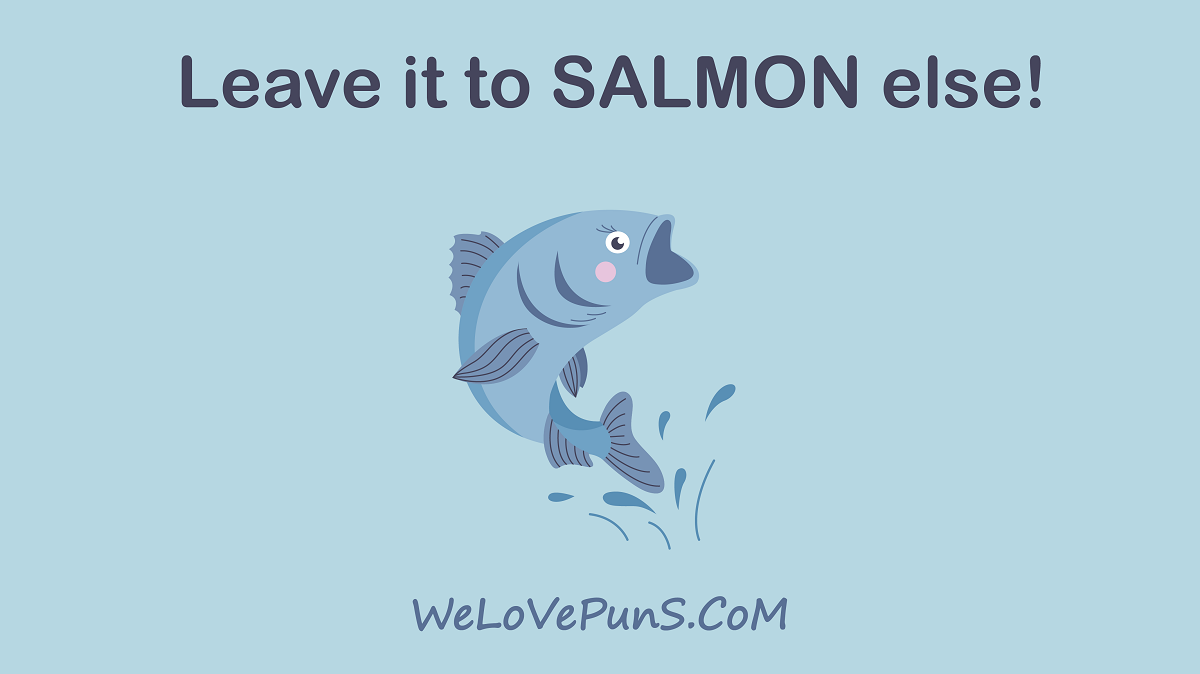 ---
1 You should never really trust a baby salmon. They're always a little fishy.
---
2 If you're looking for easy money, why not try taking pictures of salmon dressed in human clothes? It's like shooting fish in apparel.
---
3 How do salmon keep their homes secure? They use lox, of course.
---
4 Salmon need the best data plan when they get their internet. This is because they just can't stop streaming.
---
5 If you find yourself up the creek without a paddle, make sure you take a few salmon eggs with you. That way, you can roe your way out of trouble.
---
6 You'll probably escape being arrested if you steal a salmon, as long as the police don't find any fishical evidence.
---
7 I went to the shop to buy some smoked salmon, only to be disappointed when I was told that they had all quit.
---
8 I often wonder why smoking is so bad for human health, when it cures salmon…
---
9 Salmon makes a terrible musical instrument. Apparently you can't tune a fish.
---
10 Have you ever tried mixing salmon with Nutella? Don't. You'll get salmonella.
---
11 Salmon give a lot more to charity than oysters do. In fact, most people consider oysters to be completely shellfish.
---
12 I met a hipster salmon the other day. He told me that swimming upstream was just too mainstream.
---
13 The salmon was accused of murder, but he was released when it turned out to be a fishious rumor.
---
14 Salmon make the best teachers. The can really school you.
---
15 I was teasing my salmon friend the other day, but he absolutely refused to rise to the bait.
---
16 We had to stage an intervention for a fish who was getting out of hand. Well, salmon had to say it.
---
17 Did you hear about the salmon who was in a plane crash? He was the sole survivor. At least that was somefin.
---
18 I went to a gig put on by a bunch of salmon the other day. The music was just off the scale.
---
19 Salmon are great musicians; they're always humming catchy tunes.
---
20 I had to call of my engagement to a fish last year. They told me they were in love with salmon else.
---
21 There was a really good salmon working for our company, but unfortunately they got poached.
---
22 It can be a struggle to open a packet of smoked salmon. Apparently, you need a key for the lox.
---
23 Salmon can be a bit rude when they make a mistake. You can hear them shouting "Dam!" from miles away.
---
24 Who do you call when you can't get your smoked salmon out of the fridge? The lox smith.
---
25 A was waiting in the queue for fish and chips when a man walked in with a salmon under his arm. He asked "Do you do fishcakes?" He was told no, and was disappointed as apparently it was the salmon's birthday.
---
26 There is a festival celebrating salmon spawn in my town every year. Of course, they have ohfishal spawnsors.
---
27 What is it called when you refuse to implicate your salmon in a crime? Pleading the fish.
---
28 Two clever salmon were arguing about the origin of a certain word. It was definitely salm-antics.
---
29 Watching salmon swimming up river to spawn is what I really call a live stream.
---
30 I ordered some salmon roe at my local fish restaurant the other day. It was a spawn-taneous decision.
---
31 Salmon are great workers to have at any company. They really are e-fish-ient.
---
32 Some fish, salmon included, never do well at school. They always stay below the surface.
---
33 I joined the army, but my salmon friend refused to join me. He said it was because he was a pacifish.
---
34 Salmon make great business partners. Their ability to read the markets is off the scale.
---
35 When I was touring the globe as a musician, salmon were always my best audiences. In fact, they were my biggest fins.
---
36 My salmon friend was poorly, so I offered to take her to see my doctor. She refused, and said she would visit her own sturgeon.
---
37 I am always surprised when I see a salmon wearing a suit and a tie; they look so sopfishticated.
---
38 There are a few people who don't like salmon, and I have realized the best hairstyle for them: dreadlox.
---
39 You should never mix salmon with ice cream, or you might end up with salmonilla.
---
40 Salmon is one of the few members of American society that doesn't need medical insurance. They always get cured for free.
---
41 A normal bank is not the place where salmon go to pay in cheques. They tend to use the river bank.
---
42 My dad and I were arguing about the way that salmon move. I decided to end the discussion because I didn't want to fight over salmon ticks.
---
43 I always wondered what it was like to be a fish, so I asked my friend to tell me. They replied, "Alaska salmon."
---
44 A company run by a salmon was investigated recently. It was believed that they were involved in some fishy business.
---
45 Vegan salmon is just not as good as the real thing; it is just too artifishial.
---
46 Did you hear about the fight that broke out in the salmon restaurant? It was terrible. There were battered fish everywhere.
---
47 My grandmother, Eleanor, gave me a lot of seafood recipes to try out on my friends. Sadly, no one wants to try my Salmon Ella.
---
Next time there is something fishy in the air, stop and check if it is one of these incredible salmon puns… You won't be swimming upstream when you get into enjoying these fishy puns!