Purple is a great color; it makes us think of nobility and greatness. Using the color purple in our puns can also make us seem truly great! Purple puns are underrated and not very well known; let's change this once and for all! Read on for our favorite puns around the color purple.
Best Purple Puns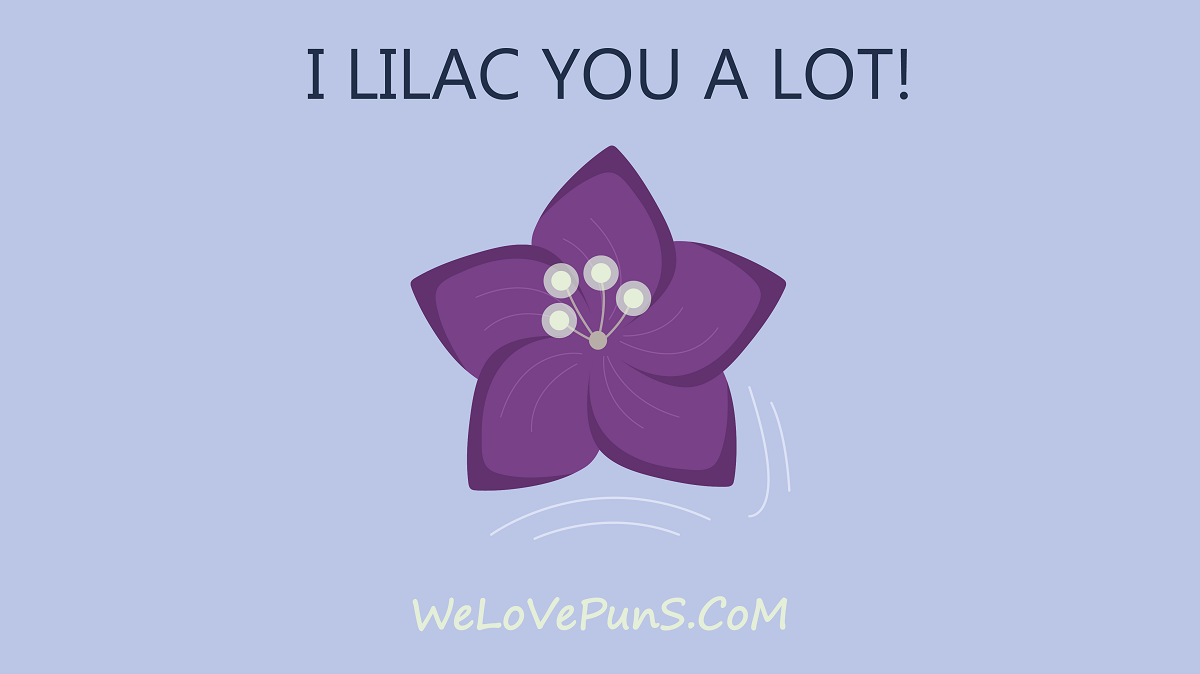 ---
1 I was very confused when I asked my dad, "What rhymes with purple?" He simply replied "No it doesn't."
---
2 What's your least favorite color? Mine is purple. I loathe it more than red and blue combined.
---
3 Have you heard about the two ships which collided in the middle of the ocean? One was carrying brown paint, the other was carrying purple. The survivors were marooned.
---
4 I saw a purple fawn the other day. I named it laven-deer.
---
5 There's a new breed of dog, which is purple from nose to tail. It's called a Grape Dane.
---
6 What's purple and screams a lot? A damson in distress.
---
7 Did you know that you can be arrested for having purple flowers? This is because law enforcement is against domestic violets.
---
8 Which country has a queen as head of state and is also purple? Grape Britain.
---
9 Roses are red, at least that is true. Violets are purple – they're just not blue!
---
10 I made pancakes, but now the whole house smells like lavender. I must have used the wrong flower…
---
11 My friend has synaesthesia. I made the mistake of asking him the time; he replied, "Half past purple."
---
12 What does a green grape tell a purple grape? "Breathe, you idiot, breathe!"
---
13 I recently found out that I am color blind. It came completely out of the purple.
---
14 My friend was forced to swallow a large amount of purple food coloring. He feels horribly violated.
---
15 If you visit a website and the Terms and Conditions are in purple, click away from the page immediately. These violet your privacy.
---
16 There's a been a weather warning! Purple rain is about to start falling! You'd better run before the violet storms start!
---
17 Did you hear about Rudolph the Reindeer? Apparently he ran away from Santa, got tattooed and dyed his fur purple. He truly is a rebel without a Claus.
---
18 I bought my friend some pink thread but it turns out they wanted purple… Oops, sorry – this is the wrong thread.
---
19 My friend has always had a purple face. He's really hoping to meet a purple faced woman one day… I told him not to hold his breath.
---
20 Ultra violet light is the one light that is considered to be Autistic. Well, it's definitely on the spectrum.
---
21 Have you heard of that purple guy who wanted to take over the world? They called him Alexander The Grape.
---
22 The CSI team was called to the Purple Rain shoot, because they had to dust for Prince.
---
23 What is the difference between a grape and an elephant? They are both purple except for the elephant.
---
24 There's a great tip for those who live in a purple house: if all the lights go off, check the fuchsia box.
---
25 It purplexes me that our neighbors don't like our lilac house.
---
26 Have you heard of a cat's favorite color? It's purrrple, of course.
---
27 My friend and I were in a quiz and a question came up about the color purple. I tried to give my friend a tint, but they just didn't get it.
---
28 My favorite shirt changed from blue to purple after I washed it. I guess it revealed its true colors.
---
29 There's a purple couple living on my street, who were recently arrested. Turns out they were violet to each other.
---
30 Did you hear about the escaped purple criminal? Apparently he is a fuchsiative of the law.
---
31 I spotted a lilac sea creature and wondered what it was. It turned out to be a Leatherback Sea Purple.
---
32 There's only one difference between pink and purple… The strength of your grip.
---
33 My colorblind friend was pretty down one day. He told me he was feeling really purple.
---
34 My partner told me a joke about the color purple. I replied "I can really see what hue did there."
---
35 I was very determined to paint our house purple, to the point that my partner and I got into an argument. She told me she didn't like my tone.
---
36 What is purple and sits in the corner of the room with a pointed hat on? A naughty plum.
---
37 I really wanted to buy lots of purple things, so I went to the la-vendor.
---
38 Charles Darwin apparently always chooses the Purple One from the Quality Street selection box. This is natural selection.
---
39 I was stuck behind a purple family in a queue. Eventually I just had to ask them to mauve.
---
40 My grandfather told me he had got the Purple Heart. Alarmed, I told him to visit the doctor right away.
---
41 Purple is the best color for camouflage, it really is. After all, have you ever seen a soldier dressed in purple?
---
42 I do love wearing the color purple. It makes me feel like a prince among men.
---
43 Purple fruits are the most hopeful of all the fruits. They truly believe that they can achieve grapeness.
---
44 A plum got really angry and started shouting at me, so I called it out for purple abuse.
---
45 Have you heard of the Teenage Mutant Hero Turtles who were all shades of lilac? Their catch phrase is "Purple power!"
---
Colors, surprisingly, can end up being quite hilarious. Who knew? Next time you're stuck for a rainbow of humor, have a look into purple puns. The final color in the spectrum can offer a colorful opportunity for humor! What about other color puns? Have you seen these green puns?