Jokes are not generally the first thing you think of when you think of gold – but trust us, there are some very funny gold puns out there that will make you think differently. If a friend or partner has an obsession with this metal, give them a few gold puns to make them smile, despite the fact that they don't have any gold!
Best Gold Puns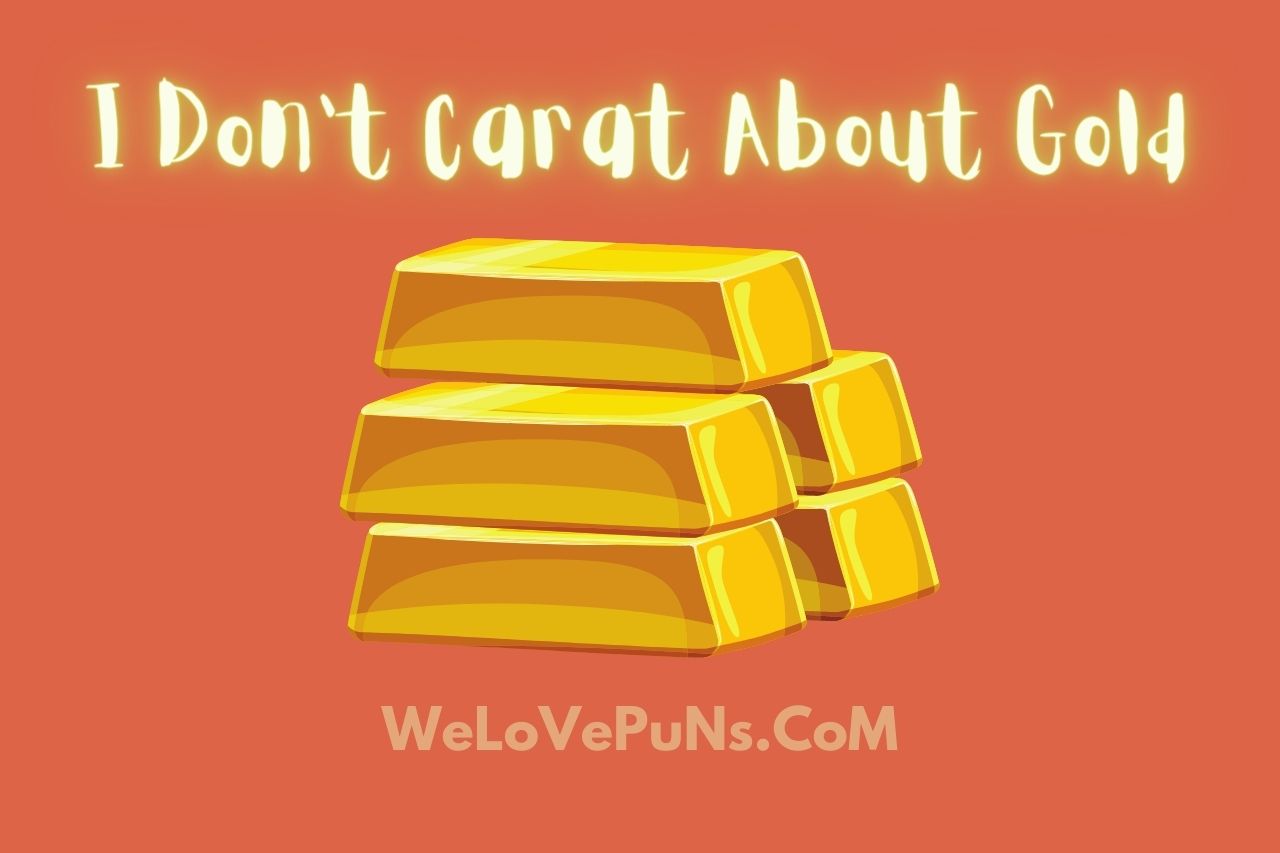 ---
1 I had an awful time at school – the other kids would always throw nuggets of gold at me. It was a clear case of bullion.
---
2 My grandma left me a recipe for making gold soup, I'm so excited to try it! First you boil some water, then add 24 carrots.
---
3 My friend went off prospecting and twisted his ankle. He said not to worry, it's just a miner injury.
---
4 After he got better, his son hurt himself too! Again he said not to worry – it was a minor miner injury.
---
5 Chickens are no good to take into the gold fields with you. They won't dig because they're scared they might find a nugget.
---
6 I've joined a site for dating gold miners. I haven't had any matches yet, but I do have a lot of prospects.
---
7 Do you know how to make your goldfish age overnight? Just take off the g.
---
8 I hope you enjoy the puns about gold! I personally think they're AUsome.
---
9 My uncle was a sailor, and was always finding fool's gold. They call him the Iron Pirate.
---
10 I have a very niche hobby – I like to cover the fifth letter of the alphabet in gold leaf. It's a gilt-y pleasure.
---
11 I ordered some gold coins, and when they arrived my cat decided to put one in his mouth. So now it's a bitcoin.
---
12 My friend bought 100 dogs the other day. I thought he was mad, until he told me they were golden retrievers and he was going to be rich.
---
13 Have you heard about the cow that produces golden milk? She really is legend dairy.
---
14 I'm so excited to be visiting the Golden gate Bridge soon! I don't know what I'll do when I get there, but I'll cross that bridge when I come to it.
---
15 You know the phrase "silence is golden?" This is true, unless you have toddlers. Then silence becomes suspicious.
---
16 Apparently, the best breed of dog is the golden retriever. Second and third place went to the silver and bronze retrievers.
---
17 Have you heard of the gold prospector's favorite snack? It's carat cake.
---
18 I really shouldn't have eaten all that gold-plated food. Now I have internalized gilt.
---
19 My friend asked me which I preferred out of gold or silver. I replied "Either ore."
---
20 A group of prospectors got together for a chat, and ended up having a lovely long get together, for gold time's sake.
---
21 Did you hear about the disaster when two gold mines both collapsed on the same day? I guess great mines think alike.
---
22 I was dating a prospector once. I asked if he'd give me all his wealth if he died; he replied, "Don't gold your breath!"
---
23 Did you hear about the billionaire who decided to donate all of his wealth? It was certainly a gold move.
---
24 My puns are pure gold. AUsome, in fact.
---
25 I had an ancient golden retriever once, and I tried to teach her to play dead. She told me, "You can't teach a gold dog new tricks!"
---
26 I found a pile of gold, but the night was drawing in and I was chilly. I tried huddling up next to my loot, but it was gold comfort.
---
27 Going out prospecting can be hard. If you find a big pile of nuggets, all your fellow prospectors can give you the gold shoulder.
---
28 Did you hear about the metal version of Spike Milligan's tomb? Inscribed on it are the words "I gold you I was ill."
---
29 My friend was killed on the prospecting site. The jury said it was murder in gold blood.
---
30 I've been trying really hard to give up the search for treasure. It's got so bad, I think I'm going to have to go gold turkey.
---
31 Babies are quite helpful when you see a rainbow – they can always find the potty gold at the end of it.
---
32 Have you heard about the fairy tale character who is worth more than all the others? It's Gold-ilocks.
---
33 My friend is a bird watcher and is convinced it's going to make him rich. Of course, he only wants the goldfinches.
---
34 Gold and undercooked steaks are pretty similar. After all, they're both rare.
---
35 Gold nuggets tend to only be friends with boys, because diamonds are a girl's best friend.
---
36 You should never invite a gold nugget and a banana over for dinner; gold reacts with Potassium.
---
37 I was wondering if I should turn all my household items into gold… I guess I Midas well.
---
38 A miner discovered the biggest chunk of gold ever discovered. It's au-fully heavy.
---
39 Did you know that you can easily find gold in a library? Just check the dictionary.
---
40 Sadly for the prospectors, there were no bars open during the Gold Rush. Apparently it's illegal to sell alcohol to miners.
---
41 Never marry a gold prospector. They're all just gold diggers.
---
42 Have you heard about the new missile that turns everything it hits into gold? They're calling it the Automic bomb.
---
43 Have you ever wondered why Emos and Goths love gold? It's because it's pretty metal.
---
44 I spotted a prospector waving a piece of paper at the stream by the gold field the other day. I asked him what he was doing and he said he was fanning for gold.
---
45 There's a nasty illness that makes all the prospectors feel sick – gold fever.
---
46 If you're ever looking for gold digging supplies, try Pan Francisco.
---
47 A gold digger was banned from the club, because he was a miner.
---
Gold is such a beloved thing to us humans, that we might as well make jokes about it to stop it getting too serious. We hope you enjoyed these gold puns! Or maybe try these pink puns instead.