Just imagine being marooned on a desert island with no responsibilities… That's the dream, right? Well, we've got some island puns for you, in case you can't have the real thing! Island puns are great if you're dreaming about that holiday destination, or if you just love the look of those tropical gems in the middle of the ocean. Have a read; we hope you find something you like!
Best Island Puns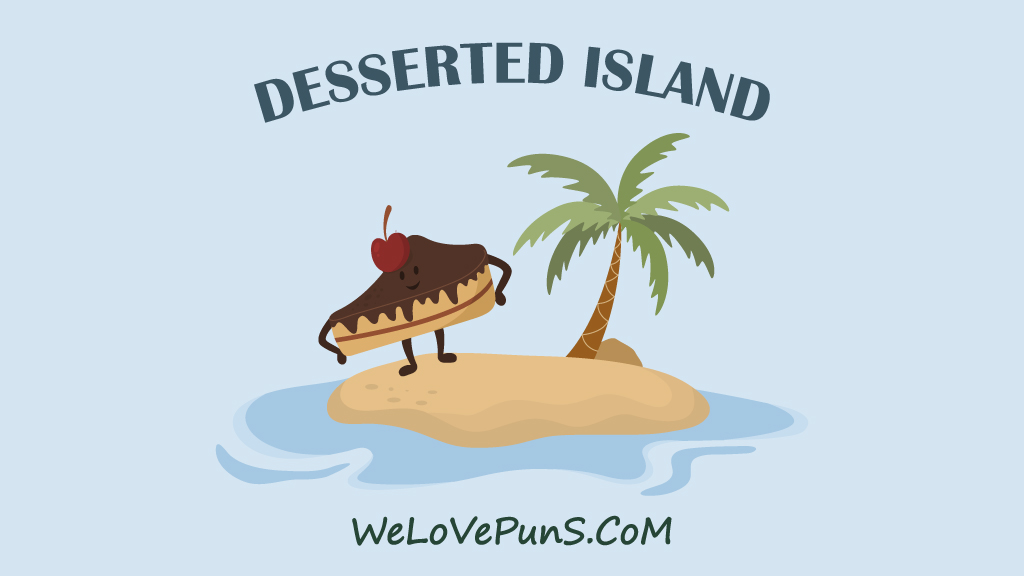 ---
1 Did you know that Hell used to be an island? But then Helsinki.
---
2 Apparently the whole of Pirate Island is now in quarantine. Their "Arrrrr" number was too high.
---
3 I went to the Canary Islands the other day. I was very disappointed that there were no canaries. And don't get me started on the Virgin Islands.
---
4 Why is apple pie so expensive in America, but only $1 a slice in Jamaica? These are the pie-rates of the Caribbean.
---
5 There's a great new crime series out; apparently it's filmed on a Japanese island. They're calling it Kawaii Five-Oh.
---
6 The letter T is a lot like an island. They're both in the middle of water.
---
7 I asked my friend what their favorite island was the other day. They surprised me by saying they have none atoll.
---
8 I really want to find out more about the British Isles! There's no rush though, Isle Wight.
---
9 My friend is moving to a square island next year. I begged to be allowed to come too – they replied "Four shore!"
---
10 Our ship went aground on an island covered with chocolate ice cream. It truly was a desserted island.
---
11 Haver you heard about a pirate's favorite island? It's Madagascarrrrr, of course.
---
12 I went to my doctor because I was worried that I was turning into an island. He told me to stop being so Sicily.
---
13 If you ever get shipwrecked on an island, the most important phrase to remember is: Keep palm and carry on.
---
14 Sometimes you can be stuck on an island for a long time. Life's a beach like that.
---
15 I overheard my beach parasol chatting to my towel on the sand the other day. The parasol said, "I've got you covered!"
---
16 While shipwrecked on as island, I was wondering what I should eat, then it occurred to me. A sandwich!
---
17 I visited an island a few years back, and met a lovely French man. His name was Philippe Phloppe.
---
18 Have you ever seen a Labrador on a deserted island? Locals call them hot dogs.
---
19 My friend threw a party on a desert island once. It got pretty wild; in fact you'd go so far as to call it sandemonium.
---
20 My island is always so happy to see the tide coming back in. It always shouts, "Long time no sea!"
---
21 These puns about islands are shore to make you chuckle.
---
22 I like to visit all the islands that I can, but some are just too Faroe away.
---
23 In the pub quiz, they were asking for lists of islands. I suggested Malta, Jamaica and St Kilda – but apparently I should have been more Pacific.
---
24 If you ever find yourself marooned on a desert island, be sure to bring a deck of cards, so at least you can enjoy your solitaire-y confinement.
---
25 Thousand Island is always shouting at you to leave the room, because it's dressing.
---
26 Have you heard about the lecturers that went to a desert island to discuss the titles of their research papers? It was a topical holiday.
---
27 If you're ever stranded on a desert island, try to find a pair of twins. They can always start a fire because they already have a match.
---
28 The beach of an island is the most confident part. In fact, it's 100% shore.
---
29 You wouldn't think there would be many insects on an island beach, but the beach buggy is very noticeable.
---
30 I was once stranded on a desert island with a pig. After a few hours in the sun, she decided she was bacon.
---
31 My friend once woke up covered in dark red paint, stranded on an island. He was well and truly marooned.
---
32 Did you hear about the pirate who was sad to be standing on a desert island in a pile of treasure? He discovered that booty is only shin deep.
---
33 I went on a visit to Alcatraz island once. There were no directions, only a con-tour map.
---
34 I was very nervous about my trip to Hawaii – but then islanded, and it turned out to be just fine.
---
35 Breaking news! Both Trump and Biden are marooned on a desert island! Who is going to survive? The answer is… America.
---
36 What's a vegan's worst nightmare? Being stranded on a desert island and having no one to tell about the fact that they're vegan.
---
37 Boats should always avoid smashing into islands. It take atoll on them.
---
38 I once claimed as island simply by peeing on it. It turns out that once this happens, urination.
---
39 When the cast of Friends got stranded on a desert island, only two of them survived. This is because David is a Schwimmer, and Lisa Kudrow.
---
40 Rock pools on islands can be pretty aggressive. I one overheard one telling the other "Show me your mussels!"
---
41 My friend told me the other day that they had found their dream job! Turns out they just fell asleep on a desert island.
---
42 I tried to cross a bridge to get to a nearby island lately, but the bridge was damaged. I just can't get over it.
---
43 You want a tan? Just follow the sine to trigonometry island.
---
44 I wanted to bring a pen to my desert island, but I was put off when I realized I'd have to get it there biro-ing it.
---
45 My friend got marooned on an island that was shaped like a sword. He built a house on it – he likes to live on the edge.
---
As you can see, you don't have to be stranded without island puns! Hopefully you can find something in this list that makes you smile. And even if you can't, being stranded on a desert island is far from the worst thing in the world – just make the most of it (or at least, dream about it!)