Best foot forward, everyone! And, best pun forward too. If you are trekking up the mountain of hiking puns and not getting anywhere, have a look through our lists to see if there is anything hilarious you can take on your next trip. Or, if you are not a hiking fan but you know people who are, you might want to pick yourself a few choice hiking puns to amuse your fellow strollers. Hiking for many hours can get a bit boring, so jazz up your next trip with something hilarious from the list below – sure to keep you and your fellow walkers amused for a good few hours!
Best Hiking Puns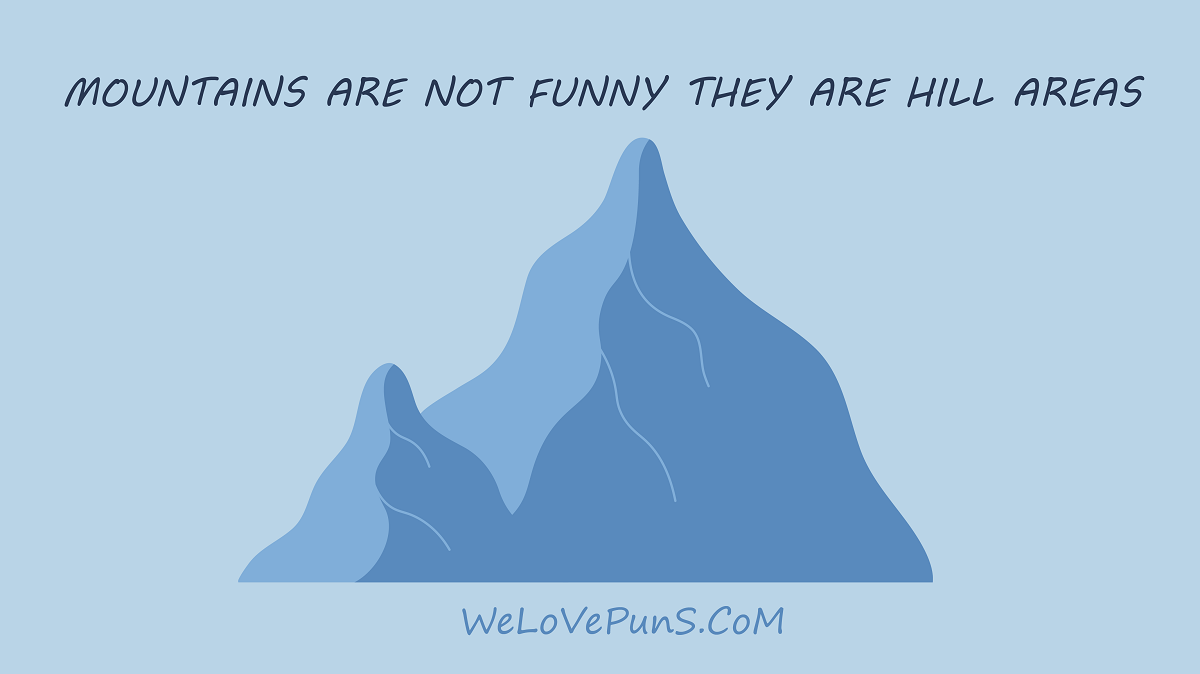 ---
1 I got a bit annoyed with my hiking friend so I had to give them the boot.
---
2 There's the most amazing story about a big hill, have you heard it? I just couldn't get over it.
---
3 I met two stones the last time I was out hiking. The big one was a bit shy, but the other one was a little boulder.
---
4 We were determined to finish our hike – and we did, come hill or high water.
---
5 It was great when we reached the top of the mountain, but it was all downhill from there.
---
6 I have a lot of complicated plans for my day's hiking, but I summit up easily for my friends.
---
7 I would never leaf any of my hiking friends behind when we are trekking through the forest.
---
8 My puns are truly qualit-tree.
---
9 At the top of a hill in the middle of the forest. Just chilling with my Birches.
---
10 We had a huge long hike. It was such a releaf to get to the top of the mountain.
---
11 When you're on a hike and you need to go to the bathroom, just say that you are going to use the facilitrees.
---
12 Mountains are really funny. In fact, they're hill areas.
---
13 I bought myself a special jacket for when I go hiking. It's called a trail blazer.
---
14 Hiking makes me feel young again. In fact, the other day I walked up the mountain of youth.
---
15 I had a beer at the top of a mountain the other day. I was wetting my peak.
---
16 It is so amazing to watch the sun come up while on a hiking trip. It does it before your very rise.
---
17 I really love camping on my hiking trips. It's always in tents.
---
18 Some friends, when hiking, can be a bit of a pine in the ass. Leaf these ones at home.
---
19 Hiking with friends can be lots of fun, but I do try to mountain my distance.
---
20 I love to see gorgeous views on my camping trips; sometimes a view is beautiful as far as the eye canyon see.
---
21 My friend was telling me a story about hiking. It went on and on and on, so I told him to summit up.
---
22 Hipsters like to hike around the back country rivers and waterways, where it's less mainstream.
---
23 I came across a bear whilst hiking, but he didn't try to eat me – luckily, he was just a Gummy bear.
---
24 The queen's husband went walking up the tallest mountain in the world. When he reached the top, he was High King.
---
25 I borrowed a pair of hiking boots from a friend. I think he might have laced them with something; I've been tripping all day.
---
26 I am an experienced trail runner. I trail behind everyone else.
---
27 My friend turned up for our hiking trip with two left shoes. I was so annoyed I gave him the right boot.
---
28 My friend hurt her foot while we were out walking. She told me to go on ahead, but I replied that I would never leaf a friend behind.
---
29 How does a tree tell you that it doesn't know the answer to your question? It shrubs.
---
30 The mountain looked enormous and daunting and I felt a bit scared, but I got over it in the end.
---
31 The biggest mountains in the world are always tired, because they n-Everest.
---
32 Mountains are so beautiful and awe inspiring. We should always remember to never take them for granite.
---
33 If you're hiking in the Andes, remember to dress up warmly. It's Chile there.
---
34 How do mountains keep their heads warm? They wear ice caps.
---
35 Hiking in the mountains is really good for the mental health. Walking really Alps to clear your head.
---
36 It's no good trying to play hide and seek with a big hill. They always peak.
---
37 It's hard, being a mother mountain and dealing with teenage mountains. They always have such altitude.
---
38 There's just snow place like a mountain in the winter.
---
39 I was trying to tell my friend about something that happened during my recent hiking trip, but I lost my terrain of thought.
---
40 It sounds surprising, but anyone can jump higher than a mountain. This is because mountains can't jump.
---
41 I went on a hiking trip with my recent ex. Suffice it to say, there was some tents-ion.
---
42 Hiking, like most of the best things in life, is completely tree.
---
43 Let's go hiking! There doesn't need to be a reason; let's just go for the hill of it!
---
44 I was out hiking near a river the other day. It was a bit cold, so I lit a fire in my boat. It was then that I discovered you can't have your kayak and heat it too.
---
45 I went out looking for a camouflage tent to take on my hiking trip. I couldn't find a single one.
---
46 My cousin is a lama. I asked him if he wanted to go camping; he was really excited and ran off saying "Alpaca tent!"
---
47 I slept like a log during our overnight hiking trip. I woke up on the camp fire.
---
48 How do trees access the internet? They log in, of course.
---
49 I like to go hiking with my friends who are smokers. It means it's easy to outrun them if a bear attacks.
---
50 I wondered why I was always so tired after hiking on the 1st of April, then realized it was because I'd finished on a 31 day March.
---
Next time you are strolling through the lists of hilarious hiking puns, take this lot with you so that you can amuse people – and yourself – with your hiking hilarity. Here are few more puns if you have some time – foot, library and spice puns.