Some people love feet, some people hate them. Everyone can find them hilarious, however! There are a great deal of foot puns that you can bring out, every time you need to have a little chuckle about which piggy went to market and which stayed at home. Some people love puns, some groan and roll their eyes. Here, we simply can't get enough of those crafty little jokes! Feet are funny, and there are a lot of different ways we can make the even funnier. Let us get to the foot of the issue and look at the humor that can be found at the bottom of our bodies.
Best Foot Puns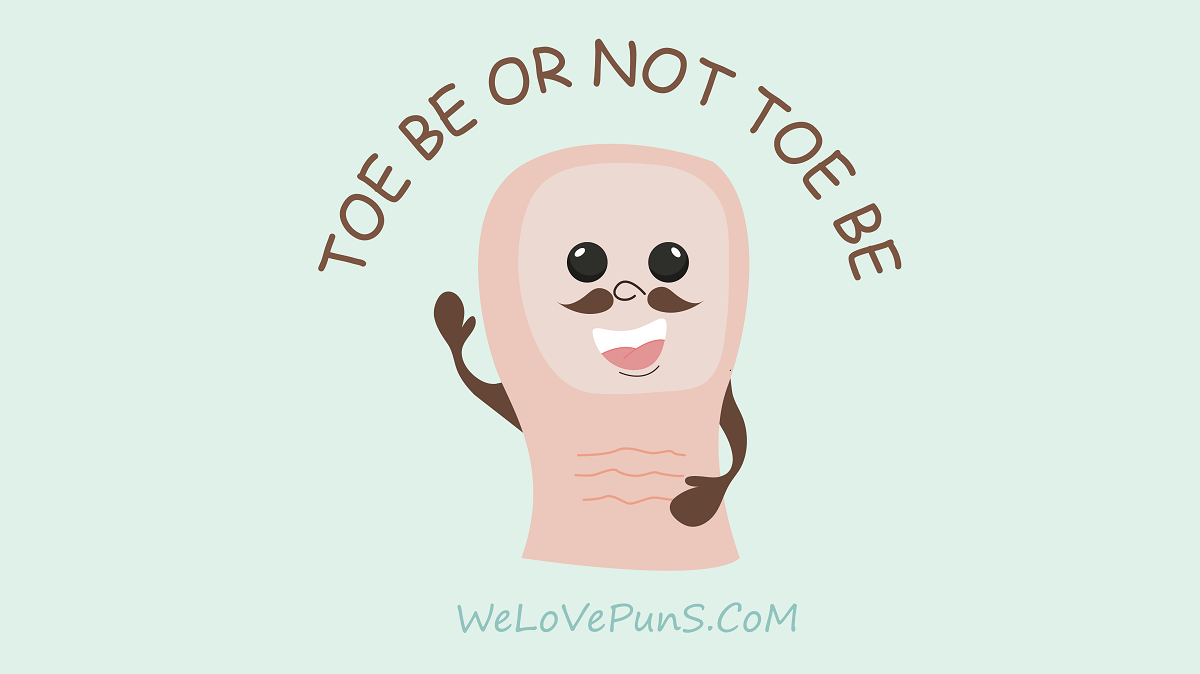 ---
1 What is a foot's favorite breakfast food? Toe-st.
---
2 Burglars don't really wear shoes; because they have to be quiet, they go for sneakers.
---
3 It can be hard to referee an argument between your feet. No matter how hard they try, they can't both be right.
---
4 What creature lies on the floor, one hundred feet in the air? The answer is a dead centipede.
---
5 Why is 2 plus 2 = 10 the same thing as a left foot? Because it's not right.
---
6 How do feet capture their most special memories? They take a pho-toe.
---
7 I didn't think I'd like my orthopedic new shoes, but now I stand corrected.
---
8 I wanted to propose romantically to my partner, barefooted in the snow. I didn't do it in the end; I got cold feet.
---
9 It is important to stand on your left foot at midnight on New Year's Eve. This means that you start the new year on the right foot.
---
10 Have you heard the phrase "don't criticize someone until you have walked a mile in their shoes"? This is good advice, because now you are a mile away from them, and you have their shoes.
---
11 What happens if your feet break down on a long journey? You simply call a toe truck.
---
12 You know that feeling when you have been sitting on your feet and they go to sleep? This is known as coma-toes.
---
13 I am an artist, and I have been struggling to draw a really good picture of feet. Well, the other day I toe-tally nailed it.
---
14 What do dogs do when they hurt their feet? They visit a paw-diatrist.
---
15 I got into a relationship with my podiatrist, but we broke up after a while. Turns out we weren't sole mates.
---
16 Alligators can grow up to 22 feet. Usually they just grow four though.
---
17 Marathon runners can truly accomplish a great feet.
---
18 I fell in love with a long distance runner. He swept me right off my feet.
---
19 Cows don't actually have feet, they have hooves. Do you know why this is? Because they lactose.
---
20 Dogs are actually really cool. They don't wear normal shoes; they always go for Dog Martens.
---
21 Are you struggling with a tricky problem? Just foot on your thinking cap and you should be able to sort it.
---
22 A friend is annoying you with their constant foot puns? Tell them to put a sock in it.
---
23 I wanted to visit the tropics, but I'm just not sure how I heel about the feet.
---
24 I went out for dinner with a couple of my podiatrist friends. Unfortunately I had to foot the bill.
---
25 My new shoes are toe-tally awesome!
---
26 I was in the cinema watching a re-run of Bigfoot. It was a great feet-ure.
---
27 I've really (toe)nailed these puns.
---
28 I thought I loved you before, but then you bought me new shoes. Now I know we're sole mates.
---
29 I've been learning how to run better. Turns out I just needed a trainer.
---
30 I was having a contest with someone I thought was a friend.. They cheated again, so now we're arch enemies.
---
31 I was researching my family tree and I have found that I have an aunt and an ankle I never knew about.
---
32 Unfortunately, all my friends know that punning is my Achilles heel.
---
33 I tendon to repeat myself if I pun too many times.
---
34 I'm heeling good about this next one.
---
35 So, I went to sleep on my shoes last night. I dreamed I ate the right shoe. When I woke up, there was only one left and I was speaking in tongues.
---
36 I opened a shop for plumbers to buy their shoes. Turns out the only thing that will sell is clogs.
---
37 Galosh, it's hard to think of foot puns.
---
38 I tried to make a gun that launched footwear, but it wouldn't shoe-t.
---
39 I hear that people with a foot fetish have a highly active socks life.
---
40 Puns about feet? What a load of cobblers.
---
41 I was cooking for a couple of friends who work in the shoe factory down the road. I didn't have much in but I cobbled something together.
---
42 All the cobblers in town were arrested today. I think something's afoot.
---
43 My feet are leg-end-ary.
---
44 The problem with puns about feet is that they're all so totally corny.
---
45 There's a disused shoe factory down the road from me. The builders have just demolished it. It was for the best really; the place had no sole.
---
46 My partner usually deals with the kids' shoes. They were made redundant this year, so now I'm the sole earner.
---
47 The old cobbler's shop has just reopened and is now a nightspot. They play jazz and motown – real sole music.
---
48 Did you hear about the shoemaker who killed his wife? Apparently he'd been lacing her tea for weeks.
---
49 I think I'm allergic to my local Clarks. Every time I walk in there I start a-shoeing.
---
50 What sort of crisps do feet like the most? Dori-toes, of course!
---
If chuckles about feet are at the heel of your every conversation, try to pack away a few of these little one liners so that you can put your best foot forward and enjoy the hilarity of foot puns that can be opened up to you. Do you want more? Have a look at these turkey puns or wolf puns.