Ahh, the New Year – a time for resolutions and a fresh start – and some great New Year puns! These are sure to perk up the last day of the year, and the great thing about them is that everyone will have forgotten about them by next year, so you can just use them all over again!
Best New Year Puns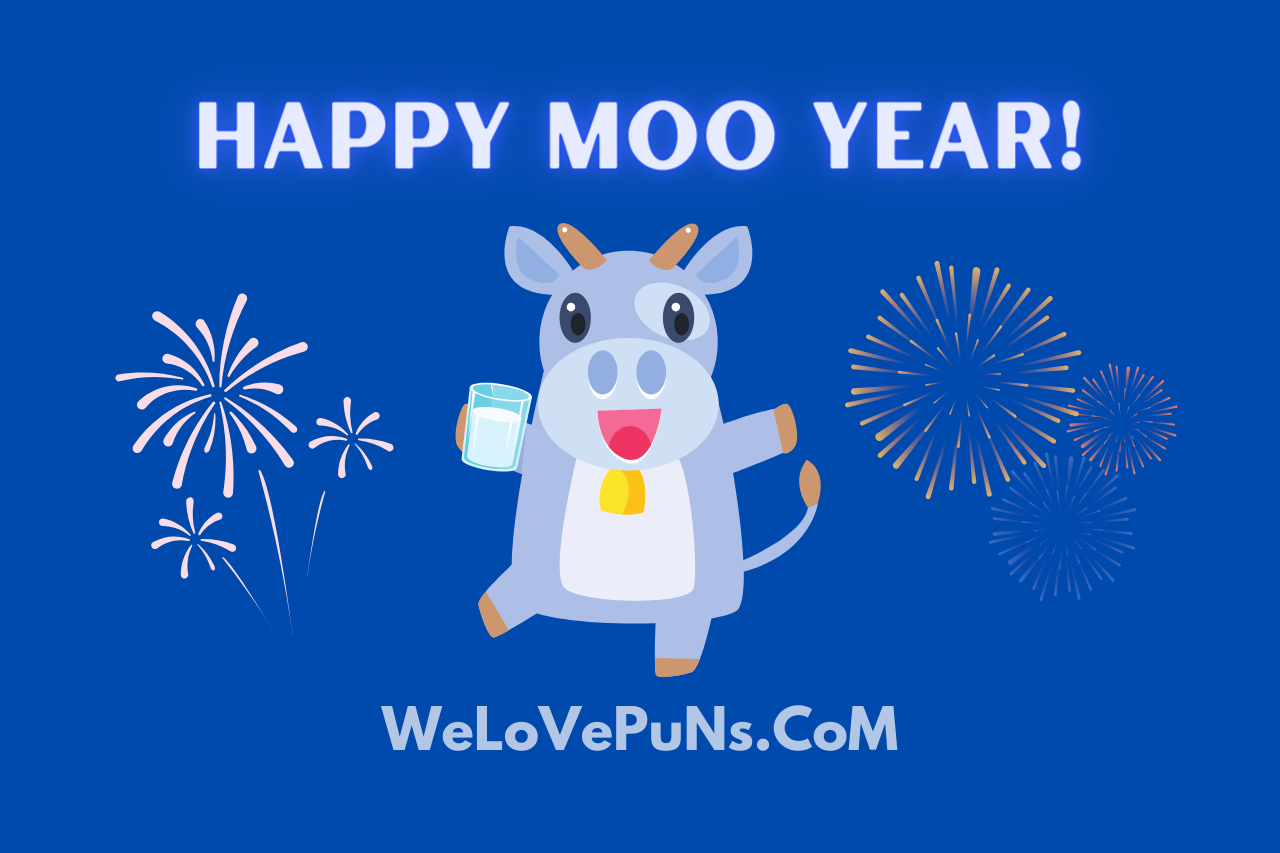 ---
1 I went to a very confusing new year's eve party once – everyone was shouting "Count down!" I thought it was the countdown to midnight, but it turned out Dracula had fainted.
---
2 New Year's resolutions are a bit like good advice – they go in one year and out the other.
---
3 It's said that New York throws the best new year's parties, but I don't think so. They always drop the ball.
---
4 Astronauts are always desperate to have a new year's eve party on the moon, but they never planet in time.
---
5 My wife hasn't got new year's quite right. She always starts cooking bread at 11.59 because she wants a new year's toast.
---
6 I always start the new year's eve by hopping on my left leg, because I want to start the year on the right foot.
---
7 My friend made a new year's resolution to read more, but they didn't have any books, so turned on the TV subtitles.
---
8 My new year's resolution this year is to procrastinate more! But, I can't be bothered, so I'll start tomorrow.
---
9 I was going to give up all my bad habits this new year's, then I realized I wouldn't have any friends. No one likes a quitter.
---
10 I have a date for new year's this year! It's December the 31st.
---
11 Didi you hear about the phone and the firework that were arrested on new year's eve? One was charged, the other was let off.
---
12 I've heard that if you sprinkle sugar on your pillow on December 31st, you'll start the year off with sweet dreams.
---
13 My caterpillar friends really want to do well next year – they have vowed to turn over a new leaf on new year's day.
---
14 What do cats say on January 1st? Happy mew year.
---
15 What do ghosts say on January 1st? Happy boo year.
---
16 What do cows say on January 1st? Happy moo year.
---
17 What do dogs say on January 1st? Woof.
---
18 I really want to have a date with a jeweler on 31st December this year. I want to ring in the new year.
---
19 Did you know there's a special song for people with no hair to sing on December 31st? It's called Bald Lang Syne.
---
20 Last year was such a blur for me! I think my resolution was too low.
---
21 Chefs love to celebrate new year too. Their favorite place to do so is Thyme Square.
---
22 There's one new year's resolution that a basketball player makes, and that is to travel more.
---
23 Did you hear about the woman who stole a calendar on new year's eve? She got 12 months.
---
24 Why do birds fly south on new year's eve? Because it would take them too long to walk.
---
25 I always like to put my calendar for the new year in the freezer. I think it'll make my year start off cool.
---
26 You should never go jogging on new year's eve. You might spill your drink all over the pavement.
---
27 It's nice to see them drop the ball on new year's eve. It reminds me of everything I did all year.
---
28 This year, I've decided to break all my new year's resolutions. Then I can be sure to achieve at something.
---
29 I really enjoyed new year's day, 2021. I was finally able to say that hindsight really is 2020.
---
30 My friend wanted to lose some weight for new year's. They didn't manage, because they really hate losing.
---
31 What do you call a man named Stephen on December 31st? "New Year's Steve."
---
32 The best new year's eve I had I spent with a group of snowmen. They were so chilled out.
---
33 A geometry teacher group set up a gathering on new year's eve. They all met at Times Square.
---
34 I spotted a baby champagne bottle running around on new year's eve once, looking for its father. When it found him, it yelled, "POP!"
---
35 It's never a good idea to make fireworks angry on new year's eve. You might just set them off.
---
36 There's not much good about being in pain – unless it's cham-pain on new year's eve.
---
37 You should always pace your drinks on NYE, otherwise you might make some pour decisions.
---
38 New year parades and Father Christmas have a lot on common. Usually, no one is awake to see them.
---
39 My friend is a pig farmer, and decided to be a little different last NYE. He gave his wife hogs and kisses.
---
40 Spiders make new year's resolutions too – the most common one is to spend less time on the web.
---
41 I asked all my vegetables what their favourite day of the year was. Sweetcorn's was New Ear's Eve.
---
42 Knock knock. Who's there? Howie. Howie who? Howie gona stay up till midnight on new year's eve, we're already so tired!
---
43 The Easter Bunny popped into our party on 31st December, just to say "Hoppy new year!"
---
44 It's always easy to find a comedian at new year's eve parties – they'll be in the punchline.
---
45 What year did Christmas an new year's day fall in the same year? Every year!
---
46 Knock knock. Who's there? Radio. Radio who? Radio not, it's New Year's Eve.
---
47 Have you heard about a priests' New Year's Resolution? To exorcise more.
---
48 Dr Frankenstein has the same resolution every single year – to make new friends.
---
49 An optimist stays up on NYE to see the new year in. A pessimist stays up to make sure the old one definitely left.
---
50 What do you call someone who says they know all the words to Auld Lang Syne? A liar.
---
51 There are always a lot of vampires out on New Year's Eve. I asked one why there were so many; he replied "For Old Fangs Time."
---
52 Crackers are a great snack food, but you should definitely avoid the firecrackers at a NYE party.
---
53 I always like to have a date for new year's. It's called Social Security.
---
54 My friend was walking home drunk from a new year's eve party when he was stopped by a policeman. He said he was on the way to a lecture – from his wife.
---
55 Knock knock. Who's there? Razor. Razor who? Razor glass and toast to a Happy New Year!
---
Whether you love New Year or hate it, having a few good puns up your sleeve cheers up just about every situation – New Year's is no exception!