Rocks – don't you just love them? I mean, you could climb them, use them to hit a friend, play with them, carve them into beautiful artifacts – there's literally no end to all the things you could do with a decent sized stone. However, I think I've found one unique use that no one's thought of yet. That's right; a hilarious collection of the cleverest rock puns and rock jokes you'll ever hear. And the best part is, there's a perfect pebble pun for almost any situation. Check this out together with more unicorn puns!
Best Rock Puns and Rock Jokes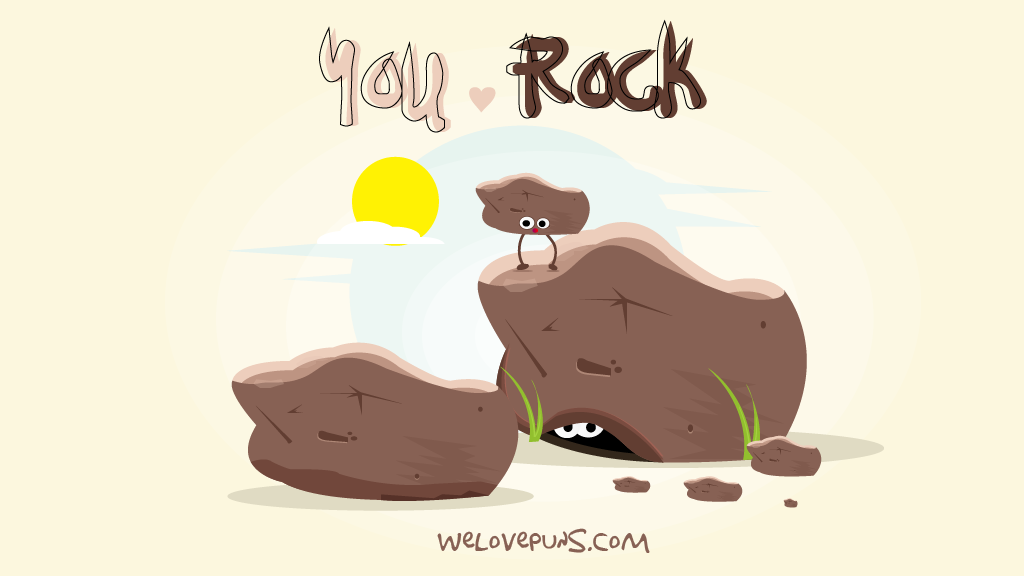 ---
1. So, you came here for the best rock puns huh? Give me just a couple minutes and I'll dig some up.
---
2. The volcanic rock deserves respect because it was magma before it was even cool.
---
3. The two tectonic plates just couldn't keep up the relationship anymore – said there was too much friction between them.
---
4. When is it the only time you're allowed to throw rocks at girls? Only when its diamonds.
---
5. After the last rock slide, nobody takes soil erosion for granite anymore.
---
6. How on earth did the two geologists manage to have such a successful marriage? Simple, they understood that everyone has their faults.
---
7. I've always wanted to become a rock specialist or geologist, until I recently found out how crowded the field is (you know, coz there's so many of them these days).
---
8. If you really want to create an impact in today's society, try donating for the crater good.
---
9. I once met a stoner who always complained about losing his apatite – that's a massive lode of schist is you ask me.
---
10. Haha, told you I knew a truck lode of rock puns.
---
11. After listening to some of the reasons my brother was giving for failing the archeologist's interview, I told him that he should have been a bit more boulder during his presentation.
---
12. Like all great projects, my construction business is off to a rocky start.
---
13. Is it true that all rock stars get along? Maybe, but I guess nobody really wants to start a quarry.
---
14. I don't know about you, but I'm pretty sure all the other pebble reading these pun sare probably cracking up by now.
---
15. How did the geologist get so damn good at the dance floor? He finally learned how to do the tectonic shuffle.
---
16. Recently, our geo teacher lost a large chunk of schist rock from his office. You should have heard him yelling about someone taking a schist in the lab.
---
17. You know, it's totally my fault that the conversation here is eroding, that was never what I sediment.
---
18. Why don't geologists have many children? Because most of their relationships are strictly plutonic.
---
19. I'm getting really sick and tired of always getting called to school because the only types of rock my son knows are punk, classic, and heavy metal.
---
20. Ah yes, Geology – the only profession where you can confidently say you measure a dyke's cleavage for a living.
---
21. Why was the miner getting sick and tired of his job? It was actually just boring.
---
22. What did the judge say to the angry rock star? He charged him with basalt and battery.
---
23. If you're going to claim to be the best stone mason, the least you could do is have some concrete proof.
---
24. What's the number one most favorite movie for geologists? Pyrites of the Caribbean of course.
---
25. Alright, here's a good one. So, how on earth did cave men know what time it was? By using the simple method of app-rocks-immation.
---
26. Which animal terrifies even the bravest of geologists? A C-rock-odile.
---
27. In the past, royalty expected everyone to come running and gravelling at their feet.
---
28. What really got the entire village angry was how the thugs killed the friendly miner in coaled blood.
---
29. If I were caught between a rock and a hard place, could I also say that I'm caught in corundum?
---
30. What's a miner's favorite type of food? Nothing but b-rock-olli.
---
31. Is it just me or does the geo teacher live a stone's throw away from the school?
---
32. That's it folks, I'm running low on rock puns, so I'll call it quits before I hit rock bottom.
---
33. Where does the rock often go to sleep? – In a bedrock.
---
34. What is the most favourite band of rocks? – It is The Rolling Stones.
---
You don't want to end this fun here, right? Here are our best funny puns, or check these vegan ones.