Vegans: Love 'em or hate 'em, they're here to stay, and like any other segment of the population, they can be the objects of puns too! We have searched far and wide to round up as many vegan puns and jokes as we could get our hands on, so take a break from your boring spreadsheet, sit back for a minute and allow these veggie-infused puns to tickle your funny bone! If you would like to have more fun, have a look at our koala puns.
Best Vegan Puns and Vegan Jokes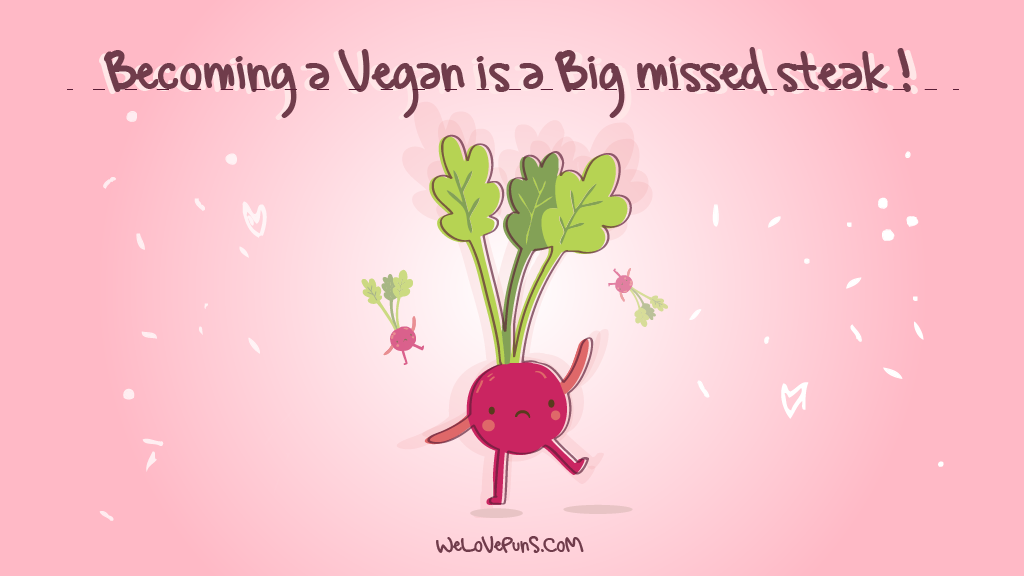 ---
1. What do all vegans ultimately want? Peas on Earth.
---
2. My vegan girlfriend told me that she loves me from my head tomatoes.
---
3. Why did the vegan want to move out of his apartment? There simply wasn't mushroom.
---
4. What do you call a vegan that's always sad? Meloncholy.
---
5. Why are vegans so good at handling relationship issues? They've learned how to let shiitake go.
---
6. What did the vegan guy get for his fiance? A 10-carrot ring.
---
7. What did one vegan say to the other vegan? We can't keep meating like this.
---
8. Why do people kill innocent animals? Some believe it's fur convenience steak.
---
9. Why did the vegan cross the road? She way trying to protect the chicken!
---
10. What is a vegan's favorite Christmas carol? "Soy to the World."
---
11. If two vegans get into an argument, do we still call it a beef?
---
12. What do vegan zombies eat? GRRAAAAAINNNNSSS!
---
13. What does it mean when a vegan starts eating meat again? They've lost their vegan-ity.
---
14. What do you call a vegan who has a bad case of diarrhea? A Salad Shooter!
---
15. What did the cabbage say to the celery? "Quit stalking me!"
---
16. You never have to wonder whether someone is a vegan; they usually tell you within the first five minutes of meeting them.
---
17. What's one snack that a vegan will never eat? Animal crackers.
---
18. Why do vegan couples always have money problems? Because there's no one bringing home the bacon.
---
19. Why was the vegan DJ so popular? Because he knew how to make sick beets.
---
20. Many people are proud and unashamed to be vegans. No matter what others say, they really don't carrot all.
---
21. There's a small percentage of vegans who are strongly attracted to chickpeas. We call them hummusexuals.
---
22. I became a vegan for a brief period of time, but then I realized that it was a big missed steak.
---
23. What is a vegan's favorite video game? Kale of Duty.
---
24. Why did the vegan turn down the job offer? The celery was too low.
---
25. When Julian Assange became a vegan, he changed the name of his website to Wikileeks.
---
26. What is a vegan's favorite TV show? "Herb Your Enthusiasm".
---
27. How did the vegan lady fight off the purse-snatcher? She sprayed him with maize.
---
28. It's hard for me to understand what my vegan girlfriend really wants, because she always beets around the bush.
---
29. What do you call it when two vegans talk for hours on end? A long cornversation.
---
30. My vegan roommate used to eat Raisin Bran, Grape Nuts and muesli all the time. I guess you could say he was a cereal killer.
---
31. I knew a vegan who was an amazing martial artist. He had a black belt in to-fu.
---
32. Two madly-in-love vegans wanted to run away and get married on a whim. After they thought about how it might hurt their families, they decided that they cantaloupe.
---
33. What the best thing for a vegan to do in an emergency? Romaine calm.
---
34. Why do vegans love bananas? Because they find them so a-PEEL-ing!
---
35. This girl said that she recognized me from a local vegan meetup, but I swear I never met herbivore.
---
36. What do you call a super-lazy vegan? A couch potato.
---
37. Why did the zucchini go out on a date with the prune? Because he couldn't find a date.
---
38. Yeah, that vegan girl in my class is always happy and smiling. She seems really up-beet.
---
39. What is a vegan's favorite Nirvana song? "Smells Like Bean Spirit".
---
40. Why did the neighbors call the cops on the vegan party next door? Because they were raisin kale!
---
41. How do vegans listen to music? On their Beets headphones, of course!
---
42. Which American historical figure do vegans idolize? Alexander Yamilton.
---
43. How did the vegan guy ask the vegan girl out on a date? He said, "Do you have anything plant?"
---
44. What's the first thing vegans do when it's time to party? They turnip the music!
---
45. When a vegetarian decides to eat pork or beef, then he will lose his ve-ginity.
---
46. Which car brands do a vegetarian from German drive? – It must be a Volks-vegan.
---
Yeah, these vegan jokes were a little corny, but at least they weren't cheesy. You aren't impressed? Find more funny puns here or check these great potato puns here.