Are you looking for something funny and sweet at the same time to say to your peach of heart? Perhaps it is a holiday and you want to give them a nice present, or it is just a normal day but you want to surprise your loved ones. Regardless of the occasions, puns and jokes are always a good option to consider. Peaches are probably not so popular as oranges, lemons, tomatoes, and many other fruits, but they deserve to be a promising candidate to brighten your day. Check out the following peach puns and have fun!
Best Peach Puns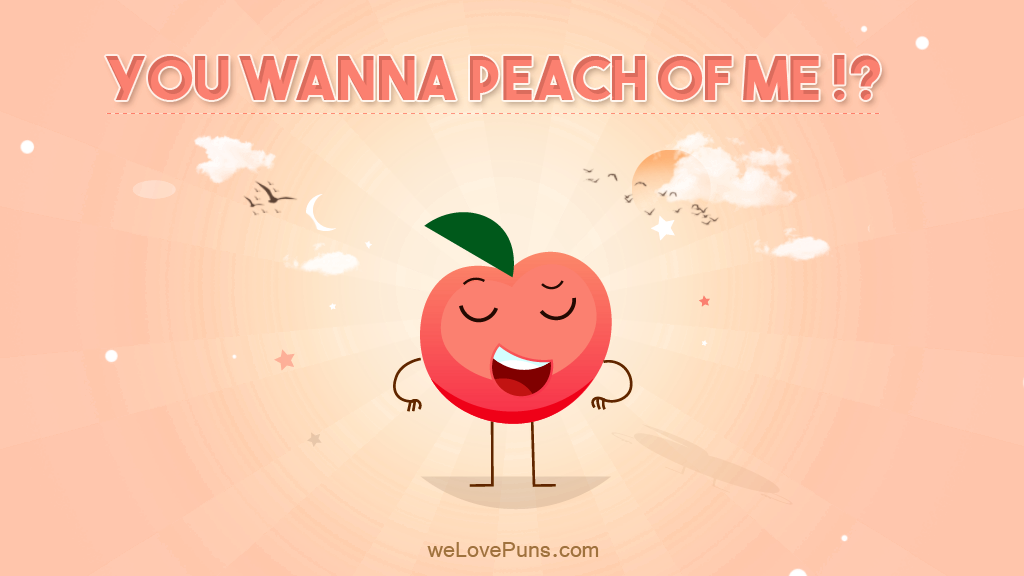 ---
1. I just hear that the woman who lives next door and loves fruit died. I hope she would rest in peach.
---
2. Whenever the peach gets angry, it looks at my face and screams: "You are such a peach" or "You are just a peach of shit!"
---
3. How are you doing, mate? – Just peachy.
---
4. The peach goes to work late because it has to make some pit stops on the way.
---
5. After I show a peach the way, it says: "I really ap-peach-iate your help!"
---
6. What would a peach say to its girlfriend or boyfriend? – "You will always have a peach of my heart, baby!"
---
7. My teacher always tells me that I should practice what I peach.
---
8. Which word can be used to describe a peach that is surprised, shocked, or angry with strong emotion? – Speachless!
---
9. What do peach soldiers say to each other before they are sent into combat? – "Good luck and make sure you come back in one peach!"
---
10. The peach couple is in love. They seem to be born for peach other.
---
11. What do we call a beautiful picture drawn by a peach artist? – It is a great peach of work.
---
12. What is the most important right for a peach citizen in the first amendment of the constitution? – Freedom of Peach.
---
13. Whenever the peach father gets mad at his son, he just screams loudly: "You are the son of a peach!"
---
14. For a vampire, the most favourite kind of fruit must be a neck-tarine peach.
---
15. What do we call the period in between eating a peach? – It is called a pit stop.
---
16. What would a potato say to a peach? – "You have a nice pit!"
---
17. My mother gives me a peach. I tell her that I want a pear. So she gives me another peach.
---
18. Which tool does a peach biologist often use for its experiment? – A peachtree dish (Petri dish).
---
19. The nectarine just does a hair transplant because it wants to become a peach.
---
20. Those people are preparing peach gelato because they want to demonstrate their rights to freeze peach!
---
21. What is the most popular fruit character in the gaming world? – It is the Peach Princess in Mario.
---
22. What is the most favourite dessert of Mario? – Peach pie.
---
23. What does Donald Trump say when we tell him that he looks like an orange? – "I am not an orange, impeach!"
---
24. You really surprise me with this birthday present. You leave me s-peach-less.
---
25. "Impeach" – "Hello peach, I am orange."
---
26. The jokes about the peaches are really pit-iful!
---
27. Back to the 90s, children often hang out in the Peach Pit.
---
28. What do we call a fruit which is in love? – Peachy – Keen.
---
29. The man cannot stop eating the whole peaches because he has a bottomless pit.
---
30. The peach acts so funny as it is all fuzzy.
---
31. Do you know why does your mother often shave a peach when cooking? Because she only needs nectarines for the recipe.
---
32. Do you know the fruit which gives everyone a warm and fuzzy feeling? It turns out that she is a real peach!
---
33. The fruit stutters because it suffers from a peach (speech) impediment.
---
34. The fruit politician is losing its support in the country because of hate peach.
---
35. The least favourite kind of ice cream of Donald Trump is Peach Mint.
---
36. What do we call a peach that is specialized in mending or making shoes? – It is a peach cobbler.
---
37. Do you know what is the most favourite fruit in the United States? – Mmm peach!
---
38. My mother says: "Leave that peach cobbler alone on the table!" However, I cannot help myself and sneak in to watch it making beautiful peach shoes.
---
39. Everything is peachy when I am with you!
---
40. Interesting fact: A nectarine can also be a peach if it does not have peach fuzz.
---
41. I am a peach. But when I am with my husband, we are a pear.
---
We hope you and your loved ones have a great time with these great peach puns. Say thank you, upload a photo, or have a laugh in a more unique way by using these words or sentences in your daily life. They can also be put in a small gift or lunchbox to message your friends. If you want more interesting things, then feel free to check out these posts on brain puns, heart puns, and lemon puns.