Fall is basically the season of Halloween and pumpkin. With so much orange hues and funny faces around, there is no reason why you shouldn't caption your pictures with some witty words. Whether you want to pair a joke with your mascot, a foliage pic or a group of friends, the following best pumpkin puns are for you.
Best Pumpkin Puns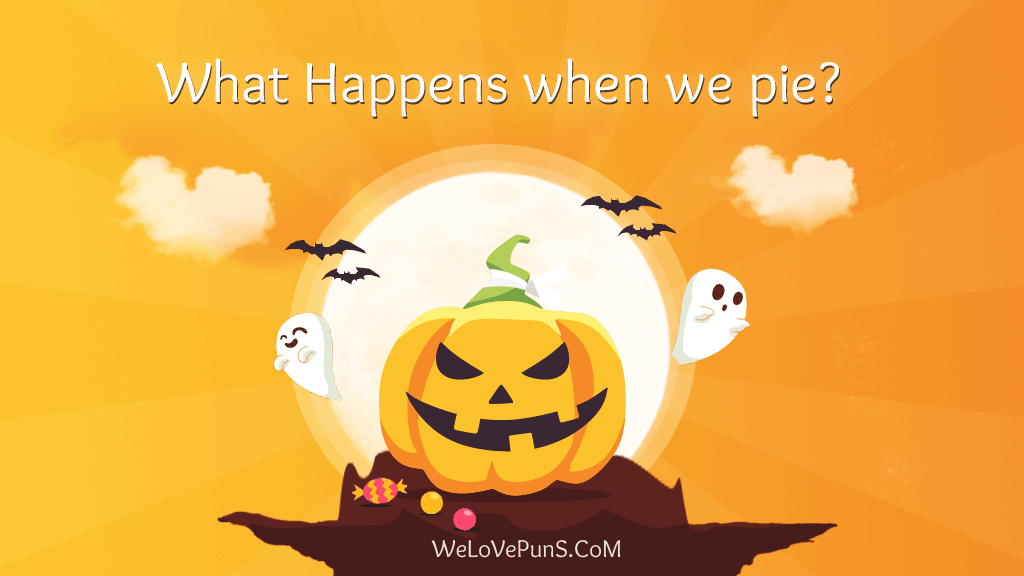 ---
1. What does a pumpkin say to a pumpkin carver? – You need to cut it out!
---
2. What would a pumpkin say to its lover? – "I only have pies for you, baby!"
---
3. Do you know what is the difference between a normal pumpkin and a Halloween pumpkin? – A Halloween pumpkin is hollow inside.
---
4. Let's get pumped for this Halloween!
---
5. The favourite sport of a pumpkin is probably squash.
---
6. The favourite movie of a jack o'lantern is "Pulp Fiction".
---
7. After each Halloween, my father repairs the broken jack o'lantern with a pumpkin patch.
---
8. Who would help a little pumpkin cross the road safely? – The crossing gourd.
---
9. I would be out of my gourd without you.
---
10. Why can't a Halloween pumpkin cross the road? – Because it does not have the guts!
---
11. What does a pirate pumpkin wear on Halloween? – A pumpkin patch.
---
12. I am so pumped to have you as friends!
---
13. What do we call a pumpkin which spits the seeds everywhere in Halloween? – A jerk o'-lantern!
---
14. What do we call a pumpkin which is on steroids? – A jock o'-lantern.
---
15. What do we call a chubby and fat pumpkin? A plump-kin.
---
16. These little pumpkins are so scared for Halloween. That's why we try to help them by putting on some happy faces.
---
17. When I ask the pumpkin how it is feeling, it just says "I am vine, thank you for asking."
---
18. When having a meal in the restaurant, what would the pumpkin say to the pie baker? – "Please use apples instead."
---
19. After Thanksgiving, the pumpkin says to everyone "Good pie everybody!"
---
20. What do we get when we drop a pumpkin? – Squash!
---
21. What is the ratio of the circumference to the diameter of a pumpkin? – Pumpkin pi.
---
22. The pumpkins are so gourd – geous!
---
23. The jack o'lantern is sad on Halloween because it feels empty inside.
---
24. Do you know where does the jack o'lantern live? It lives in the seedy part of the town.
---
25. At this point of the year, my type of blood is pumpkin spice.
---
26. Gourds tend to be afraid of anything which goes pumpkin the night.
---
27. Do you know why do pumpkin have to sit on the porches? Because they do not have any hand to knock on the door.
---
28. Cinderella is not so good at softball. Do you know why? Because the pumpkin is her coach.
---
29. What do we call a pretty and beautiful pumpkin? – It is gourd – geous.
---
30. What would a pumpkin pie say after a heavy meal? – It was filling!
---
31. The most favourite food of a pumpkin at the movie theatre is pulp – corn.
---
32. The leader of the pumpkin world is called the Pump – king.
---
33. The jack o'lantern says to a newly harvested pumpkin: "Humans are evil. They will first slice off the top of your head and then scoop out the brains before carving out a face on your body and setting a fire inside."
---
34. A famous pumpkin says: "August is fine. September is keen. But wake me up when it is Halloween."
---
35. What can be a good caption for a group shot of pumpkin collection? – Gourd goals.
---
36. A great piece of advice from pumpkins: be well-rounded, maintain a thick skin, enjoy lots of sunshine, say thanks for the bounty in life, keep growing, think big, and stand out in your field.
---
37. Let's give them pumpkin to talk about.
---
38. A corn talks to a pumpkin: "Will you be my pump-king?" The pumpkin replies: "You are so corny!"
---
39. What day of the week does a pumpkin dread most? – Squash – urday!
---
40. A Halloween pumpkin always smiles on the outside but feels hollow on the inside.
---
41. What does a pumpkin say to another pumpkin? – "Let's get glowing together!"
---
42. Why does the Halloween pumpkin often forget things? Because it is empty headed!
---
43. The breed of dog that pumpkins like most is pump – eranian.
---
44. How can a pumpkin invite a monster to the Halloween party? With its pi – phone.
---
Though Halloween is often seen as a spooky time of the year, these pumpkin puns will turn it into a silly season, at least for a few moments. You can use them for an Instagram caption, to bring fun to friends, or just to relax yourself in this season. Make sure to check out other topics about spice puns, jazz puns, ice puns, and penguin puns. These are interesting and funny posts that will never let you down.