Out of all cold beverages and refreshments that you could have, nothing beats the life giving goodness of ice cream. And if memory serves right, most of us can remember chasing down the ice cream truck on a hot, summer day just dreaming about getting a full cone. So, what could be better than some hilarious puns about the stuff? So sit back, relax, grab your favorite flavour and let the good times roll with some of the best ice cream puns. Have you got a bit of time? Read also our snow puns.
Best Ice Cream Puns and Ice Cream Jokes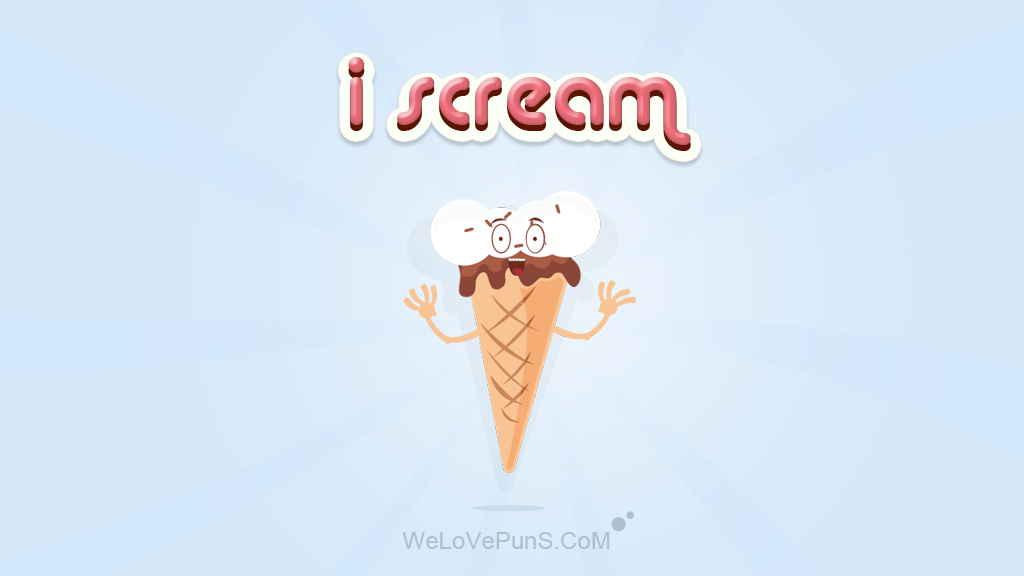 ---
1. I brought an umbrella with me the first time I went into an Ice cream store. But you can't blame me; someone said there was a chance of heavy sprinkles.
---
2. Did you hear the one about the hottest summer in the history of man? Yeah, but once ice cream was invented, that problem was totally licked.
---
3. What do you get when you milk an Alaskan cow? Literally ice cream – unless the cow was running then you just get frozen yogurt.
---
4. With all the Rocky Road, it's no wonder the ice cream truck keeps breaking down.
---
5. Why can't you make ice cream from breast milk? Well, you could, but it sounds like an udderly bad idea.
---
6. The ice cream man was definitely not here to play games. Well, except brain freeze that is.
---
7. Did you hear about the worker who accidentally locked himself in the factory freezer? Yeah, poor sap ended up getting a massive case of spumonia.
---
8. Baby, you must have just received a good churning because damn you're looking fresh.
---
9. I don't know about you, but that's just about the cone-iest pick up like I've ever heard.
---
10. And speaking of the corniest pick up likes, here's another – If you're Rocky Road, then baby I'd love nothing more that to pave you proper.
---
11. Ice cream, you scream, we both yell at each other because that's what married people do, am I right?
---
12. Whenever I take a look in the freezer and there's no ice cream at all, I get a massive case of Blue Bells.
---
13. I had some green coloured ice cream the other day. It was mint.
---
14. Okay, so what's an electrician's favourite flavour of ice cream? I don't know if you want your electrician getting wet, but you could try and give him Shock-a-lot (chocolate).
---
15. Why on earth did the two ice cream cones break up? I don't know, maybe because you squeezed them too hard?
---
16. Or maybe it was because she thought the guy was too vanilla for her taste.
---
17. Did you hear about the kid with a Neapolitan complex? Yeah, poor guy's always arguing that Strawberry, vanilla and chocolate are the three best ice cream flavours.
---
18. Does anyone know what Reese uses to eat ice cream? That's an easy one –Witherspoon.
---
19. Okay, so when does Oliver Stone eat an entire bucket of ice cream? Any given Sundae.
---
20. And where does Oliver go to get his ice cream and learn some tricks of the trade? Sundae school of course.
---
21. Damn girl, you must be made of pecan pralines because I'm nuts for you.
---
22. How on earth do astronauts enjoy a bowl of ice cream? In floats of course.
---
23. What happens when you eat an entire bucket of All Natural iced cream? You'll get a horrible case of Breyer's remorse.
---
24. Time for a little math – what do you get when you divvy up the circumference of an ice cream bowl by the diameter? Pi ala mode.
---
25. Okay, so what would you call a rapper who works at an ice cream shop? Scoop doggy dog.
---
26. You nailed it. Now what do you call a metalhead who also works at the same ice cream store? Alice scooper.
---
27. Does anyone here know what Dracula's favourite flavour of ice cream is? It's got to be that veinilla.
---
28. Where would you go if you wanted to learn how to make complicated ice cream flavours? Sundae school.
---
29. That lady was so smooth she made me lose all my chips.
---
30. Did you hear about the reporter who went bankrupt at Cold Stone? Yeah, after it was robbed, he kept asking for the scoop – and they kept giving it to him.
---
31. Got another corny pick up line for you – Baby, every time I see you I feel my cream getting whipped, my spoon getting licked, and my banana getting split.
---
32. When it comes to making our own sundae, I say we hold the cherry… and each other of course.
---
33. Where do ice cream makers go when they die? I don't know if there's an afterlife, but they sure as hell pass through the creamatory on their way.
---
34. I don't think I'll be buying ice cream from them again. I mean, their flavours straw – bearly hit the spot.
---
35. I don't think that's a real doctor mike. I mean, his idea of a balanced diet is an ice cream in each hand.
---
36. Why does Kanye love making sundaes with Kin all the time. I guess cooking comes yeezy to him.
---
37. This is what 50 cent would have sung if he loved ice cream – Go shawty, it's Sherbert Day.
---
38. Why is it never a good idea to eat ice cream while partying in the Caribbean? Because you might forget and tropic like it's hot.
---
39. I swear I'm going to have a fit if I hear another dude tell the ice cream girl that's she's berry cute.
---
40. Why are their ice cream flavours so popular dad? Don't believe a word you hear son, the competition just sugar coats the truth.
---
41. They asked me how a simple ice cream scooper became so good at singing. I told em that icing in the shower most of the time.
---
42. The secret to becoming a success in today's cut throat ice cream business is by not sweeting (sweating) the small stuff.
---
43. Did you know that you could write your diploma dessertation on ice cream puns?
---
44. And on that note, let's end our long list of best puns because well… batter safe than sorry.
---
45. We always invite the ice cream to our parties simply because it is always cool!
---
46. Ice cream is my ideal girlfriend as she is so sweet all the time.
---
So, what do you think? Was it good or bad? If you don't know, read our good and bad puns, to check these rain puns here.