You don't need to know much about pigs for you to love bacon. Whether you are in the kitchen with friends or out on a picnic, bacon puns will simply serve you the best-baked laughter. Dig right in for sumptuous ones!
Best Bacon Puns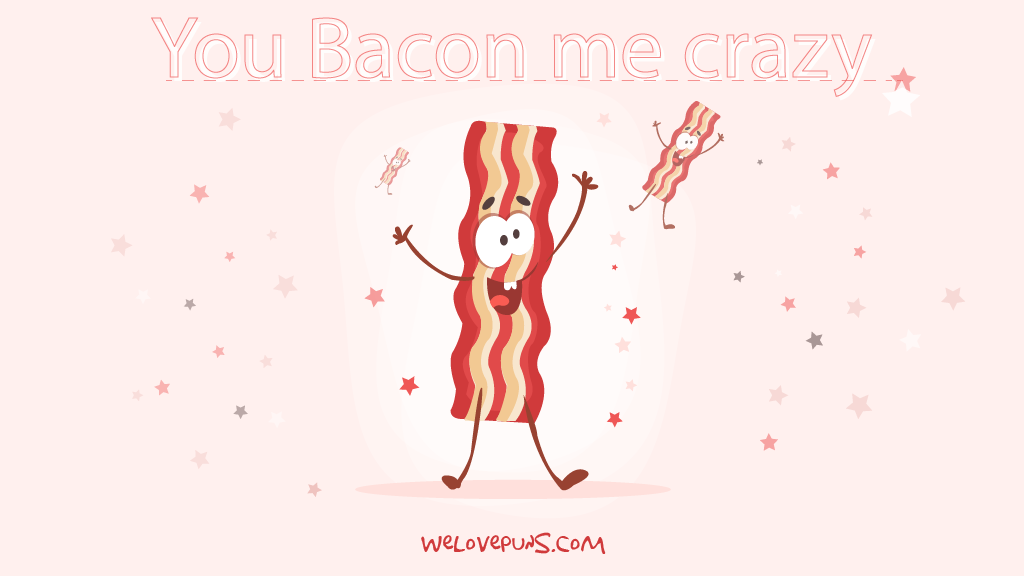 ---
1. When you cross a chicken a pig, you will end up with bacon and eggs. What a healthy diet!
---
2. When you go to Jurassic Pork, one of the notable must-eat meals is dinosaur meat wrapped in bacon.
---
3. Do you find it strange that we bake cookies and cook bacon?
---
4. When the egg and bacon walked into the bar, the restaurant owner told them that he doesn't serve breakfast, so they should go somewhere else.
---
5. When you cross a centipede and a pig, you will end up with bacon and legs.
---
6. If pigs could fly, people would not afford bacon. This is because the price of bacon would simply skyrocket.
---
7. The terrain was so bad. The only way we could have gotten up there is through pigup trucks.
---
8. When the meat packer was arrested, everyone wanted to know what the reason could be. The verdict was finally out, and the charge sheet read that he brought home the bacon.
---
9. The only way the pig thought was best to save his own bacon was to kill the framer.
---
10. The drunk Mexican drug lord didn't manage to find the bacon tree because he walked into a ham-bush.
---
11. Nobody wants to play ball with the pig. He always hogs the ball.
---
12. When the bacon realized that he was running out of options and wanted tomato back in his life, he said, "Lettuce get together."
---
13. The pig went into the kitchen because he felt like bacon.
---
14. If you come up with a bacon movie and you are looking for a title, just call it hamlet.
---
15. If you come across a pig that tells you about his ancestors, that's history in the bacon.
---
16. When we visited the swine city, we were told to watch out for pigpockets.
---
17. When they started their friendship, they made pledges to each other. The man said, "don't go bacon my heart."
---
18. When the butcher finished his conversation with the pig, he said, "it has been nice meating you."
---
19. Because I am Canadian, my bedroom smells like beaver, bacon, and maple.
---
20. Don't worry if you can't buy happiness. Just buy bacon and you will end up with the same thing.
---
21. The only celebrity who smells the best is Kevin Bacon.
---
22. A person who steals bacons is called a ham-bugler.
---
23. When taking bacon, you really don't care what the pigs colour was. It could even be ma-hog-any.
---
24. The pig was so ham-fisted that it couldn't tie its own shoe races.
---
25. There is strange disease in town where pigs develop rashes. It is called ham-eczema.
---
26. The driver who delivers our bacon drives so carelessly. He is such a road hog.
---
27. Even if Ein-swine himself convinced me to take bacon, I wouldn't dare.
---
28. The area administrator suggested that because bacon was so much in demand, it should be delivered quick in ham-bulances.
---
29. When he ordered for pork chop, the waiters went and called the pig who does karate.
---
30. A pig that is wrong is not dumb, but rather mistaken bacon.
---
31. All the vehicles carrying bacon had a reserved porking lot.
---
32. There is a reason pigs don't win races. They all pull a ham string just before the finish line.
---
33. I cannot go bacon you even if I fried. You are a destiny friend to me.
---
34. When they were going out on a date, he had to break the piggy bank so that they can have a decent bacon meal.
---
35. After being ham-bushed once, the lady became strangely courageous and wouldn't let any other attacker to pigpocket her.
---
36. What do we call a thief who tries to steal bacon? – He is a hamburgler.
---
37. The pig will never sunbathe on the beach because he would be bacon in the heat.
---
38. What do we have when wrapping a dinosaur in bacon? – A Jurassic Pork
---
I hope you enjoyed our bacon puns and jokes. Click through the rest of the site for more puns and laughs including hilarious ones such as piano puns, camel puns, and shoe puns.