Whether you are shopping for shoes or just having a nice conversation with friends, shoe puns will certainly crack your ribs. From the gum saying I am stuck on you to the hat telling the shoes I am head over heels, you will never miss an opportunity to laugh yourself lame.
Best Shoe Puns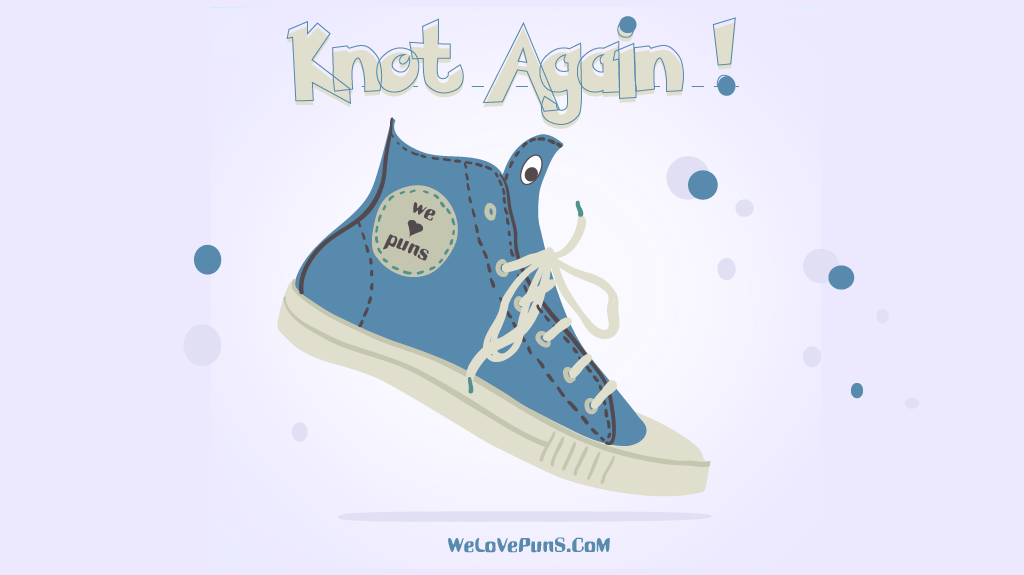 ---
1. Do you know what Imams shoes are made from? They are custom-made from allah gaiter skin.
---
2. There are many ways of making history in this world. For instance, you can decide to walk around wearing a sandal on one foot. This is a feet only a few can match.
---
3. Sole full guys have shoes on their menu.
---
4. Everybody was convinced he was a cleft-toe maniac. He went around stealing flip flops.
---
5. There is a little-known fact about Halloween. It started in Holland simply as a day when people plugged the dikes using shoes. For this reason, there is an annual celebration known as the soles of the dammed.
---
6. Ever since I stepped on the gum by the side of the road, I haven't stopped sole searching.
---
7. One of the unimaginable and greatest feet is trying to fit into size 19 shoes and you are size 30.
---
8. The governor, visibly angry at the looting spree by some marauding gangs, he gave a shoe to kill order.
---
9. Everyone attending the crusade put their best foot forward because the preacher said he would heel the masses.
---
10. Right from the first day, no one doubted their affection for each other. They were real sole mates.
---
11. Thieves are careful on how they dress especially the shoes they wear. Their favorite shoes are the sneakers.
---
12. In the world of social media, every joke that you post travels thousands of miles. They certainly have legs.
---
13. If you have been looking for a pun to run with, try shoe puns.
---
14. There are lots of things being done at boot camps these days. Even people unable to tie their shoe laces go there.
---
15. I happened to attend the 50th anniversary dinner at the school of shoe menders. You cannot imagine the load of old cobblers I met.
---
16. There is nothing as sole destroying as working in a shoe recycling center.
---
17. Of all famous philosophers, Sockrates was the only one with unique footwear.
---
18. The hat and the shoe were walking together to the party then all of a sudden, the hat said to the shoe, "I will go right ahead of you, if you don't mind, just come on foot."
---
19. Sockspeare was so philosophical and never straightforward. He is the one who asked whether it was better for a shoe to be or not to be.
---
20. One day, a racehorse and its entourage made their way into a bar. Immediately, he sighted them, the barman rose and said, "You cannot come in with those trainers."
---
21. The shoemaker finally wedded his sole mate. Together they had run their shoe repair shop for slightly under a decade.
---
22. In one of the interviews I attended when looking for a job as a blacksmith, the interviewers asked me whether I had shoed a horse. I told them that the only close experience was when I told a donkey to go away once.
---
23. If you are the choir conductor directing a frog chorale, you better be wearing open-toad shoes.
---
24. For some reason, spies love wearing sneakers. They help them move swift and unnoticed.
---
25. When he started his shoe business, he was still heeling from his broken relationship.
---
26. On their wedding, the officiator emphasized that the couple should borrow a leaf from shoes. Though not related, they make a perfect pair.
---
27. Were it not for your small feet, I would walk a mile in your shoes.
---
28. Not every shoe is designed for heely terrains.
---
29. I could not imagine that immediately after high school, he decided to run the shoe store.
---
30. Unless you really want to live the Asian culture, ordering for shoe-shi may be a farfetched ambition.
---
31. Do you know which type of shoes do ninjas love wearing? – Sneakers!
---
32. I have recently purchased a new pair of shoes from a drug dealer. I am not sure what he laces them with but I have been tripping all the time.
---
33. A shoe repairer is like God. He can heel you. He can save your sole. And he can even dye for you.
---
Before you walk away having enjoyed the shoe puns above, check out other puns you may find interesting as well such as camel puns, beard puns, and piano puns.