The horse has always been a majestic creature that will leave a lasting impression on you unlike any other animal. That being said, horse puns can leave you a little hoarse after laughing so hard, so try to take these puns one at a time so you get to enjoy them for what they are. After you tell your friends a few of the following 63 horse puns and horse jokes, you should be racing to the winners circle among your friends. Then don't forget to check some of our best cat puns.
Best Horse Puns and Horse Jokes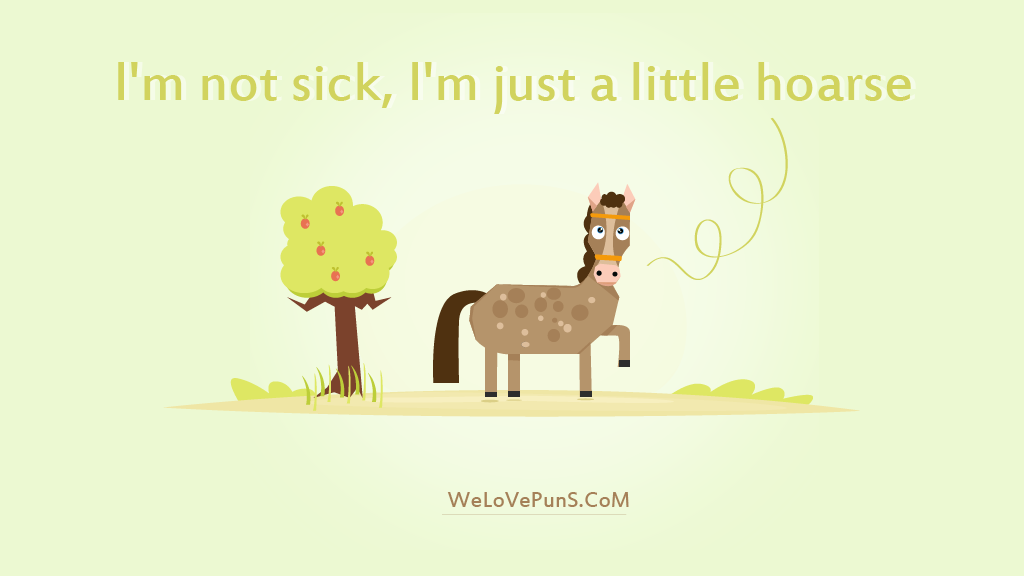 ---
1. It was easy to understand why the horse went so lame early, he was out of the gait first.
---
2. Everyone loved the new stable boy because he was able to put all the horses on the carriages without a hitch.
---
3. The only way that you can calm down impatient jockeys is to tell them to hold their horses.
---
4. As soon as the horse ate the entire room of hay he had a real baleful look about him.
---
5. The mother pony was always yelling at her two little ones to stop horsing around.
---
6. When you hear some gossip from a horse you are basically listening to a neigh-sayer.
---
7. The younger horses must have a stable environment in order for them to grow big and strong.
---
8. The horse was kicked off he basketball team because he would foal too much.
---
9. In order to control a wild teenage horse, you have to know when to rein them in.
---
10. A horse was fired as a weather reporter because she could only say that the weather was stable each day.
---
11. If you want to buy a thoroughbred horse, you are going to have to pony up a lot of money.
---
12. When she got the job working in the horse stables, her boss gave her free rein.
---
13. The kids loved watching the parade of horses as they traveled down Mane Street.
---
14. She names her pony Storm because she could ride like lightning in any weather conditions.
---
15. The farm hand had to get rid of his horse because it did nothing but cause him a lot of woe.
---
16. At the horse reunion, one horse was heard saying that he remembered everyone's pace but not their manes.
---
17. Horses make great pets for kids because they are very stable animals.
---
18. Everyone loves the horses of the farm because of their incredible horsepitality.
---
19. No one liked the new horse on the farm because he was always trying to stirrup trouble.
---
20. The horse knew that you could not hate him furlong once you got to know him.
---
21. A little pony wanted to sleep with his mother and father because he was having terrible night-mares.
---
22. The only type of food that race horses will eat is fast food.
---
23. Everyone knows that a horses favorite sport it stable tennis.
---
24. Most horses will only eat their sandwiches on thorough-bread.
---
25. When the horse walked into the hospital, the doctor asked him why he had such a long face.
---
26. The little pony was removed from the class because he was always horsing around.
---
27. The horse was not popular with her friends anymore because she mustang with the wrong crowd.
---
28. The horse left the farm because he thought that the farmer was trying to harness his creativity.
---
29. A horse stopped right in the middle of the highway because someone yelled "Hay"!
---
30. When little ponies are sick, they are usually rushed to the horse-pital.
---
31. Did you know that a horse loves to eat Apple computers.
---
32. The mother horse said to her foal that it was pasture your bedtime.
---
33. The fastest way to mail a little horse to your friend is by Pony Express.
---
34. The only state horses love getting their hair done is in Maine.
---
35. A race horse will not wear underwear because they said it rides up on them.
---
36. Did you know that if you find a horseshoe it really means some poor pony is walking around in his socks.
---
37. Vampires like to go to the horse races and see the finish when it is neck and neck.
---
38. Cowboys ride horses because they are too heavy for them to carry.
---
39. In order to determine what animals the kids liked at the farm, they had to take a gallop poll.
---
40. If you want to really lead a horse to water, you better have a lot of carrots.
---
41. The bronco was asked to leave the bar because he only had one buck.
---
42. One reason they had to keep the horse in his stable today was because he came down with a severe case of hay fever today.
---
43. My horse will only watch one movie with me, Fiddler on the Hoof.
---
44. The horse that has seen the world is considered to be a real globe-trotter.
---
45. The best thing to give a pony with a sore throat is a little cough stirrup.
---
46. The most famous horse thieves of all time are Bonnie and Clydesdale.
---
47. The only thing that you should put in the mouth of a quarter horse is two bits.
---
48. When a horse accidentally swallowed a dollar bill it began to buck.
---
49. The man had to close his riding academy because business kept falling off.
---
50. Horse sense is the ability to say nay.
---
51. The race horse is considered to be the strongest animal because it can take hundreds of people for a ride at once.
---
52. The assistant stable cleaner was also affectionately known as the co-pile-it.
---
53. The only thing as big as a horse but weighs absolutely nothing is his shadow.
---
54. The hardest thing about learning to ride a horse is the ground.
---
55. Newlywed horses are invited to stay in the bridle suite.
---
56. Barge horses make great dancers because they know how to tow the line.
---
57. The little boy stood behind the horse because he thought he might get a kick out of it.
---
58. That shy little horse went behind the tree to change his jockeys.
---
59. An egg and a young horse have one thing in common, they can't be used until they are broken.
---
60. It can be challenging to identify a horse from the back because they are always switching their tails.
---
61. The reason that Teddy Roosevelt was mean to horses was because he was considered a rough rider.
---
62. Do you have a sore throat because you sound a little bit hoarse today?
---
63. What do we call a horse that lives next door? – That is a neigh-bour!
---
So these 63 horse puns should stirrup some fun between friends, enjoy them next time you are horsing around.
If you want more, check this post with the most hilarious puns we could find on internet. Do you want more? Here is a list of bee puns we love.