In case you didn't notice, there are cat puns being used in just about every conversation. Cat lovers are not the only ones who appreciate these little rib-ticklers, if told correctly they really can have your audience howling with laughter. The majority of these cat puns are simple to understand and should be the purr-fect way to break the ice when the conversations get boring. So here we go, a list of 51 funny cat puns that will have you rolling over with laughter. Once you're done, you can check our best fish puns.
Best Cat Puns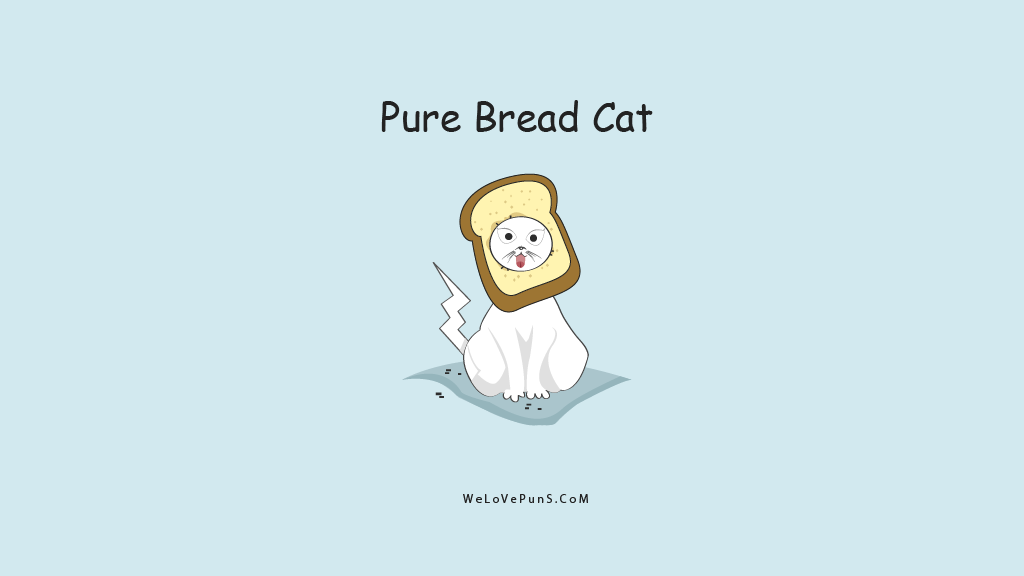 ---
1. When asked why I painted a picture of my cat's feet, I tell everyone it is her paw-trait!
---
2. There is a cat in Australia who drank 5 bowls of milk in 10 minutes. It is believed she set a new lap record.
---
3. The reason that cats are so afraid of trees is because of their bark.
---
4. Did you know the medical term for a cat swallowing a duck is called a "duck-filled fatty puss".
---
5. The kitten lost her tail so he went to the re-tail store in town to get another one.
---
6. I am so happy that our cats hissed and made up after that huge fight last night.
---
7. My cat only eats mice cream on those hot and steamy days.
---
8. There once was a cat who was able to eat an entire ball of yarn. She went on to have mittens.
---
9. The only difference between a cat and a coma is one has a clause before pause, the other has paws before claws.
---
10. My slow and chubby cat's favorite song is three blind mice!
---
11. They do not allow cats to attend the flea circus any more because they steal the whole show.
---
12. The only thing that is worse than when it rains cats and dogs is when you see hailing taxi cabs.
---
13. I am so excited that they allowed my cat to join the Red Cross. She is officially considered to be a real first aid kit.
---
14. In the town of Nashville Tennessee, the cat police are officially called claw enforcement.
---
15. My cat has a very particular eating regimen, she will only eat Mice Krispies for breakfast.
---
16. My cat recently stepped in a spilled bottle of vinegar, so now we call her a real sour puss.
---
17. You might not believe this but a cat's favorite TV show is when the evening mews comes on.
---
18. I think I have to teach my cat some manners. Every time she gets mad at me she throws a hissy fit.
---
19. The reason why that alley cat is so confused all the time is because he is purr-plexed.
---
20. My cat loves to put on a little purr-fume before she heads out for the night.
---
21. There's no doubt the local cat was responsible for eating the duck. Law enforcement said that the cat had that down-in-the-mouth look.
---
22. So what do you get if you cross a canary and a hungry cat, well, a cat that really isn't hungry any longer.
---
23. There was one cat who always had the high score at the local bowling alley. It was because he was an alley cat.
---
24. Rather than head out to the local store to buy things, my cat goes online and uses a cat-alogue instead.
---
25. It was on the news last night that a local cat family sold their lovely house because they say that the neighborhood has gone to the dogs.
---
26. When little Tami was asked what looks like half a cat, she simply replied the other half.
---
27. My cat goes crazy every time her favorite movie is playing, she loves the Sound of Mew-sic.
---
28. The technical term for a large pile of kittens is knows as a meow-ntain.
---
29. When the cat accidentally won the national dog show it was considered to be a cat-has-trophy.
---
30. Did you know how many cat's you can put into an empty box was only one because after that the box is no longer empty.
---
31. I have to admit me and my cat both adore the color purr-ple.
---
32. Each month my kitty gets so excited when the mailman drops off the latest issue of Good Mousekeeping to our house.
---
33. My cat is extremely good at getting exactly what she wants, I think it is because she has a purr-suasive personality.
---
34. My cat has become very good at using the purr-culator to make us coffee each morning.
---
35. When nine cats left in a boat and none returned, it was because one jumped out and the rest were all copy-cats and followed.
---
36. Each night my cat will not fall asleep unless I read her the classic book The Prince and the Paw-Purr.
---
37. My cat is always sitting on top of my computer because he wants to make sure that he has one eye on that mouse.
---
38. My little kitten will never go near the windows during a lightning storm, my daughter calls her a scaredy-cat.
---
39. That crazy cat will not go to bed at night unless you put her in her favorite pink paw-jamas.
---
40. Of all the kitchen tools in my house, the cat simply loves it when I use the whisker.
---
41. This year my cat was glued to the television watching the Olympics because she loves the meow-athon races.
---
42. That clever cat ate cheese and then waited for that mouse with baited breath.
---
43. My cat is so sophisticated that she will read a book and then paws after each claws.
---
44. Our kitten always sleeps on a down pillow. We have always had this soft spot for her.
---
45. The cat found this mysterious sweater, but in no time at all the mystery will soon be unravelled.
---
46. Our cat decided to take up computer lessons in the hopes of being able to master its grip on a mouse.
---
47. The local kids said that curiosity killed the cat, I have to agree that they weren't kitten.
---
48. I think it was a rash decision that woman impulsively got the cat despite her allergies.
---
49. That cat burglar is being accused of felineous intent.
---
50. Every cat is a talented singer because they know everything about mew-sic theory.
---
51. What is the most favourite book of cats? It must be "The Great Catsby."
---
I know it can be difficult to draw feline when it comes to these cat puns (or cat jokes). So there you have it, a pretty extensive list of cat puns that really should scratch you in all the right places.
Check also our article on funny, bad and great puns or this one about dogs.