Electricity has nowadays joined the ranks of food and water as a basic need. Life without electricity would be so boring. Imagine not being able to charge you mobile, watch TV, or play video games! Life would certainly lose its spark. Unlike other technologies, electricity was not necessarily invented, but rather people understood how it works bit by bit. That said, Benjamin Franklin is given most of the credit when it comes to electricity discovery and development. You may think there is nothing funny with electricity, wait until you read the puns below. You will laugh until it hertz.
Best Electricity Puns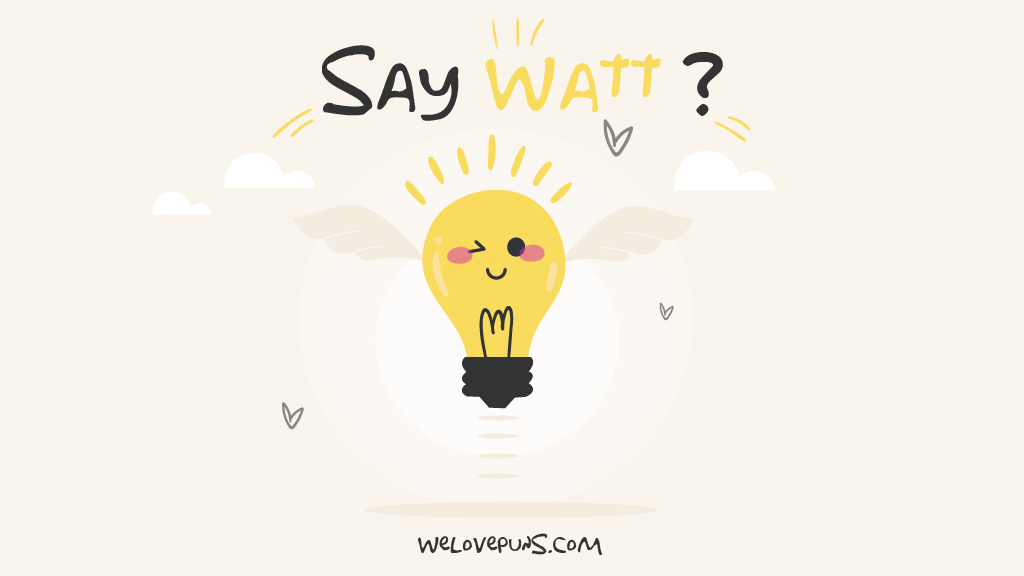 ---
1. When he explained to me how electricity is actually measured, I was shocked. I asked him like watt, are you serious?
---
2. When the electrician accidentally blew the power, the ice-making factory went into liquidation
---
3. When a barefoot man steps on a live electric wire, he may get a pair of shocks.
---
4. When she told me that there was no more spark between the two of us, I tasered her.
---
5. If you don't want to pay an engineer to re-wire your house and instead go for it yourself, you may be shocked at how tough it can be.
---
6. When electricians are surprised, they shout ohm-y.
---
7. Superconductors can be very polite at times. When they walked into a pub one day and were told that their kind of rum was not at sale that day, they simply left without resistance.
---
8. The career you are in can influence the type of car you drive. For instance, many electricians prefer a volts-wagon to a Toyota.
---
9. Have you ever tried planting a light bulb right in the middle of your garden, if not you are missing out! It could as well spring out into a power plant.
---
10. One day the electrician arrived home very late, his bold wife asked him, "darling, wire you insulate".
---
11. I was surprised that as young as they were, the electrician's children had already settled on shock-a-lot as their favorite ice cream color.
---
12. The secret is out! Electri-city is the smallest city in the entire world.
---
13. Electricians can be detectives as well. In fact, one of my all-time favorites is Sherlock Ohms.
---
14. Electricians are never left behind. They are always updated on current affairs.
---
15. Wind power is increasingly becoming popular not simply because it is green but it has a lot of fans.
---
16. When he finally read the judgement on the electrician, everyone was re-volting why the poor man had been charged with assault and battery.
---
17. If you wanted us to stop walking, wire you continuing?
---
18. Thou they lost the case, they were amp-le reasons why the power firm should be compensated.
---
19. Because no one was interested anymore in the rural electrification deal, they all plugged out.
---
20. Everyone knows how optimistic I can be especially with innovative ideas. However, on his one, I am negative. The wiring of the whole thing is so con-fusing.
---
21. If you decide to switch on to another topic before this one is concluded, you may face some resistance.
---
22. They were shocked that the president decided to vote for an alt-ernating regime. Finally, there was light at the end of the democracy tunnel.
---
23. They decided to repost the entire article because some parts had been OHMitted.
---
24. At one time I sat on an electric chair, let me tell you, it was such a shocking experience.
---
25. In this town, the only honest people are electricians. When you assign them a task, they conduit almost immediately.
---
26. No one wants to age and fall into dementia. Research has indicated that electricians do not die they simple lose contact.
---
27. Power corrupts and this is particularly true in electricity companies.
---
28. Kids can be funny, they are wired to think differently. On one occasion a severe storm battered a school and disconnected power. You won't believe how de-lighted the kids were.
---
29. The entire house was filled with electro-magnots, all chewing the wires.
---
30. That night, the free electron was so sad because there was nothing positive to smile about.
---
31. Which car brand do most electricians purchase? – Volts-wagen.
---
32. My mother is shocked when she opens the electricity bill this month.
---
Electricity puns are always powerful and no one can refute that. However, there are more puns on this site that can light your moments. Choose from our love puns, cat puns, pig puns, train puns and many more!