Did you know that the oldest locomotive known as Fairly Queen was built in 1855? Well, it may have been a steam locomotive and not an electric one, but it served its purpose. Talking about trains, they have transformed transport all across the world and it seems they are not out of steam as yet. Train puns have this lightheartedness that can easily sweep you off the rails. Below is a list of the all-time rail favorites. If you prefer something else, check out also our potato puns.
Best Train Puns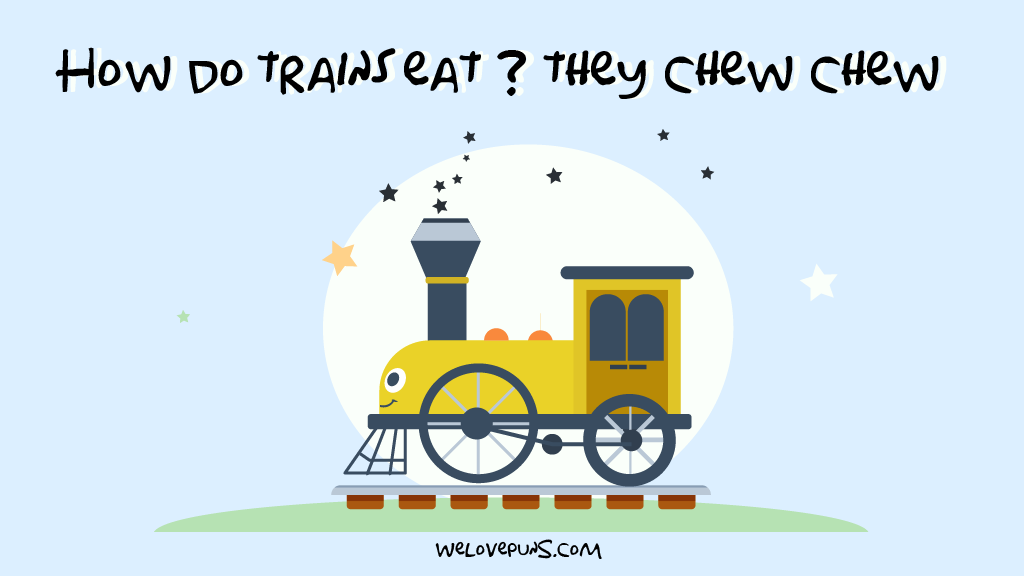 ---
1. To start with, none of us was comfortable trusting a train and this is because they always have some loco motives.
---
2. If you want to succeed doing a project on trains, ensure you learn how to keep track of every detail.
---
3. We asked him why he loved monorails so much and he jovially answered us that since he was young, he just couldn't get enough of one liners.
---
4. When we went to the railway end of year party, all the guests present were wearing platforms.
---
5. My favorite time to go out shopping for railway buffers is during end of line sale because everything goes cheap.
---
6. Railroad engineers have an interesting career where they must always keep their train of thought or else they risk going down the wrong track.
---
7. All along, the railway company had a safety problem but they somehow managed to cover their tracks.
---
8. A friend jokingly said that the easiest way to locate a missing train is by following the tracks.
---
9. As everyone else was gulping down the age-old wine, the train sisters were just chugging.
---
10. The train I took to my hometown always arrived late because it was a slowcomotive.
---
11. When the rail worker decided to go for a political seat, top on his agenda was to build a brailway for the blind.
---
12. In the middle of his presentation, he had to disembark because he had lost his train of thought.
---
13. If you have never felt so run down in your life, just take a walk along a railroad track.
---
14. During the vetting process, the railroad conductor was sacked because his immediate boss discovered that he wasn't train-ed.
---
15. The perfect definition choo choo train is a locomotive that has a coal-d.
---
16. Train conductors never get electrocuted because they are not real conductors like copper or iron.
---
17. The best gift for a train driver is to buy him platform shoes for Christmas.
---
18. Travel to any content around the world, you will never find anywhere railroad tracks happy. The reason is, people always cross them.
---
19. The only mechanism through which locomotives hear is through the engineers.
---
20. When the monster saw the rush hour train loaded with passengers, he said, "Oh my goodness, what a yummy chew chew train".
---
21. During Halloween, people wait for trains for so long. When asked the reason behind this, the railway management said, they only run a skeleton service.
---
22. No one will ever know the quality of his train-ing because he was denied a platform in the first place.
---
23. People with train-spotted reputation never last long in their career because they always get sidetracked.
---
24. In the Olympics, beating seasoned athletes is almost difficult because once they are full steam, they sprint like runaway trains.
---
25. Listening to his argument, it was indisputable that he had a one-tracked mind. At one point, he was almost going completely loco.
---
26. If the rail workers are not given a brake, they may let off steam midway.
---
27. Some discussions never get to a conclusive end because some kind of sleeper switches the topic to a totally different line causing people to sign off.
---
28. Between a teacher and a railway security officer, there is a huge difference. While the teacher trains the mind, the guard minds the trains.
---
29. Railway workers seems to have lost it nowadays. Do you remember the good old times when loco engineers were full of self e-steam?
---
30. The only way to know how heavy whales are is by taking them to a whale-weigh station.
---
31. The train was born and raised in a rich family, so it is no surprise that his life has always been on track.
---
32. Do you hear about the train that has recently left its job? It is an ex-press train.
---
If you like how these train puns chug, look out here for an alphabetic listing of more hilarious puns or these snow puns here.