There is something about cow puns that really gets people excited. If you want to milk these 60 puns for all they are worth, make no mi-steak, none of your friends will have a beef with these silly cow puns. Hey, and don't forget to go through these wine puns as well.
Best Cow Puns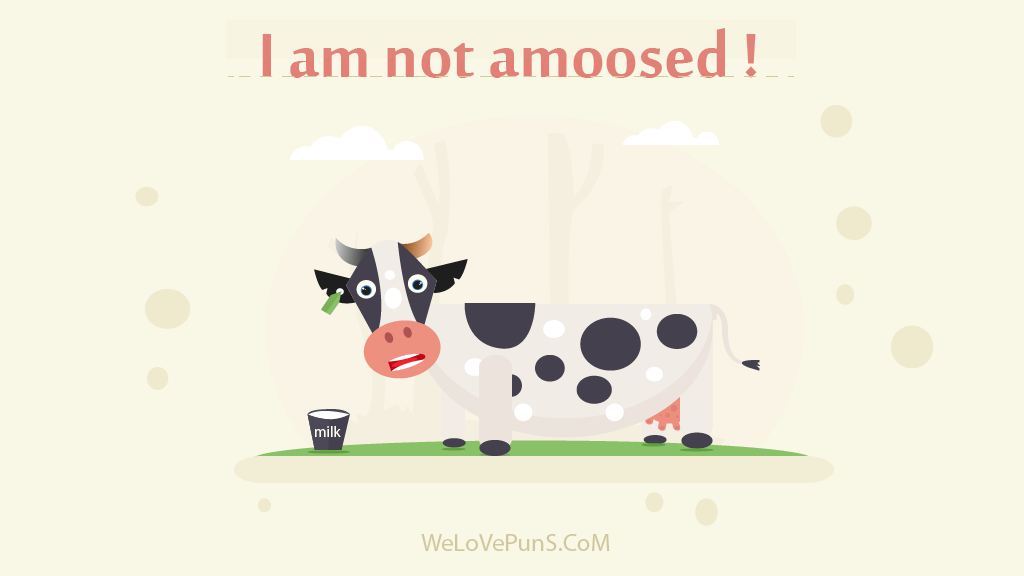 ---
1. Bobby couldn't see a good cow pun if it was literally steering him right in the face.
---
2. One of the problems when you have invisible cows is that they are herd but they are not seen.
---
3. It must have been a bovine intervention that the cow saved my life yesterday.
---
4. The reason Sally stopped telling cow puns was because she always butchered them.
---
5. The farmer who got attacked by a cow took him to court to milk him for all he was worth.
---
6. The only time that cows will make noise is when they are in the moooo-od.
---
7. One of the reasons that I have never tipped a cow was because I have never been served by a cow before.
---
8. When a cow is not giving milk each day, there must be an udder problem.
---
9. If you see a cow climbing to the top of a hill, then you know the cream is rising to the top.
---
10. Always massage a cow's back right before you think about putting it out to posture.
---
11. A cow will never tell you a lie because they simply give you no bull.
---
12. The reason a cow is always broke is because the dairy farmer is always milking them dry.
---
13. The little baby cow was told to get to bed because it way way pasture bedtime.
---
14. If you come across a cow with no legs, consider it some real ground beef.
---
15. The feeling you get when you think you have heard these cow puns before is known as deja-mooo.
---
16. The nursery rhyme cow was so excited about his new job that he was over the moon.
---
17. The farmer thought he only counted 299 cows in the pasture, but after he rounded them up, he now had 300.
---
18. Farmer Brown's cows are the funniest in the land, often referred to as the laughing stock.
---
19. That silly cow will never learn, things go in one ear and out the udder.
---
20. The story of the chicken and cow running away together sounds like a cock and bull story to me.
---
21. If you mix a ghost and a cow together, you will create vanishing cream.
---
22. That crazy cow with the nervous twitch was called a beef jerky by his friends.
---
23. The stampede at the dairy farm created udder chaos for all the farm hands working that day.
---
24. All cows love to celebrate on Moo Years Day!
---
25. That forgetful cow was only good for giving the farmer milk of amnesia.
---
26. The milking stool usually will only have three legs because the cow has the udder.
---
27. Once a cow gives birth, she is officially known as de-calf-inated.
---
28. The reason you will see all the cows lie down when it starts to rain is because they want to keep each udder dry.
---
29. The Secret Service surround the President with twelve cows because they were attempting to beef up their security.
---
30. That rich dairy farmer was in the money after his herd became a cash cow.
---
31. In order to move a cow with no legs, it would be an udder drag.
---
32. The cows all wanted to go to school because they excelled in cow-culus.
---
33. The only difference between pea soup and roast beef is anyone can roast beef.
---
34. That romantic cow took his new girlfriend to the moo-vies.
---
35. The manager for that dairy farm was referred to as the cow-ordinator.
---
36. I warned farmer Brown not to pamper that cow too much because it would wind up giving spoiled milk.
---
37. As soon as the cowboys are done with branding, they have sore calves.
---
38. Cows are usually very obedient when the cowboys come around because they do not want to stirrup any trouble.
---
39. Angry cows are usually responsible for giving the farmer sour milk.
---
40. You can always find the little cows eating lunch inside the calf-etiria.
---
41. The best way to tell if you have a truly exceptional cow is to see it outstanding in the field.
---
42. When you have a cow who has one leg that is shorter than all the rest, he is considered to be lean beef.
---
43. Give a cow a pogo stick if you want to make a good milk shake.
---
44. In order to get an accurate count of the herd, the farmer uses a cow-culator.
---
45. Each time the cow escaped, the farmer would find him hiding in Moo York City.
---
46. When that crazy cow tried to jump over the barbed wire fence, the farmer had an udder disaster on his hands.
---
47. Don't ever cross an irate sheep with an angry cow or you will get animals in a very baaaaaad mooooood.
---
48. When the cow forget how to give milk, she was udderly confused.
---
49. The farmer had the funniest herd in the land, they were known as the laughing stock.
---
50. Cows will never make the police force because they simply refuse to go on steak-outs.
---
51. Sweden will never export cattle because they want to keep them in Stockholm.
---
52. Cows wear bells around their necks because it is moooo-sic to the farmer's ears.
---
53. The reason the cow wore a bell around her neck was because her horn didn't work anymore.
---
54. That crazy cow kept running away because he thought he could find greener pastures next door.
---
55. A cow born in England could be called a Sir- Loin.
---
56. The farmer called his prize cow a bull-dozer because she was always sound a sleep in the fields.
---
57. The reason the cows were so hard to see in the fields was because they made use of the cow-moo-flage.
---
58. The little calf didn't want to go to school with sniffles because she was milking it for all it was worth.
---
59. The cows are broken at all time because the farmer constantly milks them dry.
---
60. Cows love listening to Maroon 5 and singing along: "Mooo like Jagger. I've got the moves like Jagger!"
---
If you took the time to really tell these 60 cow puns correctly, then your friends will not find them to be utterly ridiculous but at least a bit funny. And don't forget to check some of our best animal puns.