There is something about wine puns that just feels sophisticated, but silly at the same time. The following puns about win come in all varieties, so let it sit with you for a while, give it a good swirl, and you will discover your palate is actually more diverse than you thought concerning the humor of these silly wine puns. The only thing that may be even sillier are our science puns.
Best Wine Puns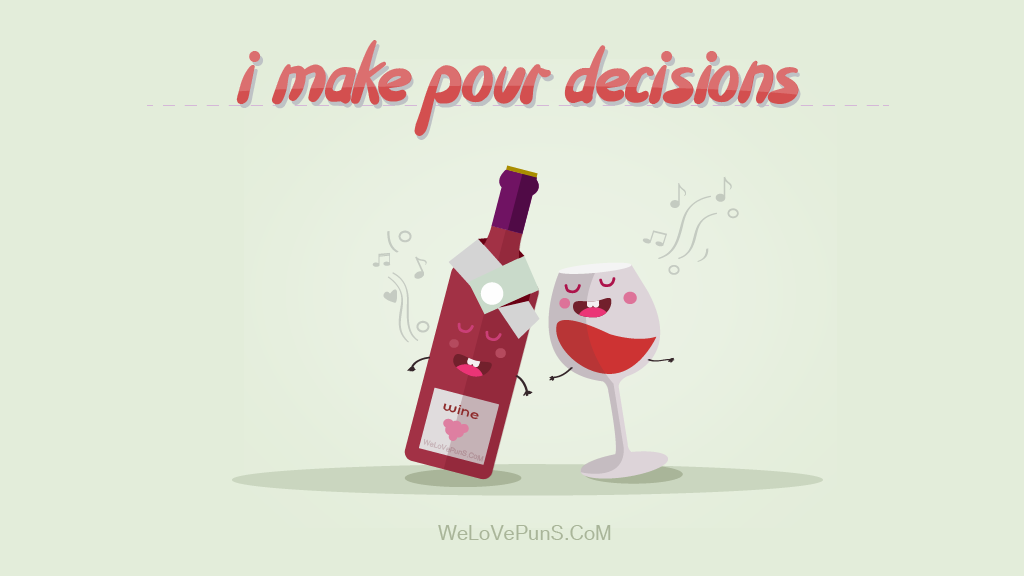 ---
1. The wine casket maker didn't have anything to do which resulted in him being bordeaux.
---
2. You can always tell which of the wine tasters is there for the first time by that blanc look on their faces.
---
3. There were a ton of complaints about the service at that banquet because whoever served the wine did a pour job.
---
4. Betty was hammered at the wedding reception because every time the waiter asked to refill her drink she would say "wine not".
---
5. You should never use too much wine when making charosis for Passover because you can get charosis of the liver.
---
6. The savvy wine drinkers know that before they have a big party at their houses they always lock up those bottles in a wine cabernet.
---
7. That popular saloon actually had a spittoon in the wine bar that was call "grape expectorations".
---
8. Me and my fellow wine drinkers always discover the next best brands by way of the grapevine.
---
9. Although the chardonnay is not really considered champagne, it's still wine.
---
10. A great wine always starts with a good grapevine, but a great cheese will start with a good bovine.
---
11. One of the side effects of me drinking too much red wine is I always end up getting a cab.
---
12. That annoying raisin just wined about how he could never achieve true grapeness.
---
13. The author was resigned to her fate, so she bought two dozen bottles of red wine. It was basically a case of syrah-syrah.
---
14. After that long night out on the town, the loud and proud wine-drinking pirate captain finally had a port list.
---
15. When that little wine was crushed all that could be heard was he let out a little wine.
---
16. My Bordeaux collie has been trained to go into the kitchen and bring me my favorite red wine for dinner each night.
---
17. That silly romantic who love his alcohol used to say if you can not be be with the one that you love, love the wine you are with.
---
18. Bo recently lost his girlfriend because after he said "I love you", his girlfriend discovered it wasn't the wine talking, he was talking to the wine.
---
19. Tami said that her non-alcoholic wine was really good, I argued that she had no proof.
---
20. The best way to drink away what is hurting you is to switch from wine to champagne.
---
21. When he began pouring his wine over ice cubes, she knew that their relationship was clearly on the rocks.
---
22. Those who drink wine will tell you that as the win improves with age, so they improve with wine.
---
23. That serious wine connoisseur decided which wines he would drink this week on a case by case basis.
---
24. Those who drink too much wine will wake the following morning with a hangover otherwise known as the "Grape Depression".
---
25. To learn wine first aid, first you must open to bottle to allow for adequate breathing, then if necessary, give immediate mouth-to-mouth.
---
26. When the four fonts went into the restaurant and asked for their favorite wines, the bartender said he did not serve their type in there.
---
27. The grape variety of "Pinot More" was developed to help with incontinence and works like an anti-diuretic.
---
28. The reason that the story of each raisin is so tragic is because those grapes all could have gone on to become wine.
---
29. Tina is definitely a wine enthusiast, the more wine she drinks, the more enthusiastic she gets.
---
30. The very first thing that is on my bucket list is to fill that bucket to the top with wine.
---
31. Regardless if the glass is half full or half empty, there is clearly room for some more wine.
---
32. Wine doesn't make you fat, it actually makes you lean on tables, walls and chairs.
---
33. Billy drank so much wine at the night club that when he walked across that dance floor to get more wine, he won that dance competition.
---
34. Which type of wine do traffic police like the most? – It must be fine wine.
---
35. What do the grapes say when they are crushed? – Nothing, they just let out a bit wine.
---
So there you have it, 35 wine puns that are sure to resonate with you for a while. These silly good puns about wine are sure to give you that giddy feeling inside regardless your age. If you have more time, check these interesting math puns.