What would you choose between waffles and pancakes? The answer is quite obvious because waffles are just superior in every aspect. They are perfect blends of fluffy and crispy or savoury and sweet. Topped with eggs and these cakes will be perfect for any meals during the day. To make your breakfast or dinner even better, we have collected a list of the best waffle puns with witty and interesting ideas. Let's check it out and have fun.
Best Waffle Puns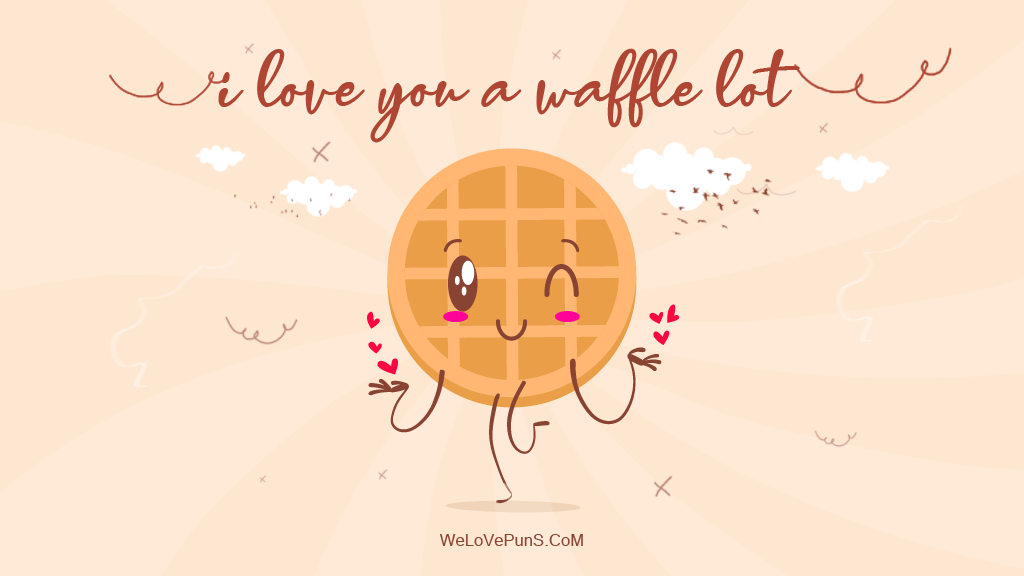 ---
1. The best way to make a waffle smile is to butter it up.
---
2. Where does the waffle couple often go on their summer holiday? – Sandy Eggo!
---
3. Do you know the waffle iron that goes mad? – It just flips.
---
4. What does a waffle often say to a waffle iron? – "Hey, I will catch you later on the flip side."
---
5. Do you hear the latest news about the murder of the waffle in the kitchen? Someone scatters, smothers, covers, chunks, tops, and dices it. So horrible!
---
6. The blind man burns his hands because he tries to read with a waffle iron.
---
7. Every morning when the waffle leaves for work, he always says to his wife: "I love you a waffle lot!"
---
8. The beautiful girl I met yesterday at the school is super waffle-y cute.
---
9. Without you, I would have a waffle Christmas this year.
---
10. What does the Eggo waffle say when it is picked from a freezer? "Please Leggo'a me!"
---
11. Do you know which is the best part of a delicious waffle? – It is the "W" because everything becomes affle without it.
---
12. That man always keeps talking about how he cooks the best waffles in the world. He is so eggotistical.
---
13. When you cook chickpeas in a waffle iron, you will have fawaffle.
---
14. My boss told me to write a comprehensive report about waffles. However, I failed mainly because there was a lot of walfling.
---
15. The waffle cannot participate in the pancake party because it is a square.
---
16. The breakfast of a German pilot is also called a Luft-Waffle.
---
17. My student pours maple syrup all over her essay because it is completely waffle.
---
18. Whenever the waffle makes a mistake, he says: "Sorry a lot, I promise that I will not bother you a waffle lot!"
---
19. When a waffle is mixed with several building blocks, we will have a leggo.
---
20. There is basically a starch difference between a pancake and a waffle.
---
21. What is the most favourite song of waffles? – "Every day I'm waffling" by LMFAO.
---
22. Sleeping is like a time machine that brings us to more waffles in the breakfast.
---
23. If you love a waffle, then just pass it the syrup.
---
24. My colleague always brings the biggest waffle to our office every day. He has a huge Eggo.
---
25. Do you know the main difference between an American waffle and a Belgian waffle? – A Belgium waffle would crumble in the hands of German, but an American waffle would not.
---
26. In which city you should not try waffles? – Sandy Eggo.
---
27. There are three important things in life: waffles, family, and work or waffles, work, and family. The order does not matter as long as waffles are first.
---
28. The best waffle topping option is to have more waffles!
---
29. Why does the batter go away when the little girl is making waffles? – Because she says: "Crack several eggs and then I will beat it!"
---
30. Perhaps you do not notice this, but a waffle is just a pancake with a lot of abs.
---
31. The chef is not a good person. He has done some very waffle things in the kitchen.
---
32. A waffle is quite like a softball team because they both need a good batter.
---
33. What do we call a waffle that is buried under the sand? – It is called a Sandy Eggo.
---
34. Your grandpa is so fat. Perhaps it is because the sorting hat put him in a waffle house.
---
35. Do you know why the waffles are always jealous of the pancakes? – It is because pancakes are flattered.
---
36. Which type of food cannot make up its mind? – Waffles!
---
37. Do you hear about the man who is battered during his breakfast? It is waffle!
---
With a bunch of healthy ingredients and delicious tastes, waffles deserve to have a place in your diet. They can benefit your health and improve the quality of your meal. And everything can even be better with these waffle puns. Nothing is better to enjoy your dinner with family and have a lot of fun or laughers. Make sure to check out other posts on these food puns, eye puns, spider puns, as well as mouse puns.