Drinking is the main thing that keeps us alive, and we're not just talking about those Friday night beers! For something so serious as drinking, we need some light relief – and that's where drink puns come in.
Best Drink Puns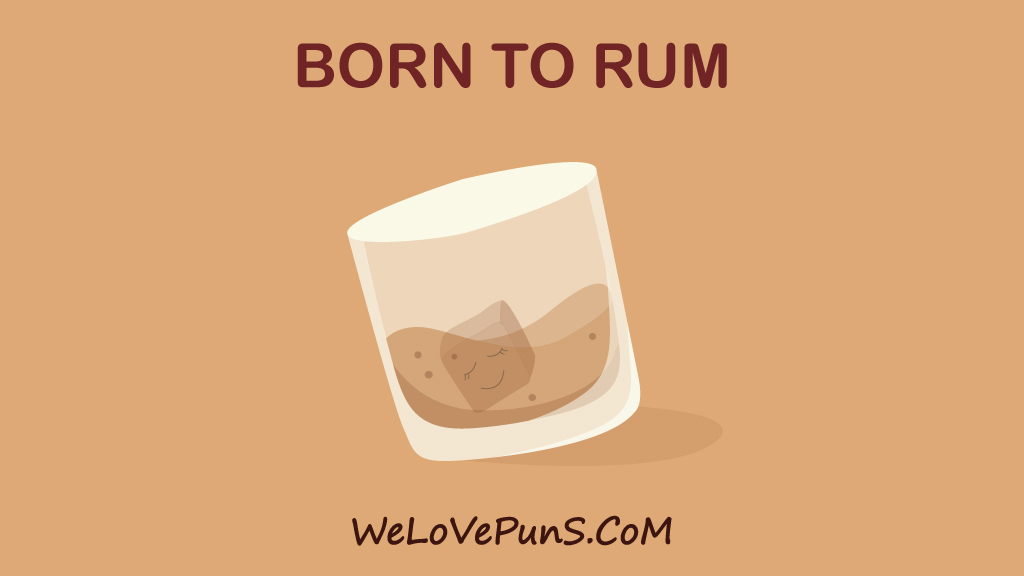 ---
1 I thought there was no one in the world who can drink 2 litres of petrol. Turns out that Jerry can.
---
2 A friend of mine is a barman, who moved his pub to the top of a mountain to improve his drinks. He really raised the bar there.
---
3 On the first day after I died, I asked Satan if he had any milk to drink. He replied, "No whey in Hell!"
---
4 There's one thing I hate about parties with a big bowl of mixed drinks to share, and that's the punch line.
---
5 A neutron walks into a bar, and asks how much the drinks are. The landlord replies, "For you? No charge."
---
6 Have you heard of an astronauts favorite drink? It's gravitea.
---
7 It's never a good idea to go out drinking with a blacksmith. You're likely to get hammered.
---
8 There's a new kind of cake out there, and it's rumored that you can drink out of them! They're called Cupcakes.
---
9 Shakespeare was never able to get a drink when out and about. Every time he went into a pub, the barman would shout "You're bard!"
---
10 I have a bit of a problem with drinking brake fluid. But it's ok, I can stop any time I want to.
---
11 Have you heard of the one drink that is yellow and that you shouldn't drink? It's known as a school bus.
---
12 I always love a hot drink, but the wait for the kettle to boil is tea-dious.
---
13 I ordered a drink at the bar, but it turned out to contain no alcohol. I asked the barman, "Water you thinking?"
---
14 My friend threw a tea party, but then all the guest started fighting – until someone shouted, "Can't we all just get Oolong?"
---
15 Have you ever tried mixing reading with drinking? Often, it results in a Tequila Mockingbird.
---
16 I had a bad experience with alcohol once, so I gave up drinking altogether. Now I just drink all alone.
---
17 Did you know it's a really bad idea to mix alcohol with power tools? You're much better off using a spoon.
---
18 My friend has a herd of horses who have started a business making and selling booze. It's called and Eq-wine business.
---
19 I really love tea, all the different types. It turns out tea and I are a Matcha made in heaven.
---
20 Why do we drink water? Because we can't eat it.
---
21 It's really easy to tell if a drink gets sick. It becomes cough-y.
---
22 A platypus goes into a bar which is owned by a duck, orders a drink, finishes then asks for the cheque. Duck billed platypus.
---
23 Did you know you should never drink water if you are studying chemistry? Apparently it lowers concentration.
---
24 I like to take my herd of wild pigs out for a drink sometimes, but they only drink Boarbon and I can't keep up.
---
25 If you go out for a drink with a duck, you don't ever have to pay – he just tells the barman to put it on his bill.
---
26 If you ever host a tea party for a bunch of dinosaurs, don't forget to get lots of Tea Rex for the meat eaters.
---
27 Want to hang out for a drink with some astronauts? Then you should head to the Space Bar.
---
28 There are two reasons why you should never drink toilet water. Number one, and number two.
---
29 I went to a bar for a drink with my friend. He was served water, then asked for something harder. They brought him a glass of ice.
---
30 A friend of mine left a case of wine on my doorstep one day. I was very grapeful.
---
31 Did you know there are dogs that can be trained to bring you a glass of wine? They're known as Bordeaux Collies.
---
32 Turns out that I'm addicted to drinking water. I'm officially an aquaholic.
---
33 You should never mix fish and red wine. It's the fastest way to wipe out a tank full of fish.
---
34 My 17 year old daughter spilled vodka while she was exercising one day. It smells like teen spirit.
---
35 Racist jokes are nothing like fine wine. They do not age well.
---
36 It's pretty simple to open a bottle of wine that has a cork in it. But the twist top ones are easy to screw up.
---
37 I really wanted to drink some hot water, but I boiled it for too long. RIP water, you will be mist.
---
38 If you are feeling depressed and struggle to get out of bed in the mornings, try drinking a pint of water before you go to sleep. This will give you a reason to get up.
---
39 Did you hear about the skeleton who drank 4 pints of water in one go? Apparently his throat was bone dry.
---
40 My friend popped over one day to ask if I wanted to go to a bar. I replied, "Wine not!"
---
41 I was at a restaurant recently, and I asked for glass of water. The waiter asked, "Still water?" One of these days I'm going to surprise him.
---
42 A weasel, a fox and a wolf go out for dinner one day. The wolf asks for coffee, the fox asks for water, and "POP!" goes the weasel.
---
43 Where do planes get their water from? The jet stream.
---
44 I've been told that we should all be drinking 8 glasses of water per day. I struggle with this, because I only own 5 glasses.
---
45 What did the royal taster say after drinking the poisoned water? Not much, that's what.
---
So there you have it – a list of puns longer than the queue for the bar, to keep you entertained while you wait for a drink! Whatever your tipple, whether it's tea or water, a beer or other alcohol, you are bound to find something drink-related in this list to make you chuckle.