Make no mistake about it, the following 58 egg puns are not only going to crack you up, they will have you coming out of your shell and rolling over with laughter. These egg puns are supposed to be funny side up, so lick back and get really egg-cited for these silly puns. If you have more time, don't forget to check these Christmas puns.
Best Egg Puns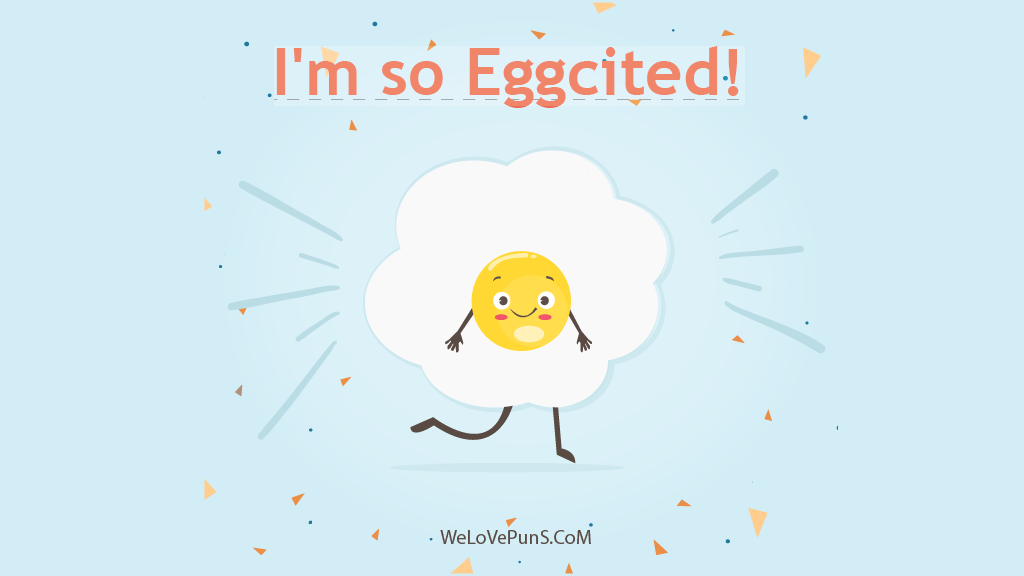 ---
1. The hen-cyclopedia is the best place to get all your facts about chickens and their eggs.
---
2. The one day of the week that eggs are definitely afraid of is Fry-day.
---
3. The eggs loved having a clown at their birthday parties because he always cracked them up.
---
4. The mother egg will only go to the supermarket if she can use the eggs-press lane.
---
5. If you want to know which of the animals at the farm tells funny egg puns, it is the comedy-hens.
---
6. A hen will always leave her house through the proper eggs-it.
---
7. The man who ate too many eggs was considered to be an egg-oholic.
---
8. All the hens consider the chef to be very mean because he beats the eggs.
---
9. The lazy hen laid her egg on an axe because she was hoping to hatchet early.
---
10. The dozen eggs went to school so that they could become egg-ucated.
---
11. Everyone knows that an eggs favorite tree is the mighty y-oak.
---
12. You can only eat one egg on empty stomachs because after that your stomach isn't empty anymore.
---
13. The only sport that all eggs are good at in school is running.
---
14. You know it is hot in the barn when all the hens start laying hard-boiled eggs.
---
15. If that chicken will lay her egg on the top of her barn you will then have an egg roll.
---
16. Eskimos keep all of their chilled eggs inside of the egg-loo.
---
17. The mother hen rinsed out the chicken's mouth with soap because he was using fowl language.
---
18. Please do not tease those eggs because they simply can not take a yolk.
---
19. In order to drop eggs seven feet without damage, just drop it eight feet and those first seven feet it will remain unbroken.
---
20. The funny thing about confused chickens is that they will always lay scrambled eggs.
---
21. Under the doctor's advice, the hen is laying off eggs for a few weeks.
---
22. I had a real problem making a hard-boiled egg this morning until I cracked it.
---
23. The retired General would not color Easter eggs because he said that old soldiers never dye.
---
24. The runner is always scrambling for new egg jokes to tell his friends at school.
---
25. The cooked egg was unable to go out that night because he was feeling a bit fried.
---
26. The Tyrannosaurus Rex would not take part in the egg hunts because he said he was always coming up a little short-handed.
---
27. The egg was never going to make it as a stand-up comedian because she's always cracking up at his own yokes.
---
28. The chef was arrested this week for whipping the cream and beating the eggs.
---
29. One of the best ways to eat eggs is very early at the crack of dawn.
---
30. That little hen was the best at what she does because she was an eggs-pert.
---
31. The egg decided to cross the road so he could get to the Shell station.
---
32. A city with 25 million eggs in it would be called New Yolk City.
---
33. The cracked eggs told the class, omelette smarter then he looks.
---
34. The reason that the egg crossed the playground was he was trying to make it over to that other slide.
---
35. The chicken coop was made with only 2 doors because if it had four doors it would be a sedan.
---
36. When the eggs are driving on the expressway they are always looking for the nearest eggs-it.
---
37. The monsters are not welcome at the chicken coop because they always leave the eggs terri-fried.
---
38. That little egg was late for school today because he did not feel like he studied properly for that eggs-am.
---
39. That one egg with a heavy foot was looking for a sports car that was able to egg-cerlerate quickly.
---
40. The mother hen was the hit of the party because she brought a bunch of coop-cakes to the egg party.
---
41. That mischievous little egg is known as a little practical yolker.
---
42. The only types of plants that an egg will keep in the hen house is an eggplant.
---
43. The favorite part of a baseball game for the eggs is when it goes into eggstra innings.
---
44. That tiny egg says he was afraid of the dark because he thought that he saw an egg-stra terrestial.
---
45. If you are wondering why the egg crossed the road, it was because he wasn't a chicken yet.
---
46. The egg did not play on the computer too much because his mother said his brain would be fried.
---
47. Whenever you mix a cookbook with a computer manual you will wind up with an egg-shell spreadsheet.
---
48. That reckless little egg always seems to egg-celerate when he sees the light turn yellow.
---
49. Crossing a cement mixer and a chicken will result in you getting a brick layer.
---
50. At the little school dance party, the baby chicks will only dance chick-to-chick.
---
51. Whenever the chicken can sneak off to Starbucks he always orders a piping hot eggspresso.
---
52. Bad chickens are not allowed inside the hen house because they always lay deviled eggs.
---
53. The egg was asked to stay after school and talk with the principle concerning his role as a real practical yolker!
---
53. The eggs never get good TV reception in the hen house because the channels are always scrambled.
---
54. When none of the hens produced eggs, the farmer had some real eggsplaining to do to his customers.
---
55. On the day of the big test, the mother hen told her eggs not to crack under all that pressure.
---
56. The celebrity egg was losing all her friends because they called her such a shell out.
---
57. Chicken can stay fit and be very healthy because they eggxercise every day.
---
58. Eggs love eating all types of coffee, especially eggspresso.
---
This comprehensive list of 58 egg puns should really have you cracking up. Feel free to scramble back with a few of your own if you think you can beat the ones we have already served you.
You can find more in our latest article with some silly and funny puns or these cow puns we love.