What's not to love about owls? They're beautiful, wise, nocturnal, mysterious, and they can rotate their heads almost 360 degrees – what more can you ask for? Well, there is one thing that we can add to their overall awesomeness: Owl puns! We've rounded up 48 of the most howlarious owl puns from all over the world, so go ahead and check them out – we promise, it'll be a hoot! And if you find out that you like our juicy humor, check also our watermelon puns here.
Best Owl Puns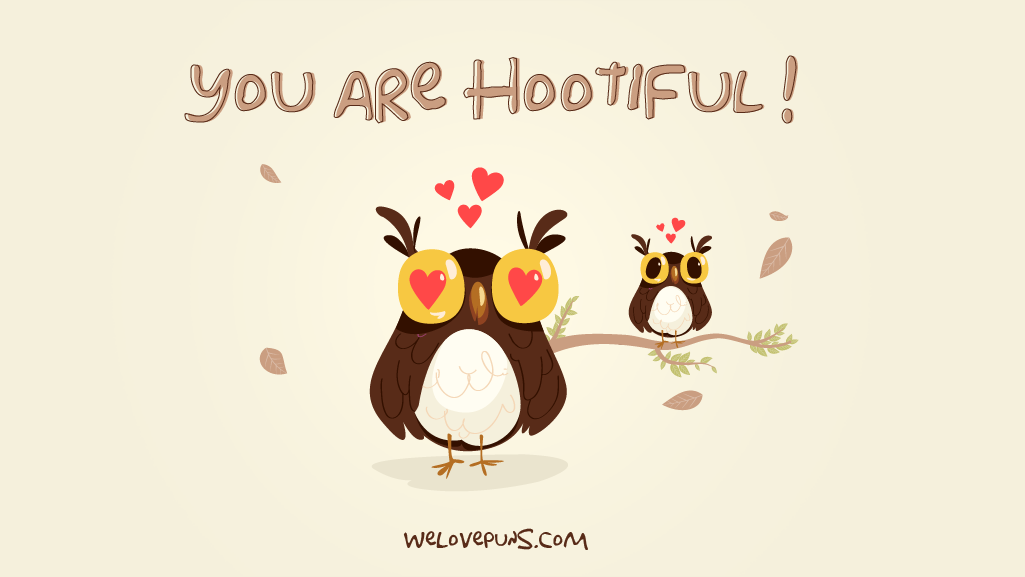 ---
1. What is an owl's favorite Beatles song? "Love is Owl You Need".
---
2. An owl came down with a sore throat but he didn't let it bother him. In fact, he couldn't give a hoot.
---
3. What's an owl's favorite frozen treat? Mice cream.
---
4. When an owl has a deep voice, what is it called? A growl.
---
5. Believe it or not, I heard about an owl that's one heck of a boxer! They call him Muhammad Owl-ee!
---
6. There was a famous owl that was known for being a huge Whitney Houston fan. Its favorite song? "Owl Always Love You".
---
7. What happens when owls get married? They walk down the owl.
---
8. There was an 80s song that became famous in the owl community. It was called "Hoo Can It Be Now?"
---
9. What, you say we ran out of owl puns? Owl see what I can do about that!
---
10. What do you call it when an owl has an upset stomach? Irritable Owl Syndrome.
---
11. Some owls like to read murder mystery novels. They're big fans of hoo-dunnits.
---
12. Who's the most famous owl magician in the world? Hoooo-dini, of course!
---
13. What do you call an owl that wears armor? A knight owl.
---
14. What does a highly educated owl say? "Whom".
---
15. What happens when an owl doesn't take a bath? It begins to smell fowl.
---
16. Why did the owl throw a party at his house? He just didn't want to be owl by himself.
---
17. There was an owl who was an amazing mathematician. Her favorite subject? Owlgebra.
---
18. That owl would probably have more friends if he wasn't such a wise guy.
---
19. What do you call an owl that can travel through time? Doctor Hoo.
---
20. Don't bother telling me your knock-knock joke. Owl just let you in.
---
21. What does an owl need after he goes swimming? A towl.
---
22. What do you call an owl that's all mixed up? Low.
---
23. What happens when you turn an owl into a small piece of wood? It becomes a dowl.
---
24. What did the owl say when he was on Wheel of Fortune? "I'd like to buy a vowl.".
---
25. What do you get when you mix owls and oysters together? Pearls of wisdom.
---
26. Why do owls love playing Call of Duty? Because it's a sHOOTing game.
---
27. How did the owl feel on his first date? Owl-kward!
---
28. What is an owl's favorite restaurant? Hooters.
---
29. Two owl parents were super-worried about their son, because they were concerned he would become a juven-owl delinquent.
---
30. Which owl was once president of the United States? Herbert HOOver.
---
31. There was an owl in the 1930s who became an infamous crime boss. His name? Owl Capone.
---
32. What do you call an owl that has been caught in the act? A "spotted" owl.
---
33. In the rough section of Owlville, owls are frequently victims of drive-by hootings.
---
34. What's an owl's favorite Lionel Richie song? "Owl Night Long".
---
35. When does an owl go "Woof"? When it's learning a new language!
---
36. How did the owl win "American Idol"? The judges saw how talon-ted he was.
---
37. What's an owl's favorite 90s rap song? "Hoot! There It Is!"
---
38. What's an owl's favorite dessert? Pie owl a mode.
---
39. A bunch of rough-and-tumble owls met at the local dive bar. Before you knew it, the whole thing turned into a free-for-owl.
---
40. One of the worst emergencies ever to hit Owlville was an epidemic of eb-owl-a.
---
41. That owl hasn't taken a bath in several days. He's really starting to smell fowl.
---
42. What do you get when you cross an owl with a donkey? A smart ass.
---
43. Which owl is always making parody versions of famous songs? Weird Owl Yankovich.
---
44. What happened when the owl took a laxative? He had an owl movement.
---
45. What's an owl's favorite rock band? The Hoo.
---
46. What's this about all owl puns being bad? Says hoo?
---
47. Owls never sleep at night because they have to think about work owl night long.
---
48. What do we call a bravery owl living in the Medieval? – A night owl!
---
You think this is all? You think wrong – you can find and read more good and bad puns here or check these koala puns here.