It takes a certain type of person to appreciate music, then you have those who really can broaden their horizons by being able to find humor in something that speaks to their hearts. These 63 music puns should strike the right chord with those who can appreciate the humor within. Looking for more? Then check our list of whale puns.
Best Music Puns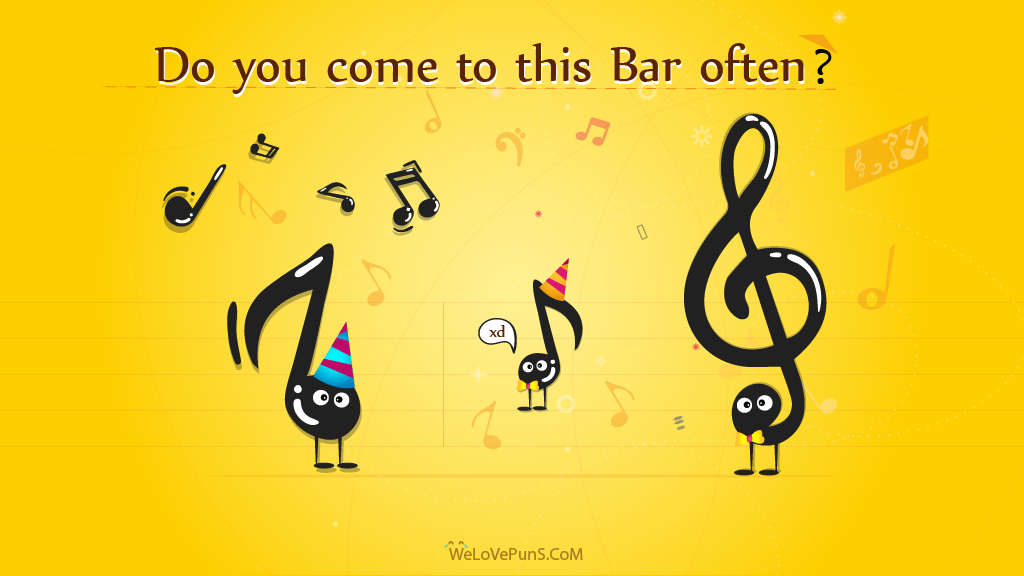 ---
1. My guitar teacher was late for our lesson because he said he got into a small Fender bender.
---
2. The receptionist at the dentist office was fired because she couldn't hear patients talking to her while she was wearing Bluetooth headphones.
---
3. Every night I go to bed with music playing near my bed so I can get sound sleep.
---
4. After a full weekend of fishing with my music teacher, I was hoping we would catch a bass-soon.
---
5. Back in the 80's I loved listening to the music by the Cars, I think you auto listen too.
---
6. I don't like reading music because it tends to make me crotchety.
---
7. My art teacher argued that classical music is not better than Mozart forms.
---
8. The controversial elementary school music teacher asked his kids to start reading band books.
---
9. For those who have been bad, on the way down to meet Satan there will be elevator music playing.
---
10. The local police were on the lookout for a man who robbed the music store and was considered to be a clef-to maniac.
---
11. My excuse for missing my miniature Indian musical instrument practice yesterday was because I couldn't find the right baby sitar.
---
12. In order to be a successful musician you need to be staying musically octave while tuning out criticism.
---
13. Even though popular music of the 70's spawned a ton of new record labels, many of them are now defunked.
---
14. The reason that those bird-dogs are excellent for music is because they are both tweeters and woofers.
---
15. My dream in high school,was to become a professional clarinettist except I couldn't reed music.
---
16. My grandfather says that listening to choral music must be an a-choir-ed taste!
---
17. We all love it when the music is loud because our geology teacher starts rocking out.
---
18. My local optometrist was moonlighting as a jazz musician so she could be able to improve-eyes.
---
19. It might be possible for musicians to be sharp, but is not natural.
---
20. I'm not afraid of vampires on Halloween that use music to torture their victims because their Bach is worse than their bite.
---
21. Legend has it that goats from France are musical because they all have french horns.
---
22. When the music store was robbed, it was revealed that the crook only made away with the lute.
---
23. We all knew that musician in jail was just anxiously awaiting his next release.
---
24. Our high school music teacher was rushed to the hospital for playing too many accidentals.
---
25. My grandparents say that old musicians never die because they just get disconcerted.
---
26. Anyone who hates classical music certainly has my symphony.
---
27. In a weird bit of news it was revealed that musicians in bed like to use sheet music.
---
28. Mom loves listening to wild music with such a-band-on.
---
29. That funny sign in the music store window read, "Pick out a drum but then you have to beat it!"
---
30. My girlfriend says that any noteworthy musicians tend to be very composed.
---
31. It's considered to be rag-time when a jazz musician's clothes are tattered.
---
32. The music shop put their pianos outside for a sale but always protected their internal organs.
---
33. There is action going on in that cemetery because the dead writer of music is still de-composing.
---
34. Anyone playing musical instruments for TV or radio has to stay tuned.
---
35. Bet you didn't know that musical composers use lots of Note paper.
---
36. No one bought anything from the music store because it was in a CD part of town.
---
37. My friends working at the stationery store decided to form a musical group they called the Elastic Band.
---
38. When the musician tripped over that chord it resulted in a nasty note.
---
39. The successful music store owner must have very sound business practices.
---
40. Mechanics who are musical tend to sing in parts.
---
41. When that musician's toupee fell into the saxophone he just blew his top.
---
42. Even though he doesn't like the tune, a real leader will face the music.
---
43. That group that only sings pop music called themselves the Balloons.
---
44. My father opened a repair shop for baroque musical instruments.
---
45. When you don't know how to choose the right music all you do is ask a guitarist because they know how to pick.
---
46. The mechanic who moonlighted as a musician was really good at tuning things.
---
47. If lawyers can be disbarred is it possible a musician can be denoted?
---
48. The key to ultimate success for all musicians is their uncanny ability to stay composed while they're performing at levels that can't be beat.
---
49. Accordion to my high school music teacher and her staff, squeezing in rehearsal time is the key to success.
---
50. The local music store had a tiny sign in the window that read, "We'll be Bach in a Minuet".
---
51. A queen never lets any of her personal musicians go swimming after eating because they might get minstrel cramps.
---
52. My great-grandmother could only compose her music in 3/4 time because she had waltz timer's disease.
---
53. That conductor who refused to pay his orchestra eventually had to face the music.
---
54. The electrician was also working on the side as a musician as a conductor on the train.
---
55. You shouldn't carry your musical instrument over ice if you can't C sharp or you'll B flat.
---
56. Most musicians need leadership because they aren't sure how to conduct themselves.
---
57. My heart surgeon also conducts music and is considered to be a pace maker.
---
58. I loved reading the novel about that musician in treble because it was a real clef-hanger.
---
59. When that musician practices scales on a brand new piano, he is going from C to shining C.
---
60. When my sister told me that my Dad bought me a new CD for my birthday, it was all music to my ears.
---
61. Me and my sister were fighting over a piece of sheet music but my father wanted to keep the piece.
---
62. Do you know why the pianist bangs her head against the keys? Because she is playing by ear.
---
63. Parents should not let their children watch live music performances on television because there are too much violins and sax.
---
Is this all? Not at all – you can find and read more good puns here or here.