Salon moments are the longest. At times, it gets funny and later it all becomes boring. If you want to entice your customers or simply make a light moment of every bad hair day, try out the following hair puns.
Best Hair Puns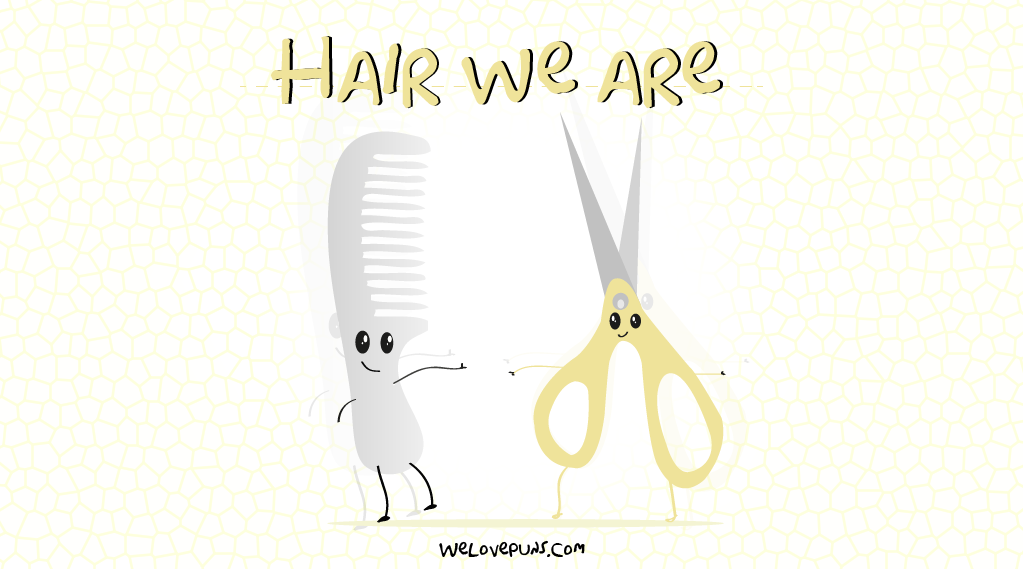 ---
1. By not coming, he shaved me from lots of trouble.
---
2. I love family get together events. They are always packed with hairlarious people who light my moments.
---
3. Whatever you do, don't DYE laughing at these puns. You have a life to go back to.
---
4. Have you come across people who are such perfectionists that to describe your hair, they need a big frocabulary.
---
5. I am an optimist. Irrespective of how big a problem is, I straighten it out. Rest a-sheared.
---
6. Well, I don't deny the fact that I have a knack for getting into hairy situations. However, how I pull through explains why I am a cut above the rest.
---
7. Who wants their hair loose when they are dancing the tangle (tango).
---
8. Because of her boss had a bad hair day, her day in the office was cut short.
---
9. On the dance floor, the revelers said to one another, 'I think we are in a twist.'
---
10. You cannot complain when your job gives you decent fringe benefits.
---
11. Our friendship could no longer be salvaged. We have reached a split end.
---
12. The difference between Caesar's barber and circus master is that one is a shaving Roman while the other a raving snowman.
---
13. Barbers make excellent ca drivers because they know every short cut in town.
---
14. If you can't pull off a great hairstyle, consider shaving it off.
---
15. The best way to avoid falling hair is to get out of the way.
---
16. When I went for the interview, I honestly wanted the job. However, they later put in too many condition-ers.
---
17. The story goes that he was decapitated at the hairdresser.
---
18. When the professor stepped into our class, everyone noticed he is hair-larious comb-over.
---
19. If you attempt to remove the curls from your hair, you may end up fro straighted.
---
20. What a close shave it was, their lives could have been cut short.
---
21. Everyone was sorry to learn that he had dye-betes.
---
22. If you befriend a barber, you may never have any long conversation because they always cut them short.
---
23. Everyone in the room said they would prefer dye-et cola.
---
24. Never start a fight with your hairdresser. It can turn out to be a hairy one.
---
25. It always happens, no one is too young to dye.
---
26. We interviewed all the former hair-force officers, and none made the cut for the job.
---
27. All chess players love this one hairdo, the ponytail.
---
28. The beauty with stories is that when explaining hairy situations, you can always put in a twist.
---
29. When the billboard was up that the salon next door was cutting prices, everybody flocked in there.
---
30. To cut the long story short, he dyed.
---
31. If you live down south and you really want a hairy drink, try the frizzy pop.
---
32. Curling is the sport hairdressers love.
---
33. If you want to groom cool cats, use a catacomb.
---
34. When they opened the church, they couldn't think of any better name than hairway to heaven.
---
35. Most million-hairs made their wealth from deals cut on the real estate market.
---
36. The chief barber was the last to speak. He gave his cutting remarks.
---
37. Wise people know how to spend their money. They always shave some for later.
---
38. Just when I thought I am going to dye, my hair started greying.
---
39. He loved playing with scissors not for anything in particular, but for the shear fun of it.
---
40. He came closer and told me, "I mustache you a question, but first I need to mullet over."
---
41. Every barber loves the Agent 007 because his name is James Blond.
---
42. Which type of writing tool does not has any hair? – A baldpoint pen.
---
43. The blondes will never die, they only dye away!
---
Most of these hair puns do not need any extensions. They are outright hair-larious and worth reading through. That said, there are many other funny puns such as poop puns, dance puns, and airplane puns that I would love you to see as well.