When autumn is in full swing, you can share so much love with your followers on social media. Imagine the trees busting with bright colors, drinks everywhere, and perfect weather to go along with it. The only ingredient missing is a healthy dose of fall puns that will get your followers laughing. There is always a pun for everything.
Best Fall Puns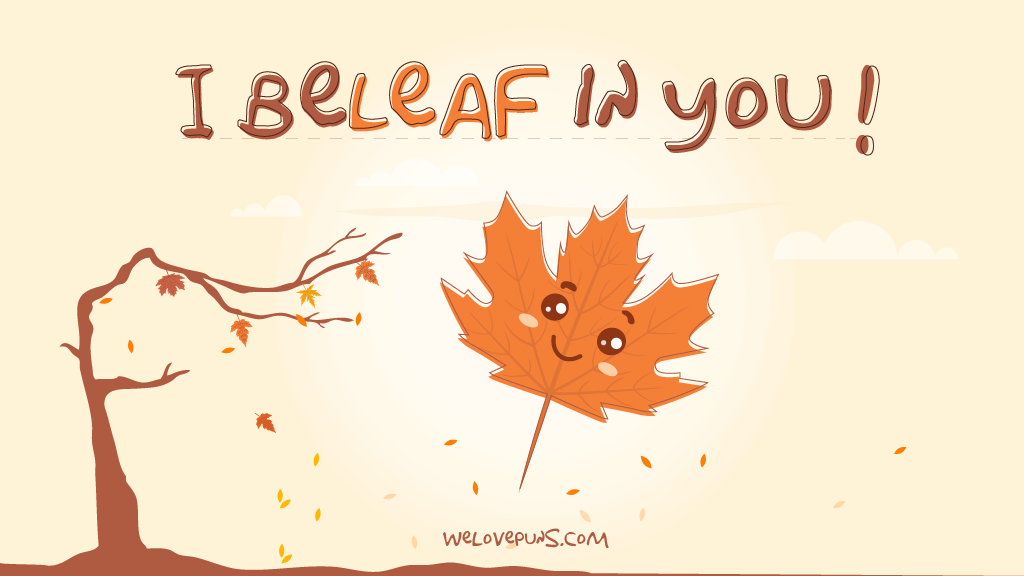 ---
1. If you fall so hard, mother pumpkins will spice you.
---
2. Some of the stories we heard from the jungle were so unbe-leaf-ably scary.
---
3. After feeding us with part of the information, he wanted to walk away. One of our colleagues shouted, "Don't leaf us hanging, give us the rest of the story."
---
4. As they were sailing past the narrow channel, he whispered into her ear, I can't imagine you are fall-ing into my life. This is so romantic!
---
5. We saw him coming over to the party and we started questioning ourselves what he was here for. He told us that he was just here for the boos.
---
6. The best movie that I have ever watched during fall is the Gourd of the Rings.
---
7. The sermon was so lengthy such that close to 60 percent came out feeling so bored and agitated. However, I got one line that I will never forget. The pastor said, "Pride comes before the fall."
---
8. There is one outfit that I love wearing for the fall. It is the har-vest.
---
9. Amidst the falling leaves of the maple, he looked into her eyes and said, "You are the apple of my eye."
---
10. After the disaster, the family descended into poverty with virtually nothing to fall back on.
---
11. The only thing that I wanted for the fall season was to have a gourd time, nothing else.
---
12. Looking at how their characters were and how much in love they seemed to be, everyone knew that they will live apple-y ever after.
---
13. As the bride walked down the stairs to come and meet him, he said, "Look how gourd-geous you are."
---
14. The spirit of a true champion is that of relentlessness. He falls down once and stands up twice.
---
15. When he asked him whether he was comfortable at the party, he said, "Of course I am oakay, I am absolutely pine."
---
16. Even in the midst of confusion and lack of trust in their leader, he didn't stop be-leafing in him.
---
17. After such a rough life, James decided to turn over a new leaf this fall.
---
18. The month that every tree dread is Sept-timmmberrr.
---
19. The lions moved towards the end of summer because pride goes before the fall.
---
20. Autumn told summer to make like a tree and leaf.
---
21. The only vehicle you should use driving around in fall is an autumn-mobile.
---
22. When they were taking roll call at the end of fall, the forest custodians realized that one tree was missing. It was absent without leaves.
---
23. Most trees hate going back to school in fall because they risk being stumped.
---
24. What is the best word to describe a dude who likes autumn? A fall guy!
---
25. When trees get their leaves back in spring they whisper to themselves, "What a re-leaf."
---
26. The lawn said to the rake, "Leaf me alone."
---
27. You can't help but fall in love with this time of the year. It is autumn-matic.
---
28. If indeed money grow on trees, during fall everybody could be raking it in.
---
29. After the summer fling, it was time to fall in love.
---
30. With the crisp air, color everywhere, and fall fairs, I pray that this autumn season leaves you refreshed.
---
31. Fall is that perfect time of the year to spice things up.
---
32. I fernly be-leaf that my fall puns are qualitree.
---
33. I k now this may sound corny, but the fall is an a-maize-ing season to travel the world.
---
34. With Halloween just around the corner, fall is the only season I am okay with being ghosted.
---
35. I don't like people hay-tin on my autumn.
---
36. My favorite outfit for the fall is a har-vest.
---
37. Do you think that spring is better than fall? That is definitely a fallacy.
---
38. The weather in this fall is just un-be-leafable.
---
These fall puns are a great way to celebrate autumn with friends. Don't forget to share with them other puns as well such as star puns, bat puns, and lobster puns.