Cap, hat, beanie, fedora, bonnet. No matter which name you use to call them, these items play an important role in our daily lives. People wear these units for various reasons, from protection and fashion to religion and ceremony. With that in mind, we have put together a list of the best hat puns to give you enjoyable moments. Keep reading and relax!
Best Hat Puns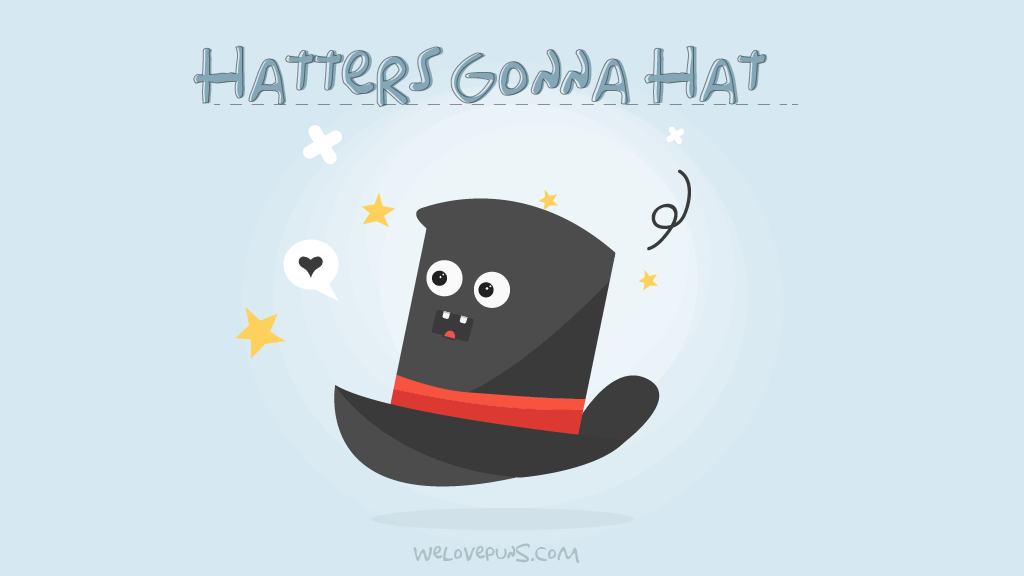 ---
1. Do you know where doe these crazy hat women live? They live in Mad – hatt -an!
---
2. What do we call a lion that wears a stylish hat? – It is called a dandy lion.
---
3. The Chinese man, who is wearing a hat, walks into the Starbuck store and orders a cap – pu – china.
---
4. A frog often leaves its coats and hats in the croak – room.
---
5. Do you hear anything about that perverted magician? He can pull his top hat out of the bunny.
---
6. Do you know any actress who does not like wearing a hat? Perhaps Anne Hat – away!
---
7. Even though you do not like barbers, I am pretty sure that you always have to take your hat off to them.
---
8. What do we call a dinosaur which wears a cowboy pair of boots and hat? It is called a Tyrannosaurus Tex.
---
9. Yesterday, I saw a man playing tennis with a hat on his head. I think he was Roger Fedora.
---
10. What would the hat say to the bra? "You give those two a lift while I go on a – head.
---
11. What do we call a man who does not go outside without a hat? He is a hat (hot) head
---
12. A Jewish child who is in a hat can also be called fedorable.
---
13. Do you know what would the hat say to the tie? You hang around while I go on a-head
---
14. The pants of a pilgrim always fall down because he wears his belt buckle on the hat.
---
15. What do we call a can that wears a Christmas hat? It is called an A – merry – can.
---
16. Which person wears the largest hat in your school? The student with the largest head!
---
17. I have just purchased a new hat? One fedora? No, one for me.
---
18. I am planning to go sailing and go shopping for a new hat. However, I start to reconsider it when the shop seller gives me a stern look and asks for my cap size.
---
19. Do you know why Jewish people always wear yarmulkes? Because these hats with little propellors might cost extra!
---
20. What would happen to a witch who has an upside-down nose? Her hat would blow off each time she sneezes.
---
21. I enjoy puns, but I will never tell a hat pun because they are beanie – th me!
---
22. Hatters gonna hat!
---
23. I am not saying that my uncle John does not think deeply, but the only thing on his mind is often his hat.
---
24. I see an ad saying that "Hairpieces from $10." I think that is a small price toupee.
---
25. If I were a sorting hat, I would put you inside my house!
---
26. What is the most favourite hat of a cripple? A handi – cap!
---
27. Do you know why that football player on my team is wearing a hat when playing? Because he wants to score a hat – trick.
---
28. What would you say after removing the hat of another person? "You are de – cap – tivated!
---
29. Every time I am down, I just imagine a T-rex which is trying to put on a hat.
---
30. What do we call a hacker who always wears a cap? A black hat or a white hat.
---
31. My father has just been back from travelling with dozens of hats? Do you know where did he visit? It is Hat – iti!
---
32. These days, I see so many people using hat – tags on social media. But why not so many are people wearing hats?
---
33. Your girlfriend is so fat that the sorting hat puts her in all of the houses.
---
34. I have recently seen the Miami Sound Machine. One of them waved a white and blue scarf and hat. He must have been a Gloria Leicesterfan.
---
35. A friend of mine always wears a hat and a nun's outfit when he is out. I think it is only a habit that he has.
---
36. I just see a big cat that wears a very flamboyant hat. I think it is a dandy lion.
---
37. What do we call a hat which loves going online? It is called a cyber – hat.
---
38. On my birthday, my mother gave me a bowler hat. I really liked it because it made me look adorabowler!
---
39. My wife asks my opinion about her new red hat. I just say that it looks terrible, and then I can feel hat – red in her voice and eye!
---
40. Do you know which kinds of animals love hat? All animals that lay eggs because they have to hat-ch!
---
41. What do we call a car that wears a hat? It is called a hat – chback!
---
42. Scientists have just created a new hat with many advanced features that allow us to communicate through it. It is called a c-hat-box.
---
43. I love wearing hats and enjoy study chemistry. That is the reason why I decided to combine Fluor, Phosphor, and hats to create Fluoro – phosph – hat
---
44. The most famous Indian politician and activist who loves wearing a hat is probably Ma – hat – ma Gandhi.
---
45. Everybody in the town admires the barber. They always take their hat off when visiting his shop.
---
46. The computer cannot take off the hat because the caps lock is currently on.
---
47. What does the hat say to the scarf? – "You will hang around there, and I will go on ahead.
---
Can you find yourself in these hat puns? We are glad to know that you are happy and have fun with them. If you want more to enjoy with friends or family members, then check out the following ones on pineapple, soup, and turkey.