There are some jokes that are had to get unless you are a dance-obsessed person. However, the following dance puns do not require a primer ballerina certification. They are simply rib cracking and outright hilarious. Be the life of the party by sharing one of these.
Best Dance Puns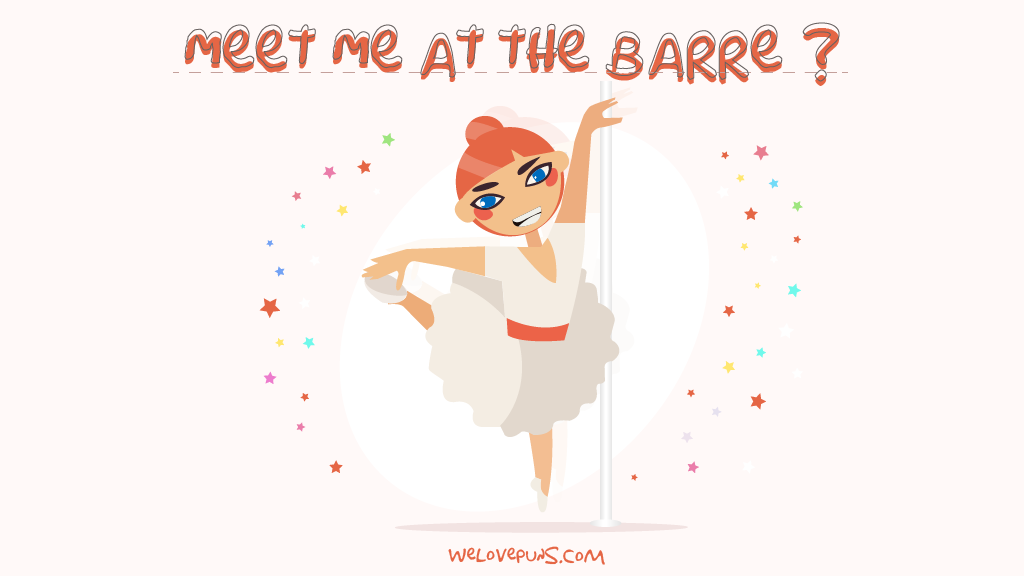 ---
1. Ghosts love dancing this specific genre of music, soul music.
---
2. If you happen to see cars dancing at the disco, it is probably a brake dance.
---
3. The skeletons didn't get the opportunity to dance at the party because they had no body to dance with.
---
4. It is not always that you wait for the storm in your life to pass but learning how to dance in the rain.
---
5. The best place for a dance in California is San Fran-disco.
---
6. The astronauts love this one dance move, the moonwalk.
---
7. If you cross a dance and an insect, you get a cricket ball.
---
8. When going out for a dance, snails wear escargogo boots.
---
9. If you have been wondering why ants dance when climbing jam jars is because most jars say twist to open.
---
10. When the summer is over, women love dancing to tan-go.
---
11. Have you ever seen a dancer falling in love? They love doing horizontal mambo.
---
12. Fortune tellers all flock to the crystal ball when they have had a real good day and just want a place to dance.
---
13. Swine Lake is arguably the most favorite of a pig's ballet.
---
14. When you cross a ballet dancer with a computer, you get the netcraker suite.
---
15. If you want to see hamburgers rolling on the floor dancing, visit a meat ball.
---
16. Anywhere in the world, you can dance bare feet if you so wish, save for the sock hop.
---
17. When the line dancers were exhausted, they looked for a place they could line down.
---
18. Have you been on a cruise lately? The line dancers are simply amazing. They are truly the Ocean Liners.
---
19. The two knives decided to go to the dance together because both of them looked sharp.
---
20. It takes 8 square dancers to screw in a light bulb. This is because they do everything in groups of 8.
---
21. All the computers were carried off to the dance floor. They all had the disc-o theme.
---
22. Did you know that even cows love to dance? Well, the moosic is specifically for them.
---
23. Dancing may be good for your soul, but at times can be harsh on your soles.
---
24. Most four-legged animals are poor dancers. How are you meant to dance if you have two left feet?
---
25. The dancer couldn't help it but cross the road because she preferred doing it on the other side.
---
26. All ballerinas run on batterie power.
---
27. The favorite dance for ducks if the quackstep.
---
28. If plumbers were to patent a dance, it will be the tap dance.
---
29. Charity balls are much like dances, the only exception is that they are tax deductible.
---
30. Most mothers in the south-west love the mom-bo dance.
---
31. Of all dances, the dance chickens hate the most is the foxtrot.
---
32. People in Korea love Seoul music.
---
33. If you want to make a roll of tissue dance, put a little boogie in it.
---
34. Ballroom rumors always spread through the grapevine.
---
35. Most dance studios have carpeting stretching from waltz to waltz.
---
36. Cardplayers have the most unique way of partying, they simply shuffle.
---
37. Buns love doing the abundance dance.
---
38. When she lost her shoe, the ballet dancer said, "Ugh! This is pointless."
---
39. Journalists are among the most successful ballroom dancers because of their ability to follow even the most difficult leads.
---
40. When you are alone in a sink, don't get bored. Do tap dancing instead.
---
41. The top priority of every dancer is to get right to the pointe!
---
42. What is the most favourite dance of the mystery writer? It must be the twist!
---
43. Do you know the woman who could not stop dancing? She has been diagnosed with a Saturday Night Fever!
---
Dance is fun. I hope you have enjoyed the above dance puns. Before you click away, it may be worthwhile checking other categories of puns we have lined up for you. In here, you will find fire puns, poop puns, airplane puns, and many more. Enjoy and remember to share.