Irrespective of weather, you play volleyball competitively or simply love enjoying a game of beach volleyball, these puns will add light moments in between the sets and spikes. The origin of volleyball can be traced back in 1895 in the United States. Ever since, it has grown in influence and likeability. Today, it stands out as one of the prominent sports globally. The volleyball puns below will teach you more about this game in a hilarious and unforgettable manner.
Best Volleyball Puns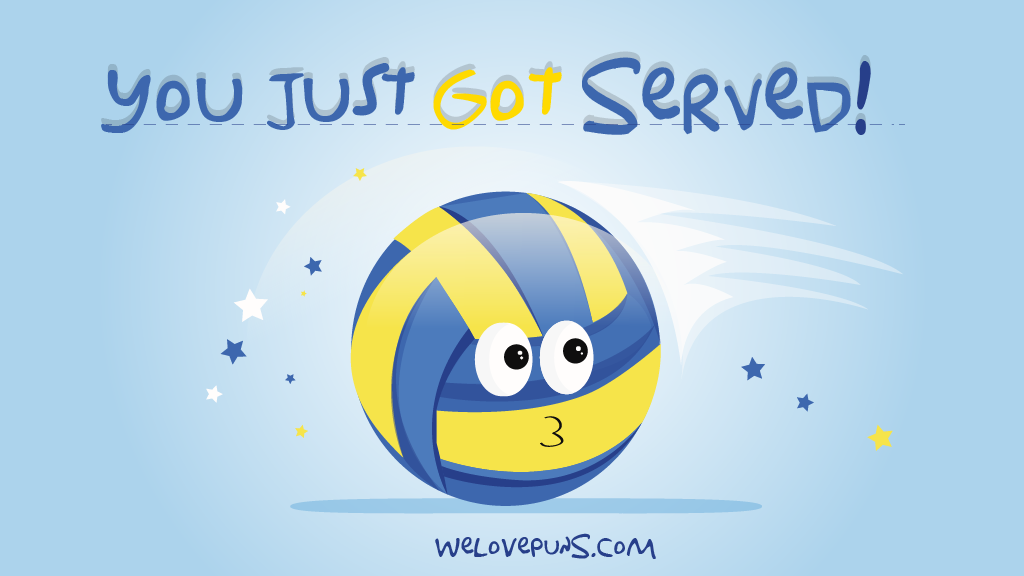 ---
1. Volleyball is one of the sports that allows you to serve, but never eat.
---
2. There is some similarity between swimmers and volleyball players. They all love diving in the deep and floating in the shallow.
---
3. Many volleyball players join the military because they want to master the art of service.
---
4. If your team happens to play against Satanists, simply beat the hell out of them.
---
5. The volleyball player crossed the street because spiked drinks were being served on the other side.
---
6. If you have ever wondered why volleyball players are so blameless is because they pass the blame and then try to avoid faults.
---
7. A carpenter and a volleyball player share some unique characteristics. For instance, they both love hammering spikes.
---
8. You only need one middle-hitter to screw in a light bulb. The only thing is to ensure the setter has put it perfectly in their hand.
---
9. The volleyball player had shoestrings and ropes because she wanted to tie the score.
---
10. Blockers and waiters have some similar experiences because when they do a good job, they all get a big fat tip.
---
11. The perfect name for a girl standing directly at the center of a volleyball court is Annette.
---
12. Ghosts love playing volleyball at the volleyball corpse.
---
13. Spike Lee is the prominent movie director behind all volleyball injuries movies.
---
14. Try not to play volleyball in court because you can easily get arrested.
---
15. Ultimately, the volleyball player decided to join the marines because her heart was out to serve the country.
---
16. The perfect tag for a wedding of volleyball players should be love at first spike.
---
17. During their free time, volleyball players love watching Spike TV.
---
18. The player was sent to jail because he was set up by his friend.
---
19. Spiders can make excellent volleyball players because they have such an amazing topspin.
---
20. Have you ever seen police officers on a volleyball court? Their work is to serve and protect.
---
21. The reason they arrested the volleyball player is that they suspected foul play.
---
22. When volleyball players go to church, their duty is simple, they serve God.
---
23. There will never be a volleyball team for fish. They all fear the net.
---
24. If you have been to an ice cream store, volleyball players tend to stand on the service line so as to order first.
---
25. No matter how hard you spike a volleyball, you can never succeed in taking away its dig-nity.
---
26. When the volleyball team came home, the minister organized a block party for them.
---
27. The volleyball player was thrown out of the party because he spiked the punch.
---
28. The favorite drink for a volleyball player is sets on the beach.
---
29. All the volleyball players were headed to the library because the coach had instructed them to do some reading that day.
---
30. The only way a volleyball player delivers their messages is by air mail.
---
31. A volleyball coach and a dentist kind of do the same thing. They both use drills.
---
32. After 4 years serving the national volleyball team, she is now set to leave.
---
33. The most loved PC application by volleyball players is the pop-up blocker.
---
34. The worst statement you can speak to a volleyball player is, I will block you.
---
35. The former volleyball player turned musician only produced one song and went silent. She was truly a one hit wonder.
---
36. The bets job after being a volleyball player is air traffic control.
---
37. The two volleyball players who have just married met in the previous tournament and loved at the first spike.
---
38. Do you know which is the worse advice that a volleyball coach would give his team? – Play hard!
---
If you enjoyed the above voleyball puns, you ain't see noting yet. There are more puns you can quickly go through that will spike your brain hot. Some of them are pizza puns, ball puns, sheep puns, and soccer puns.