Ah, the freedom of the slopes, feeling the windy whip past your face… Skiing is great, but did you know it can also be funny? If you're lucky enough to be going on a skiing holiday, you'll want to pack a few of these ski puns with you, to give the whole trip a laugh!
Best Ski Puns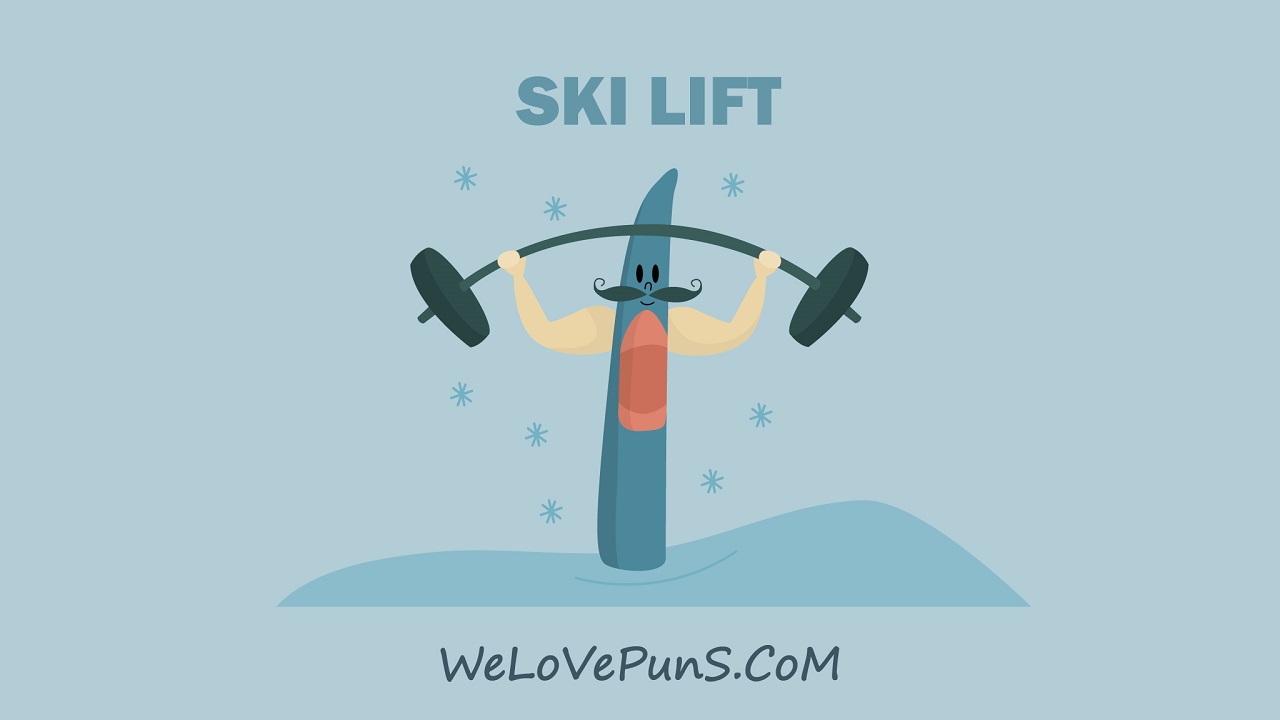 ---
1 I love skiing. It really is the piste de la resistance of winter sports.
---
2 After our skiing trip ended, my friends and I call out, "Snow long! Ski you later!"
---
3 I entered a skiing competition once. It started well, but it was all downhill from there on out.
---
4 I do love a snow covered mountain, but I get snow board of all the skiers.
---
5 I bet you're thinking that there's snow way these puns could get any worse, aren't you?
---
6 My friend went to France because she wanted to learn how to ski. She didn't get on very well; they wouldn't Alp her.
---
7 On our recent skiing trip, it turned out there was no snow on any of the slopes. I have never been more piste off.
---
8 A couple I know were going skiing, when the wife cut a hole in her husband's ski jacket, to show she was giving him the cold shoulder.
---
9 We were going out to divert a big snow landslide on a mountain, but we were hungry so decided to avalanche first.
---
10 I like to change the words of Christmas carols when I'm out skiing around the holiday season. My favorite is "Tis the ski-son to be jolly, fa la la la la…"
---
11 I really love skiing. It's just snow good.
---
12 My friend was feeling a bit low lately, so I took her on the ski lift. It was just the lift she needed.
---
13 There was very poor visibility on our first day of skiing, but the clouds have lifted and icy much better now.
---
14 If you are on a skiing trip with someone who has a birthday, everyone has to sing "Freeze a jolly good fellow."
---
15 I always get sad when the skiing trip is over. I never realize how much Alpine for the slopes when I'm back home.
---
16 A friend was grumpy during a skiing trip, so I told him he really needs to change his altitude.
---
17 Did you hear about the troupe of actors who went on a skiing holiday? Apparently they all said that the snow must go on.
---
18 I was once invited to go skiing, but they didn't ask icely enough so I didn't bother.
---
19 Skiing is really the best. There's nowhere else you can be so carefreeze.
---
20 Apparently I always look back on my skiing trips through froze tinted glasses.
---
21 I used to have an addiction to skiing. I recovered, then I discovered snowboarding. Now I'm backsliding.
---
22 Have you ever heard of the best menu for a post-skiing trip? In case you're wondering, it's iceberg lettuce and sweet chilly sauce.
---
23 A friend once asked me to join them on a skiing trip. I was chilled to bits to be invited.
---
24 I always go for skiing with everything I've got. In fact, you might say that I go for it like there's snow tomorrow.
---
25 When you feel as though you might have a problem with skiing, it's better to take a break. After all, a skiing addiction is a slippery slope.
---
26 We usually meet nice skiers, but occasionally you meet one that is a nasty piste of work.
---
27 Skiing at Christmas is the best. After all, it is the ski-son to be jolly.
---
28 It can be hard to get a good run on the ski slopes. It's frost come, frost served.
---
29 My friends were trying to organize a ski trip; I was sure we should just go for it. After all, there's snow time like the present.
---
30 The snowy slopes are always so polite. After we've had a good ski, they always say "Ice to meet you."
---
31 I was looking for a really good skiing pun, but I drew a blank. Turns out I just needed something to jump off.
---
32 Someone told me I was a really good skier, but I think they were just taking the piste.
---
33 Have you ever seen two skiers having an old fashioned dual? It's quite scary; they take 20 steps back and use piste-ols.
---
34 Sorry about the skiing puns. I like to think that they are just a turn of freeze.
---
35 I met my future partner on the ski slopes. We hit it off straight away; apparently frost impressions are very important.
---
36 I'm not the most experienced skier. In fact, I've only been once or ice before.
---
37 I find it hard to talk to people are new to snowboarding. They almost always jump to contusions.
---
38 I am a snowboarder at heart! I will go skiing, but it's really a last resort.
---
39 Some friends of mine insist on going to the snow covered mountains to help them feel happier. They it's good for their mental well skiing.
---
40 I tried to swap skiing for snowboarding, but I got board of it.
---
41 My skiing instructor recently divorced her husband. She said he was just too flaky.
---
42 The best pick up line I ever heard on the slopes was "Want me to jump off the chairlift? Cause I think I could really fall for you."
---
43 Have you heard about a skiers favorite salad? It's iceberg lettuce, of course.
---
44 I got hit in the head by an icicle on my recent ski trip; it knocked me out cold.
---
45 If you're on a long car ride to take the kids skiing, you can keep them entertained by playing Ice Spy With My Little Ice.
---
46 I once met a blind skier on the slopes. You would think he'd struggle to see where he was going, but he'd brought his skiing ice dog.
---
47 My friend is coming up with a new fashion item – ski boots with heels. She's calling them Ski Lifts.
---
Skiing is great, and puns about skiing are even better. Check out our list, and give the whole slopes a good giggle.