When it comes to X-mas, most of us tend to care about Santa Claus and his gifts rather than his deer. These lovely and cute animals should be praised more for bringing us joy every winter. With that in mind, this list of the best deer puns can be a great way for you and friends or family to celebrate the holiday and feel grateful for these hard-working deers. Check it out and have fun!
Best Deer Puns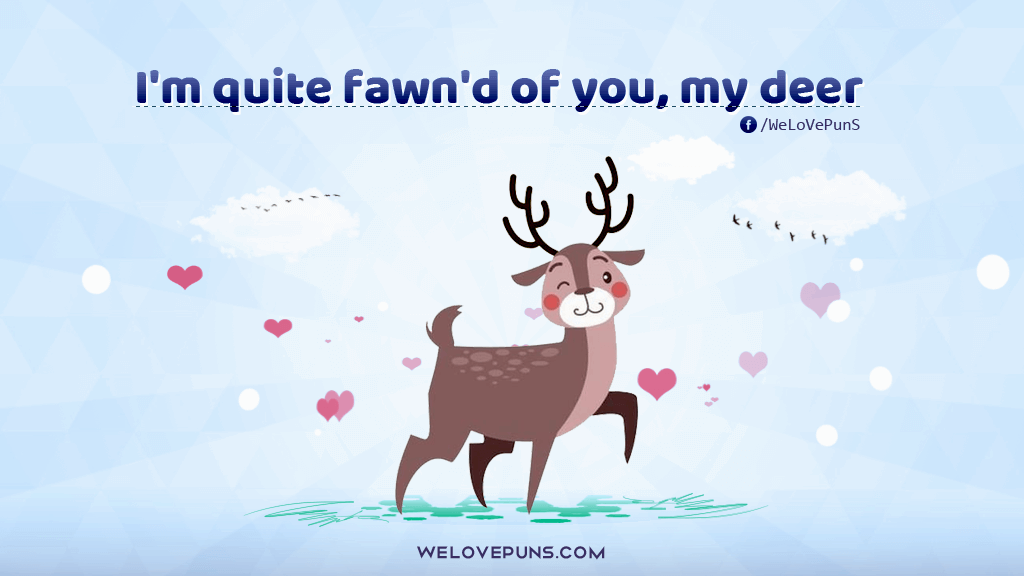 ---
1. What does a deer say when it prays to the god? – Deer God!
---
2. Whenever my deer gets angry at me, he looks directly at my face and screams: "How deer you do that!"
---
3. A deer says to a bear: "You are unbearable"
The bear replies: "Oh deer!"
---
4. What does the father deer say to the mother deer to show his love? – I love you deerly or you are so deer to me!
---
5. Before taking the job of pulling the sleigh for Santa Claus, these deers were actually pole dancers.
---
6. How can we get into the Donner's house? Just ring the deer bell.
---
7. Excuse me! I have no eye deer what you are saying.
---
8. What does a deer call a hunter? – Doe foes.
---
9. What is the difference between a deer nut and a beer nut? – A beer nut is often more than a buck but a deer nut is always under a buck.
---
10. To save a deer during the hunting season, you need to hang on for deer life.
---
11. What do we call a deer without any eye? – No – eye – deer.
---
12. What do we call a deer without any leg and eye? – Still no – eye – deer.
---
13. When facing the hunter, a deer might say: "Buck off!"
---
14. The only reason why the hunter misses the target is that he does not aim deer – ectly for it.
---
15. What does a deer hang on its Christmas tree? – Horn – aments.
---
16. All hunters in the town are actually very nice because they are such deer people.
---
17. What is the most affordable type of meat that we would purchase? – Dear balls because they are always under a buck.
---
18. What is the most favourite currency of a deer? – Buck!
---
19. All male deers need braces because they have buck teeth.
---
20. During the interview, a deer replies to the reporter:" It was very crazy. I had to run for my deer life.
---
21. Where does a deer often stop for a meal? – A Deery Queen restaurant.
---
22. When we cross a deer and a mouse, what would we get? – Mickey Moose
---
23. Which deer species is a natural-born weather forecaster? – Rain – deer!
---
24. Where do Santa Claus and his deers stop to have a coffee at Christmas? Star – Bucks!
---
25. The most favourite type of deer of a pirate is a comman – deer.
---
26. The most important type of deer for graphic designers is a-doe-be illustrator.
---
27. The deer cannot quit drinking wines and beers. He is such an elk-o-holic.
---
28. To open its act, the deer comedian says to the audience: "This joke is going to sleigh you all.
---
29. During the World War II, the covert deer used Moose Code to communicate with the others.
---
30. My father decides to quit his day job and become a full-time deer hunter because he "herd" that is where the big bucks are.
---
31. When the sleigh of Santa Clause was hit by a truck, several deers died and all that left was just the remain – deer.
---
32. How can a deer know the time? – He looks at the calen – deer.
---
33. While male reindeers are travelling with Santa Clause, all female reindeers go to the Elk Club and blow several bucks.
---
34. What do we call a deer that wears a mask and refuses to tell its name? Anony – moose.
---
35. Who will the deer invite to its Christmas party? Just its deer – est friends.
---
We hope you have a happy holiday, my deer. Whether you need a bit of fun or plan to entertain your family members in the X-mas party, these best deer puns are great to share. Check out more interesting topics on our site about death puns, pumpkin puns, as well as jazz puns. They will make you laugh and relax the best time of the year.