Burritos are an amazing food, aren't they? I bet there's no one in the world who doesn't love these beauties! As well as being delicious, burritos can actually be pretty funny too! Don't believe me? Have a look through the list of 47 burrito puns and you'll see for yourself!
Best Burrito Puns And Jokes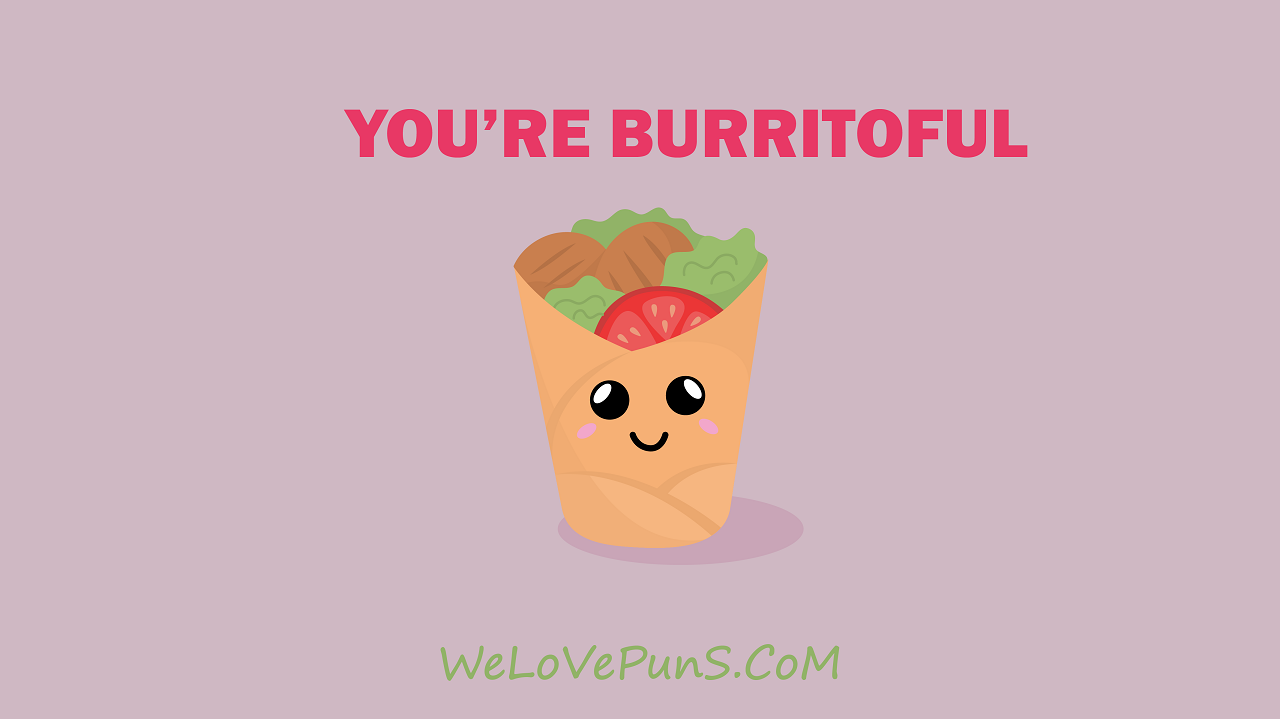 ---
1 I caught sight of two burritos dancing together and it was really cute! They were doing the Salsa.
---
2 My burrito friend and I hadn't seen each other for ages. When we met we hugged and asked each other "How have you bean?"
---
3 I once asked a burrito what a duck's favorite filling was. It replied "Quack-amole, of course."
---
4 Breakfast burritos are the worst to go on an all-nighter with. They just get too eggs-hausted.
---
5 My friend was carrying a jar of salsa when he went for a swim. I asked him what he was doing, and he said he was off to take a dip in the sea.
---
6 You should never trust a burrito with your deepest secrets. They just can't help spilling the beans.
---
7 Burritos are always friendly to vegetables. You can hear them calling "Lettuce be friends!" from miles away.
---
8 My good friend, who was a burrito, passed away recently. I still can't wrap my head around it.
---
9 Have you ever had one of those Chinese burritos? They're so heavy; they weigh almost won-ton.
---
10 Burritos are always so positive. I heard one making a motivational speech that ended with, "Cheese the day!"
---
11 It's been a really hot summer, so to keep cool I put a wrap in the freezer then wrapped my feet in it. Brrr-y toes.
---
12 Have you ever made a burrito really angry? It's quite funny. They always shout, "Bean-ough is bean-ough!"
---
13 My burrito friends are great, but we don't really share musical tastes. I like rock, but they only ever listen to wrap music.
---
14 I really love burritos! I fact, I could taco about them all day!
---
15 A burrito does not make the best date for a taco. Burritos are pretty wrapped up, while tacos are more open.
---
16 A local Mexican restaurant owner wants to buried head down with his feet left above the ground, with the instruction "Burritos" on his gravestone.
---
17 Rowan Atkinson was in a restaurant, eating a burrito. He couldn't finish it, and the chef told him, "You missed a bean!"
---
18 I've been having a bit of an existential crisis lately. I stay up for hours wondering, if I eat a regular burrito in the morning, does it become a breakfast burrito?
---
19 My friend went on a date recently, and told me the guy didn't put cheese on his burrito. I was horrified, and exclaimed, "How dairy!"
---
20 What do you think about the idea of making burritos from paper? I think it's a tearable plan.
---
21 What do you call a burrito in the winter? A brrrrr-ito.
---
22 There's a really beautiful classical song, which was written over cheesy beef burritos. It's called Taco Bell's Canon.
---
23 We really should be more kind to messy burritos. They just always get a bad wrap.
---
24 My kid demolished his burrito so fast that I had to suggest we practice eating more slowly. He replied, "Sure! I'll practice right now, with another burrito."
---
25 I ate three burritos today. They tasted pretty good, but I think the overall result will be gastronomical.
---
26 My friend told me that shredded beef instead of ground beef in burritos is pretty rare. I argued that actually it's pretty well done.
---
27 Have you heard about the best place to go to eat really good burritos? Apparently it's the Gulp Of Mexico.
---
28 My wife and I met in a Mexican restaurant. I may be biased, but I think she's the most burritoful woman in the world.
---
29 I thought I should start getting myself onto a more balanced diet. Now I make sure to always have a burrito in each hand.
---
30 My good friend always makes the best burritos I have ever tasted outside Mexico. I would go so far as to say they are Mex-cellent.
---
31 Have you ever been chatted up by a burrito? They have some pretty cheesy lines.
---
32 A burrito once asked me in a bar, "Where have you bean all my life?"
---
33 Burritos really are the best, in my opinion. They guac-upy a special place in my heart.
---
34 My girlfriend always reminded me of a spicy burrito. Just like a burrito, it hurt when she left me.
---
35 There is only one way to inter a dead burrito, and that is with sour cream-ation.
---
36 I really want to make a good stand-up show about burritos, but I just can't wrap it up.
---
37 If you are ever out with burritos and you want to get them dancing, just put on Bohemian Wrapsody.
---
38 Halloween is a great time of year, but the burritos have no imagination. They all dress up as boo-ritos.
---
39 I thought my Mexican friend loved me, but recently they told me I am un-burritoble to be around.
---
40 There's a great burrito shop I go to; it's called Bohemian Wrap City.
---
41 What do you call a very small, baby donkey? A burrito.
---
42 The school year is much like a burrito. You've had enough before it's done, but you still have to keep going even though it's falling apart.
---
43 My burrito friends are pretty selfish about food. Whenever I try to share, they yell, "Nacho cheese!"
---
44 I love my cat almost as much as I love burritos. Sometimes I like to wrap her up in a blanket and call her a purrito.
---
45 I once met a very dangerous burrito. He was known locally as Gangster Wrap.
---
46 Burritos always say grace before they eat. They start with the words, "Lettuce pray…"
---
47 My burrito friend was looking rather down so I asked him what was wrong. He said, "I don't want to taco 'bout it."
---
These tasty, wrap-wrapped delights are a great food for a quick snack, or a full dinner. And, as it turns out, they're also good for raising a chuckle! The next time you're in the mood for Mexican food, why not bring out a few of these tasty puns to wash it down?