If it has bean so long before you had a get together, you need something farty to cheer you up. The collection of bean puns below will not disappoint.
Best Beans Puns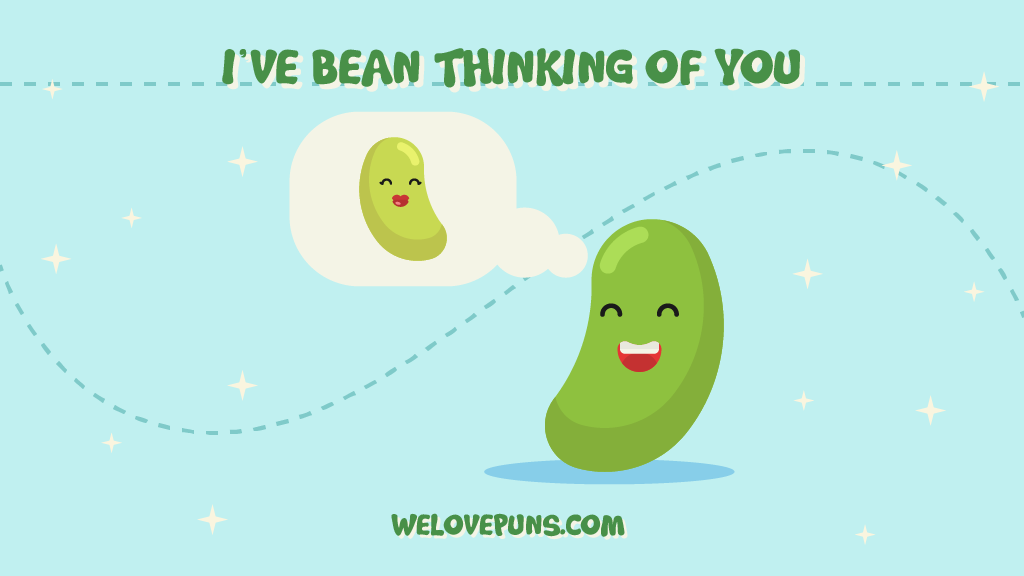 ---
1. Most bean varieties grow in gardens except jelly beans.
---
2. If you make a mistake and tell your secret on a farm, three things will happen. The first is that the potatoes have eyes and they will see. The second is that corns have ears and they will hear. The third and most dangerous is that beans will stalk you.
---
3. When the green bean took me out for a few drinks, he chose the salad bar over all the pubs on the street.
---
4. Beans are healthy and a good substitute for meat and animal protein. However, string beans will tie your stomach in knots.
---
5. When planting green beans, ensure you have a nice pair of socks, preferably garden hose.
---
6. No words can espresso how much you bean to me. You are so special.
---
7. Rarely do you come across kind people. Therefore, when you see a generous human bean, make them a friend for life.
---
8. When he finished his studies, he didn't have many places to go. In fact, he loved bean around.
---
9. During the wedding, the groom gave the bride a card written long ago with these words on it, 'thank you for bean you'.
---
10. It is important that as the year ends, you look for someone who has bean the world to you and just give them a toast.
---
11. When he finally met the love of his life, he said these words, "where you bean all my life? I have been looking for you."
---
12. Since the year begun, I have bean thinking on different ways of improving my communication skills.
---
13. If you want to live in a peaceful world, eat beans not beings.
---
14. When we got to the end of the rough road, he looked at me and said, "I think we are lost. I have never bean this way before."
---
15. In the vegetation race, the runner bean took the lead from the start while the lettuce pead on the cabbage.
---
16. During the war, everyone took cover except the navy bean that was left to navigate the waters.
---
17. When the holiday season begins, everybody claims that they have bean busy the year through and want a time off.
---
18. The favorite bean for a zombie is a human bean.
---
19. A coffee bean passes through three main stages in its life cycle. In the first stage, they claim to be still green in life, the second stage they say they have bean there done that, and the last stage is an epitaph reading has bean.
---
20. When you take onions and beans, you end up with tear gas.
---
21. The can of Irish beans I bought only has 239 beans. They say one more would be too farty.
---
22. When the two beans met on the street, one of them asked the other, "how've ya bean?"
---
23. When the question and answer session began, the bean on the right was too baked to respond.
---
24. She was so determined that she would take whatever beans necessary to get her cup of coffee each day.
---
25. The java bean was worried because apparently it had a latte problem at home.
---
26. Beans are so romantic. During valentines, they keep their loved ones grounded and shower them with presents.
---
27. When they came back, it was too late because the gossiping pots had spilled the beans.
---
28. The bean was so upset with how the pot behaved especially the way it made him filter.
---
29. It took the bean so long to finish its homework because it has a habit of procaffenating.
---
30. The favorite thing beans eat during thanksgiving is the roast.
---
31. The espresso moved away from the mocha because it was bean mean.
---
32. When the barrister came, he told the overly excited coffee beans, "can everyone kettle down please."
---
I know some of the bean puns have given you knots and stiches. However, don't get baked alone, share with a friend or colleagues. Before you go, there are some more puns such as dinosaur puns, turtle puns, chocolate puns for you.