You don't have to be a dill pusher for people to enjoy your pickle puns. They make for such sweet moments whether with friends or just alone and looking for something to make you happy.
Best Pickle Puns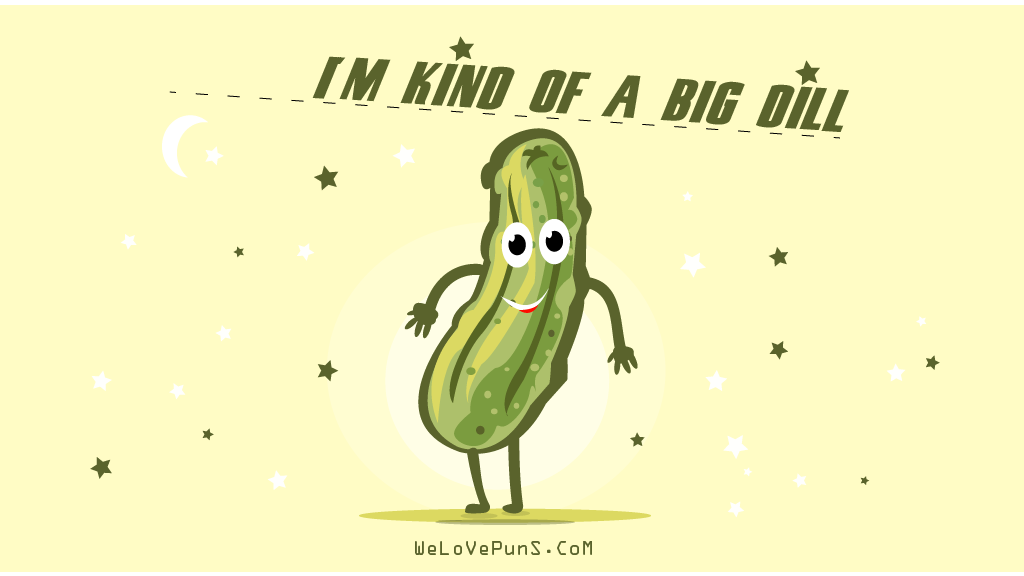 ---
1. The best description of a tro-pickle fish is one that is green in color, has a sour taste, and swims in the aquarium.
---
2. No sooner had the party started than the giant cannibals started soaking the pickles in vinegar. When they had enough of it, the pickles started revolting "Why don't you pickle someone your size?" They shouted.
---
3. By design, a motorpickle is green in color and rolls on two wheels.
---
4. Pickles too sing lullabies. One of their favorite is the cucumber slumber number.
---
5. The reason why pickles in sandwich are always so polite and gentle is because they are well-bread.
---
6. The favorite TV channel for a baby gherkin is Pickleodeon.
7. If you pass by the grocery store and see a pickle going for a cheap price, just know it is a sweet dill and never pass it by.
---
8. Even if you are a novice in playing pool, never shoot using a pickle. You will find the cue cumbersome.
---
9. Scientists have been trying for ages to cross an alligator with a pickle. The best they have managed so far is a crocodill.
---
10. The only radio station in the country where you would hear Bob Dill-on is vlasic rock.
---
11. The pickle doctor across the road opened a chemist and gave it the name dill pusher.
---
12. If per chance your hand is stuck in a jar of gherkins and you simply can't remove it, know that it is in the right pickle.
---
13. Most gherkins giggle whenever you touch them. They are so pickle-ish.
---
14. Have you ever seen a woody wood pickle? Its green in color and normally pecks on trees.
---
15. One day we were playing cards in the casino near our home and a bunch of pickles walked in wanting to play as well. We had no option but to dill'em in.
---
16. In a hilarious math problem, a student was asked the question, 'if you have four pickles and I ask for one, how many will you have left?' The student answered, "I will still have four because you only asked for one but didn't take."
---
17. Moby pickles are very funny. They are green in color and swim pretty well in the sea.
---
18. As we neared home, we saw a danger sign on the road and a few meters on, a number of pickles had been run over by a truck. It was the worst road dill the street had witnessed.
---
19. Salvador Dilli not only tops the charts, but he is also pickle's number one artist.
---
20. Pickles can be very arrogant. They think they are such a big dill to handle.
---
21. The reason why the pickle container is always open is because it is ajar.
---
22. When you visit London, never leave the city without visiting the alltime favorite spot for pickles. It is known as pickle-dilly square.
---
23. When we walked in, the host pickle was reading a book. Its title was To Dill A Mockingbird.
---
24. Pickles normally derive their names from the places they come. For instance, the sweeter ones from the southern backwoods are known as hill-dillis.
---
25. Pickles operate on this one life philosophy, 'never a dill moment.'
---
26. Did you hear what the pickle said? Nothing because pickles don't talk.
---
27. If you have a pickle problem, the best way is to just dill with it.
---
28. Pickle chefs are the best in the world. Whatever meal they make is so dilli-cious.
---
29. As the festivities are here with us, pickles all around the world are looking for the best way to have a dill-ightful holiday.
---
30. When we realized that we were such a big dill around here, we started partying like pickles.
---
31. When you purchase a pickle in the supermarket for a great price, it can be seen as a sweet dill.
---
32. What do we call a cucumber that grows in the rainforest? – A tro-pickle.
---
33. To become a pickle, a cucumber must go through a jarring period.
---
Whether you relish the idea of having pickles on your dinner table or not, pickle puns are such a big dill. You cant have fun without them. Share them with everyone who cares and invite your friends to look at other puns such as pirate puns, mushroom puns, and bug puns.